Arnold's Archive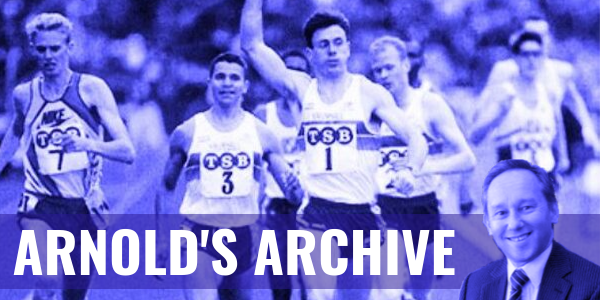 Welcome to Arnold's Archive, the scottishathletics history blog. Alongside the other history pages on this website, this blog will be home to articles by our historian, Arnold Black, covering a range of topics, often relating to present-day events.
Arnold has an extensive and detailed knowledge of the history of athletics in Scotland, and we're delighted to have the space for him to recall the people and events that have brought our sport to the present day.
There has always been a close connection between athletics and football. Many football clubs were built with a track round the pitch which enabled the hosting of athletics events. Clubs took advantage of this and at one time would attract large crowds to athletics events with a five-a-side football tournament as the accompaniment. Arnold look at the times that athletics and football went hand in hand… Click for more…
With Greenock Glenpark Harriers celebrating their 125th anniversary in 2020, Arnold takes time to recognise that many of our clubs are steeped in a long and proud history, focusing on the ten oldest clubs in Scotland. Click for more…
The Olympic Games has been put on hold. It's one more year until the dreams may be realised. One more year added to the time since Allan Wells became the last Scot to win an Olympic gold medal. 41 years. For the middle-aged and elderly among us, the only Scot we have witnessed live winning the ultimate athletics medal.
Join Arnold to revisit the Scottish Olympic medalists of previous games, while we wait one more year for the next event Click for more…
The 2014 Commonwealth Games in Glasgow was the first time in the history of the event that the Scotland team contained three women high jumpers. With Emma Nuttall announcing her retirement this year, it means that all three team members – Jayne Nisbet and Rachael Mackenzie were the others – are no longer in the event. But with Nikki Manson setting a new Scottish indoor record this year, and threatening the outdoor record in the coming season, we take a look back at the history of Scottish women's high jumping Click for more…
As the Lindsays National Cross Country 2020 approaches, there are plenty of honours up for grabs. But one that nobody has attained since 2001 in the Senior Men's race, is the glory of three individual golds.
While six athletes currently have two wins under their belt, it's been many years since anyone attained that elusive hat-trick in the men's race – so we take a look back at those who have achieved it in years gone by. Click for more…
The passing of Mike Lindsay in December 2019 saw Scottish athletics lose one of its greats – a rare breed, an athlete who can be said to have taken his events forward, both domestically and internationally, and dominated his circle (whether shot or discus) throughout his career. Click for more…
The Allan Scally Memorial Road Relay Race first appeared on the Scottish running calendar on 22 November 1969 and this February will see the 50th running of the event, having been held each winter season excepting 2017-18. Arnold looks back at the history of the event, and the man who inspired it. Click for more…
Arnold looks at World Records set in Scotland by athletes from around the globe – from the legendary Alfred Shrubb to the international meets at the Kelvin Hall.  Click for more…
With the 2019 World Championships about to start, Arnold looks back at Scots who have competed at the games, first held in Helsinki in 1983. From Allan Wells to Zoey Clark, the Scots have battled for podium places on this World stage and Arnold reminds us of their achievements… Click for more…
What is it about the women of Dundee? Two of Scotland's leading athletes, Laura Muir and Eilish McColgan, are members of Dundee Hawkhill Harriers  – Eilish coached by mum Liz, herself another Dundee athletics legend. No surprise, then, that Dundee women are a continuing influence on athletics in Scotland, stretching back to the formation of the Scottish Women's Amateur Athletic Association in 1930. Arnold traces the story of female athletes from in Dundee over the decades. Click for more
Arnold casts his eye back to 1946, when the first Scottish (men's) Marathon Champs was held, and recalls some of the names that have dominated the discipline in the years before and since. Click for more…
This week marked the 30th anniversary of a pretty special Scottish Record – Tom McKean's 800m mark. To do so, he had to beat a revered Kenyan in London – Olympic champion Paul Ereng, no less.
Yet that superb run is only one of a number of highlights in a special career. Click for more . . .  (posted 30 July 2019)
As our under-23 athletes return from their European Championships in Gävle buoyed by the double gold medal winning performance of Jemma Reekie, so our under-20 athletes make the opposite journey to Boras to commence their challenge for the European Junior Championships. Click for more… (Posted 16 July 2019)