Honorary Life Membership
This is the award of Life Membership of scottishathletics.
Honorary Life Membership was introduced around 1975 by the Scottish Amateur Athletic Association (S.A.A.A) "in recognition of diligent service to the Association over a lengthy period of time."  The Scottish Women's Amateur Athletic Association had Honorary Life Vice-Presidents and in 1992, when the S.A.A.A., S.W.A.A.A. and the Scottish Men's and Women's Cross Country Unions merged into the Scottish Athletics Federation, existing Honorary Life Members of each of the bodies was offered Honorary Life Membership of the new federation.
In 2020, the Honorary Life Membership award was given to Moira Maguire, Joyce Wighton and Dave Finlayson.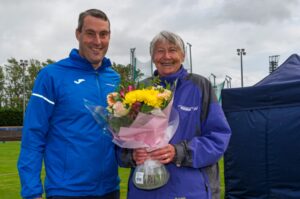 Moira Maguire (née Walls) came to prominence as an athlete in 1969 when she competed for GB & NI in the long jump and high jump at the 1969 European Championships in Athens. This was followed up when she finished 2nd in the long jump at the 1970 European Junior Championships in Paris. More was to come at the 1970 Commonwealth Games in Edinburgh where she finished 4th in the Pentathlon, that included a Scottish record of 6.39 in the long jump, 5th in the long jump and 3rd in the high jump all within two days. Moira also competed in the 1976 Olympic Games in Montreal and towards the end of her career equalled the British record in the high jump of 1.87 in 1980.
After retiring as an athlete Moira held many roles within the sport both at club and national level. For 8 years Moira served as the convenor of the SAL Track & Field Commission where she led the modernisation of the commission leaving it in a position to continue to evolve as the sport itself and the clubs change and adapt. Moira served on many sub-groups including the T&F selection committee and the Event Specific group that introduced a new competition structure within T&F. As convenor she also served on the Board of SAL for the 8 years.
There are not many top athletes who move from participation to administration, officiating and coaching within the sport but Moira Maguire is one of them.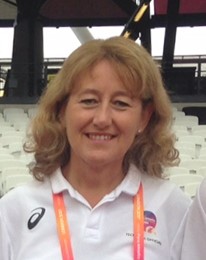 Joyce Wighton's athletic career began in 1977 when joining Shettleson Harriers Ladies AC.  Her main competitive discipline was 400m Hurdles, or indeed wherever she was likely needed as a Club athlete.
Shettleston Harriers subsequently merged and became known as City of Glasgow AC.  When this happened, Joyce became involved in Club administration and management serving as a Committee member for a decade contributing enormously to the development and progression of her Club.  Joyce expanded her horizons when moving into Team Management where she excelled at encouraging and motivating youngsters.
Prior to this, in the 1980s, Joyce was instrumental in convening and supporting the original SWAAA where once again she played an important part in Team Management of Scottish Teams.
Joyce's main Discipline as an Official is as a Level 4 Track Judge where she has participated for 38 years.  During this time Joyce has developed such as to be rewarded with selection for the London 2012 Olympics and Paralympics, Glasgow Commonwealth Games (Track Referee), World Outdoor in London in 2017 as a Video Referee, World Indoor in Birmingham in 2018 (Chief Judge), European Indoor in Glasgow in 2019 and very many other UKA Televised International events.
Joyce is passionate about encouraging, mentoring and all round supporting her fellow colleagues and just recently completed a 3-year term on the UKA Track Peer Group where she provided development opportunities for all Track Technical Officials.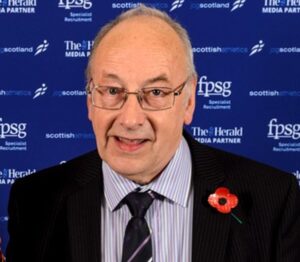 Dave Finlayson initially became involved in athletics as a Parent/Helper when his children began competing for Lasswade AC.  Thereafter he got involved in coaching.  From 2000 his interest started to move towards Officiating, particularly the Photo Finish Discipline.
Dave has a special aptitude for IT, particularly from a developmental point of view and as soon as he moved into the Photo Finish area he began to identify aspects which could benefit from improvement.  Dave was able to excel here and instigate his 'professional approach' and 'careful attention to detail'.  This was a pivotal moment within this Discipline and a big turning point for all involved.
Dave has worked very hard to encourage, motivate and develop more individuals who have become involved in Photo Finish, to such an extent that at all Indoor athletic events during the winter months there will be two full Photo Finish teams in action.  The teams work separately but in tandem fully supported by Dave, his cameras and equipment.
It was Dave's dedication, enthusiasm and commitment to development which rewarded him with the only allocated position to a UKA Official in Photo Finish during the Indoor European Championships held in Glasgow in 2019. Dave also currently leads the UKA Peer Group.
Dave continues to enthuse many others in the Discipline so much so that it is now expected that Photo Finish will be an integral part of every athletic competition held in Scotland.
Honorary Life Members
The following individuals have been awarded Honorary Life Membership by Scottish Athletics (with date HLM conferred, where known) since the commencement of the Scottish Athletics Federation in 1992:
Hugh Baillie (2009)
Sheila Baillie (2010)
F. Beattie (1992)
Thomas Begg (1992)
Arnold Black (2010)
Chris Black (2004)
Thomas Boyle (2006)
Donald Campbell (1992)
Rt. Hon. Sir Menzies
Campbell, CBE QC MP
Peter Carton
Frank Clement (2003)
John (Ian) E. Clifton (1992)
Marjory Cook (2010)
Hon. Dame Mary Corsar (1992)
J. Cowie (1992)
Barry Craighead (1999)
Neil Donachie
W. E. Duncan (1992)
David Finlayson (2020)
Eamon FitzGerald (2017)
William Fulton (1992)
Norman Gardiner (2007)
William (Billy) Glasgow (2012)
Fred Graham (1992)
William (Bill) Grant
Robert Greenoak (1992)
Alan G. Grosset (1992)
Pat Hockley (2009)
Vic Hockley (2016)
Martin Hyman (2007)
Alex Jackson (2011)
P. T. Johnston (1992)
Mairi Levack (2018)
David Lothian (2017)
Moira Maguire (2020)
D. Matheson (1992)
Brian McAusland (2010)
Liz McColgan (2007)
John McDonald (2015)
Jim McInnes (2012)
Robert McSwein (1992)
J. T. Mitchell (1992)
J. Moncur (1992)
Elsie Morris (2013)
Ronald Morrison (2000)
James Patrick (1992)
George Peat (1992)
Alan Potts (2010)
A. C. Reid (1992)
Isobel Robertson (1992)
R. Ross (1992)
Leslie Roy (2008)
James Scott (1999)
George Sinclair (2012)
Netta Sinclair (1992)
Sheila Smart (2007)
Helen Spankie (2001)
Elizabeth (Betty) Steedman
Robert McG. Stephen (1992)
Graham Sword (2006)
Bill Walker (2016)
Joan Watt (2005)
A. Whyte (1992)
Joyce Wighton (2020)
Molly Wilmoth
James Young (2008)
Late Members
The following honorary life members have sadly passed
George K. Aithie (1992)
W. B. Anderson (1992)
Walter Banks (1992)
Alan Bertram (2009)
Mrs. C. Brown (1992)
Joe Bruce (2014)
Prof. Neil Campbell (1992)
Madge Carruthers (1992)
Roddy Devon (1992)
Oliver N. Dickson (1992)
Rita Docherty (1992)
Donald M. Duncan (1992)
George Duncan (1999)
Isobel Dunkeld (2002)
Alastair Falconer (1992)
J. Emmet Farrell (1992)
David Ferguson (1992)
John Gavin (1992)
John Girvin (1992)
Brian A. Goodwin (1992)
Dale Greig (1992)
Eleanor Gunstone (1992)
John M. Hamilton (1992)
Glen Harrower (2009)
Donald M. Hastie (1992)
Hugh Hatrick (1992)
Raymond Hutcheson (1992)
Antonia (Tony) Ireland (1992)
George Kirk (2006)
Richard T. H. Littlejohns (1992)
A.K. Macdonald (1992)
John Macdonald (2012)
James A. MacIntyre, MBE (1992)
Hilda McGillivray (1992)
Duncan McLaren (2002)
T.B. McMillan (1992)
David Morrison (1992)
Robin Murdoch (1992)
Alex Naylor (1992)
Gordon Porteous (1992)
Alexander (Sandy) Robertson (2008)
Bill Scally (2012)
James P. Shields (1992)
Edwin L. Taylor (1992)
Ernest F. Thursby (1992)
John Waddell (1992)
Mrs June Ward (1992)
Tom Williamson (1992)
Mrs Joy D. Young (1992)