The extraordinary Mrs Chrimes . . .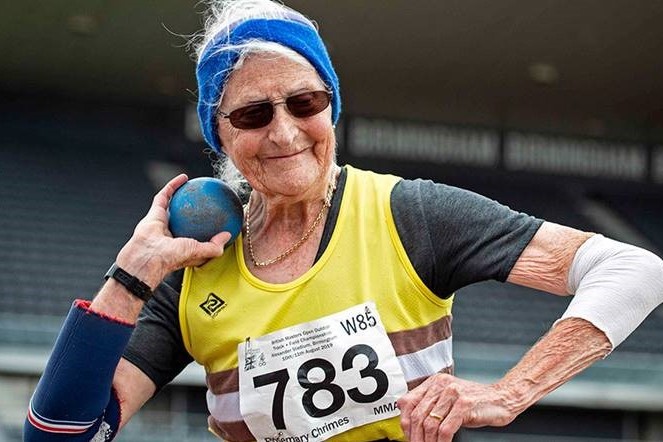 Photo from 2019 via Athletics Weekly
By Arnold Black
Rosemary Chrimes turned 87 years old this year. She has not competed this year. She did compete in 2019 though, when she set four British Masters' records.
Rosemary now holds 19 British outdoor Masters' records and seven indoor records. She holds 10 age records in the discus starting in the W35 group and finishing, for the time being, with the W85 records, only missing out in the W50 class. She is the World record holder for the W70 Shot and the W80 High Jump.
Given the length of her career, it seems daft to say the Kelso-born Rosemary came late to athletics, but the first references I can find for her was as a versatile all-round athlete at Edinburgh University, showing prowess in the hurdles and jumps as well as the throws.
Under her maiden name of Christine Rosemary Charters, she threw the discus 98 feet 11 inches (30.15m) to win a bronze medal at the 1954 Scottish championships.
She won her first Scottish title in the 1959 shot with 35' 9" (10.89m), a championship best by almost two feet.
By the time she 'retired' in 1975, she had nine Scottish titles to her name (three in the shot and six in the discus), as well as three silver medals and six bronze, including a bronze in the 1959 pentathlon championship, the first time it was held.
At Edinburgh University, she had made such an impression on the athletics community in Scotland that she captained Scotland's team at the 1958 Commonwealth Games in Cardiff.
There she placed 10th in the discus with 114' 8½" (34.96), one place ahead of Toni Ireland but two places behind the best of the three Scots competing, Diana Will, who was eighth in 125' 4½" (38.22).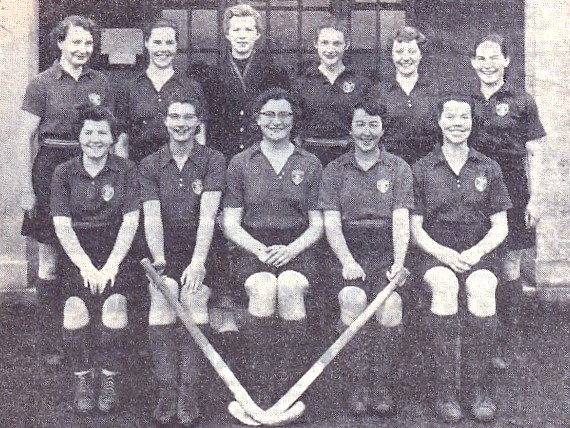 Rosemary pictured front row centre with the Edinburgh Uni hockey team in 1957 (she was captain). In the back row, left, is Toni Ireland – both women represented Scotland in the discus at the 1958 Commonwealth Games
In the men's throws, a certain Howard Payne was competing in shot (11th), discus (14th) and hammer (fourth) for Northern Rhodesia.
Howard was so impressed with her potential as a discus thrower that he returned to Britain soon after and married her! Her progression in the event was halted, temporarily, in 1960 by the birth of twins, one of whom (Russell) was a bronze medallist in the 1988 hammer throw at the Scottish championships.
Rosemary's big breakthrough came in 1963, when she launched the discus out to 142'6 (43.43) at Pitreavie in early June, taking her within the top three British throwers.
Further improvements rapidly followed gaining her British international representation with a debut against the USA in August 1963. The following year, she advanced further and at a Birchfield Harriers floodlit meeting in September, she reached 157'8½" (48.07) with her fifth round throw, to lay claim to the British record.
She held the record for 13 years, improving many times to a best of 58.02m in 1972. 48 years on, the throw is still ranked number 10 in the British all-time lists.
Her British record was surpassed by Meg Ritchie in 1977 (59.88m) and the record has been in Scottish hands ever since, Meg's 67.48 in 1981 remaining as the record to this day.
Rosemary missed out on the 1962 Commonwealth Games but returned in 1966 for the Kingston, Jamaica, Games where she was below her best but still claimed fourth place.
Disillusioned by her performance, a change in training techniques that had helped Howard improve his hammer performance led to her applying similar principles to her discus throwing. She stopped throwing the discus in training and moved indoors to work with a strap discus in front of a full-length mirror.
Perseverance in getting the throwing action right resulted in improvement in the course of 1969. She had five throws over 170'0" and moved the UK record forward to 171'4" (52.22).
The improvement and new enthusiasm came at just the right time for the Commonwealth Games in Edinburgh in 1970.
At Meadowbank, both the men's hammer and women's discus events were on the opening day of major competition, Saturday 18 July.
The hammer commenced at 1.30pm and Howard comfortably headed an England 1-2-3 for his third Commonwealth title.
Two hours later the discus competition started and it was clear from the opening throw that there was to be the first Scottish success of the Games (Lachie Stewart's 10,000 starting 40 minutes after the start of the discus).
Rosemary's first throw of 53.18 was nearly four metres clear and her second round throw of 54.46 emphasised the victory.
She had four legal throws in her series, 53.36 and 51.10 were the others, and all four were better than the Australian silver medallist Jean Roberts' 51.02. These throws ensured that both the husband and wife team of Howard and Rosemary won gold medals on the first day of the Edinburgh Games.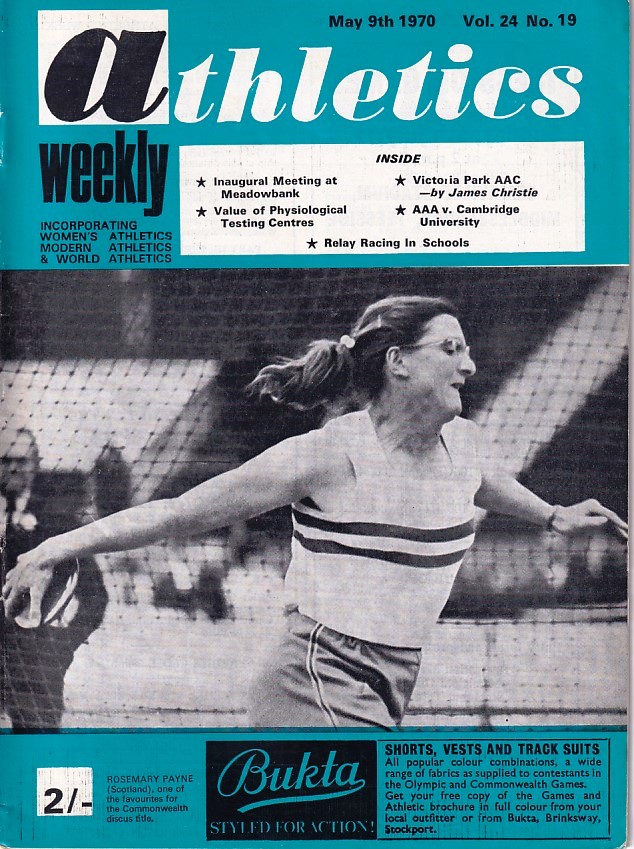 At the Commonwealth Games in Christchurch, New Zealand, in January 1974, she competed for Scotland for the fourth time.
Rosemary put up a splendid defence of her title, launching the discus out to 53.66 for a first round lead but she had to contend with a younger, stronger opponent in Jane Haist of Canada who won with her second round throw of 55.52.
Payne tried to the last and improved to 53.94 with her final throw to confirm her silver medal position. She also finished seventh in the shot, putting 14.19.
Between 1969 and 1974, she represented Great Britain in the discus at three European Championships and the 1972 Olympic Games, reaching the final on every occasion.
As it transpired, 1974 was Payne's farewell season in international athletics, 11 years after her first British vest and 16 years after her first Commonwealth Games.
Just before her 41st birthday, she put the shot 14.67 during a tour of South Africa for a new Scottish record and led the UK discus rankings by over three metres from the emerging Ritchie (55.44 to 52.18) with 19 throws over 50 metres in the year.
She made her 51st and final appearance for Great Britain against Finland in September, bowing out with a victory throw of 52.56. Her final competitive season was in 1975, the year in which Ritchie took over from her at the top of the U.K. rankings.
Her best of 52.18 ranked her third but injury problems with her knees and elbows saw her drop out of competitive athletics and become involved in administration and team management.
Then, over 10 years later, she returned to competition, now under a new married name of Rosemary Chrimes, having caught the 'bug' again, and in 1988 she won gold medals at 100 metres, 80 metres hurdles, shot, discus and high jump at the European Veterans Games in the W55 category.
Her shot was a new world record for the age-group, her hurdles and high jump had equalled her own world records and her discus was only slightly inferior to the world record that she had broken earlier in the Midlands championships. Just for good measure, she also broke the British 100 metres record in her heat!
Her remarkable career has continued with a wealth of Veterans' titles and world records.
In 2003, aged 70, she returned with three gold medals from the World Masters' Championships in Puerto Rico in high jump (1.26), shot (10.68) and discus (31.29), the high jump and discus being world records for the age-group. Since 'retiring', she has set over 20 World Masters records.
A graduate of Edinburgh University, she was awarded the honorary degree of DUniv by the University of Glasgow in 2014 in recognition of her sporting achievements.
Photographer Alex Rotas says: 'I love watching Rosemary compete. Elegant, bespectacled, immaculate . . . you'd never think, if you didn't know her, that she has been a record-breaking athlete all her life.'
Why has her career lasted so long?
Rosemary reflects: 'One of the reasons I have kept ticking over is that I have kept sport in its place as a life-long interest but I have lots of other activities and interests too.'
At 87 years old, who would bet against her achieving more still.