Foundations syllabus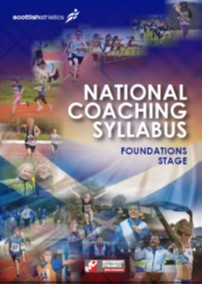 This syllabus booklet has been written by scottishathletics coaching staff alongside world-leading movement and conditioning expert Kelvin Giles. It is essential reading for any coach working with athletes under the age of 14 or coaches embarking on their coaching journey.
"This document is the 'bible' for coaching young athletes and should be studied alongside the Foundations course to ensure practical learning takes place" Rodger Harkins, Director of Coaching
It provides essential learning for all coaches working with young athletes and provides key guidance for coaches covering planning, technical competencies across running, jumping and throwing as well as developing appropriate physical competencies in young athletes and appropriate exercise selection.
At the end of this stage in the National Coaching Syllabus athletes should be able to progress into the Event Group phase, armed with the necessary development of skills and attributes/qualities to best prepare them for long term success at senior level.
Cost – £5 inc p&p (to UK mainland)*
Authors: Kelvin Giles MA, Cert Ed and Scottish Athletics Ltd
To purchase, email coaching@scottishathletics.org.uk.
* Please note that all Coaching Syllabus guide (Foundations, Jumps, Throws, Endurance, Sprints & Hurdles) can be purchased for £20