Coaching in Scotland – benchmarking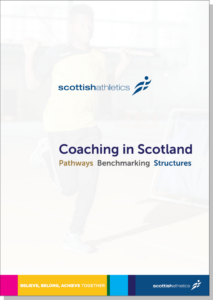 In recognition of the ever-changing landscape in sport, and on request from some member clubs and coaches, scottishathletics have produced a guide to coaching in Scotland to establish recommended industry standards for athletics coaching in Scotland. In addition, the booklet sets out the athlete pathway, athlete development model principles and considerations for introducing paid coaching roles.
Voluntary roles in coaching and in other positions will always remain and will always be key to the success of athletics in Scotland. However, as we see more and more clubs starting to pay coaches, and other positions, it is important some benchmarking standards and expectations are set and maintained to help guide clubs and coaches.
Ultimately all clubs will determine what the appropriate structure is for them and whether paid coaching is something they want to implement. We would encourage all clubs to discuss options with their National Club Manager before implementing any new structure.
Click the cover above, or the link below, to view the document.
Downloads
Coaching In Scotland  (.pdf, 3MB)