Beyond level 1
To progress beyond Level 1, you need to gain more experience in your chosen discipline. You will need a minimum of ten experiences, working with a more experienced official, to proceed to Level 2.
Click on the image below to see an enlarged version of the Officials Pathway. You can also download the full Officials Pathway – Track and Field Athletics document (11 page pdf).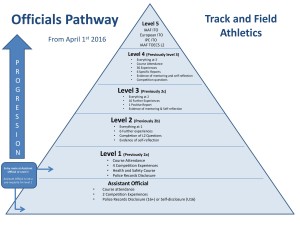 You will need to submit:
Your completed annual record of experience (which you can download below)
A completed application form – from your log book or downloadable below
A completed set of the discipline-specific questions included on the CD you were given when you completed your Level 1 course.
These should be sent to the relevant peer group head, as listed on the Officials' Commission page.
For upgrading report forms for individual disciplines, see relevant sections of the Officials' Toolkit.
Downloads
Annual-Record-of-Experience
Logbook Questions – L2 – April 2010
Download – Officials Structure from 1st April 2016
Download Application for Accredita~nty – 2B Official[1]
Download Application for Accredita~Regional Official[1]
Download Application for accreditation at Level 3 2015
Download Application for Accreditation Club
Download Level 3 Questions Field 2015
Download Level 3 Questions Photo Finish 2015
Download Level 3 Questions Starters and Starters' Assistants 2015
Download Level 3 Questions Timekeeping 2015
Download Level 3 Questions Track Judge 2015
Guidelines for assessing Level 3 2015