The 4J Studios National Athletics Academy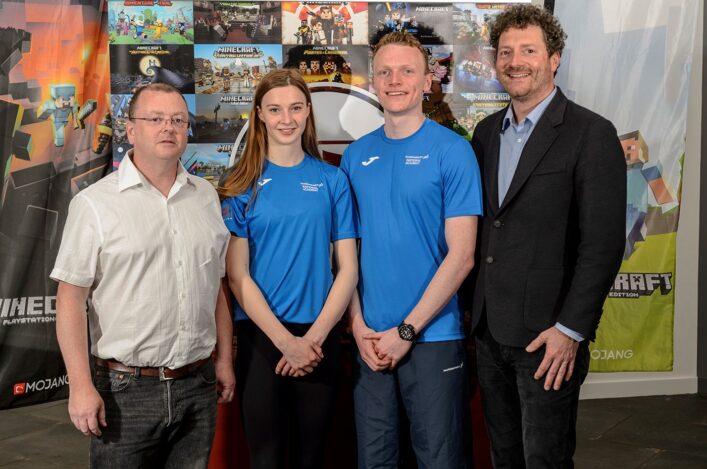 Paddy Burns CEO of 4J Studios (left) and chairman Chris van der Kuyl flank Carmen Neat and Jack Lawrie at the launch of the 4J Studios National Athletics Academy (photo by Bobby Gavin)
The 4J Studios National Athletics Academy is a two-year education programme for developing track and field athletes which aims to develop the knowledge, skills and competencies that will be essential in helping them achieve the overall outcomes of the programme.
The Academy was set up in 2013 to better support and direct young athletes, their coaches and parents as they progress towards senior status. In May 2019, we were delighted to announce a four-year sponsorship agreement with 4J Studios to support the programme. We feel that, when partnered with hard work and dedication, the opportunities, support and guidance offered will help prepare the athlete 'teams' for the challenges ahead – ultimately assisting them to fulfil their performance potential in the sport as seniors.
Downloadable National Academy Brochure
The aims of The 4J Studios National Athletics Academy are:
Improved retention rate of our best age group athletes into the Senior ranks
Increased representation on GB U18, U20 and U23 teams en route to CWG Birmingham 2022 and beyond
Increased representation on GB Senior teams and GB Performance Programme
Greater number of young athletes on CWG 2022 team and beyond
More medals at CWG Birmingham 2022 and beyond
The benefits of the programme include:
Coach education opportunities
Athlete education opportunities
Parent education opportunities
Subsidised event specific competition opportunity
Physiotherapy/functional movement screening support
Subsidised training camp opportunity
Physiotherapy support
Members of The 4J Studios National Athletics Academy from October 2019 are listed below, graduates can be found here
Year 1
Note 1: the initial consideration standards for The 4J Studios National Athletics Academy are the U17 Power of 10 UK 10 targets.  The 2021 intake also includes athletes who had entry deferred from 2020 and also those who achieved the 2021 modified consideration standards (more detail on the side menu).
Note 2: The list above reflects the coach and club that each athlete was working with when they entered the Academy