Scotland teams for Mixed Relay at Edinburgh XC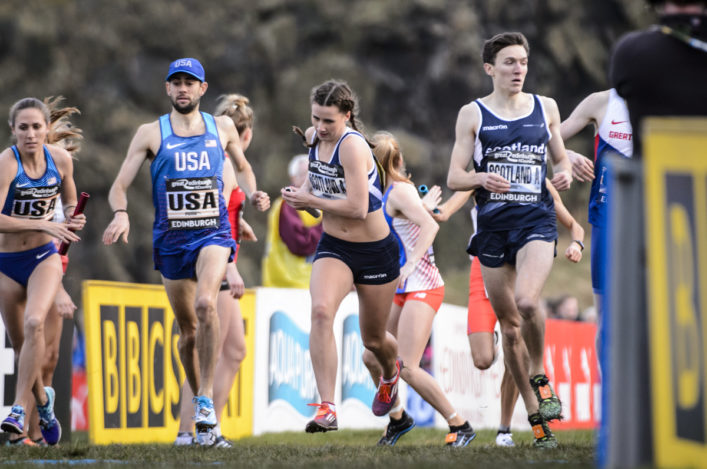 Jake Wightman and Mhairi Hendry featured last year as Scotland A ran the United States close for second place at Holyrood (photo by Bobby Gavin)
Four Scots picked for GB for Edinburgh XC
Scotland will once again compete in the 4 x 1K International Mixed Relay at the Great Edinburgh XC on Saturday 13 January.
It is always a fantastic occasion at Holyrood Park and the introduction of the Mixed Relay over the past couple of years has proved an exciting addition to what is always a busy schedule and includes our own Inter-District races.
Scotland took third place in the opening year of the event in 2015 and then won the Stewart Cup in January 2016. Early in 2017, there was another podium place as Scotland A took a fine third place finish behind a GB team led by Laura Muir and the United States.
Now we're delighted to confirm the selections for two teams to race against GB and NI, the United States and other opposition on January 13.
The A team includes Cameron Boyek, who won gold with GB at the Euro Cross in a similar Mixed Relay event, as well as Olympian Steph Twell. Jake Wightman and Steph Pennycook complete a strong Scotland A line-up.
Mhairi Hendry and Philippa Millage will feature again in this event in the B team and they will be joined by Jamie Willamson – U20 bronze medallist at the Lindsays National XC back in February – as well as Sol Sweeney, who won a GB vest at the Edinburgh XC last January.
Scotland A Team:
Cameron Boyek (Central AC)
Steph Pennycook (Fife AC/Edinburgh Uni Hare and Hounds)
Jake Wightman (Edinburgh AC)
Steph Twell (Aldershot, Farnham and District)
Scotland B Team:
Jamie Williamson (Springburn Harriers)
Mhairi Hendry (VP-Glasgow)
Sol Sweeney (Perth Strathtay/Glasgow Uni)
Philippa Millage (VP-Glasgow)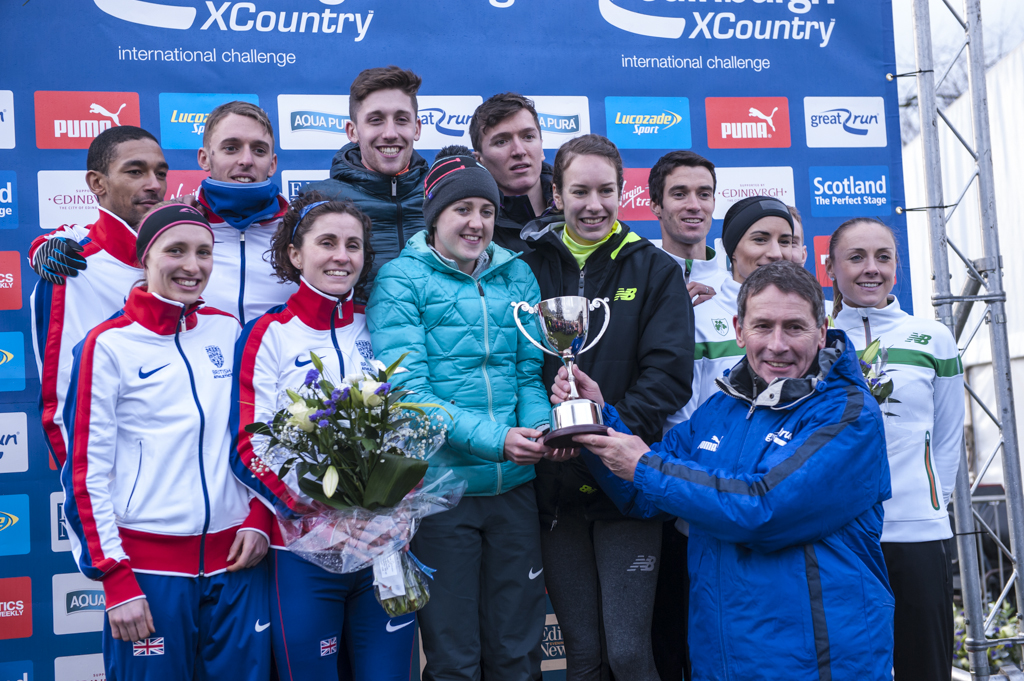 Scotland receive the inaugural Stewart Cup in January 2016 thanks to the efforts of Cameron Boyek, Steph Twell, Jake Wightman and Laura Muir
All at scottishathletics firmly congratulate these athletes and  their families and coaches on their selection to represent Scotland at a significant, televised event. Credit, too, to the clubs who were involved in their development over a number of years.
Looking back at the selections over the past three years of the Mixed Relay, no fewer than 17 different athletes have had the opportunity to wear the Scotland vest at the Great Edinburgh XC. Williamson and Sweeney are now added to that tally.
2015: Laura Muir, Ross Matheson, Josephine Moultrie, Grant Muir
2016: Cameron Boyek, Laura Muir, Jake Wightman, Steph Twell; Neil Gourley, Emily Dudgeon, Josh Kerr, Carys McAulay
2017: Jake Wightman, Mhairi Hendry, Neil Gourley, Jemma Reekie; Ben Greenwood, Steph Pennycook, Michael Ferguson, Philippa Millage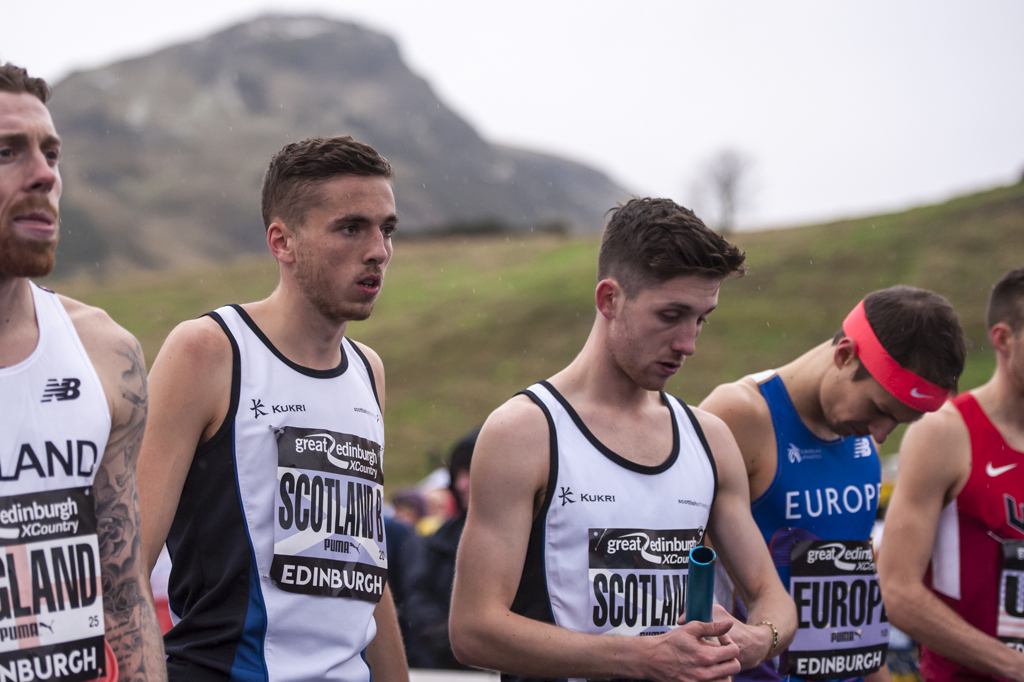 Neil Gourley and Cameron Boyek on the start-line in 2016
Tags: Great Edinburgh XC, Holyrood Park, International Mixed Relay