WATCH: Paula Radcliffe on Scottish success
Paula Radcliffe has underlined the strength and depth of athletics in Scotland.
Callum and Maria land FPSG Athlete of the Year titles
The Guest of Honour captivated the FPSG Awards Dinner with her knowledge of the Scottish scene and clear passion for the sport.
Radcliffe helped us present the FPSG Athlete of the Year awards to Callum Hawkins and Maria Lyle – and she also spoke to us about how difficult those decisions had been for our selection panel.
'The short-lists were very strong and the standards across the board, across disciplines, looks to be very high at the moment,' said Paula.
'And that's even in a year when someone like Eilidh Doyle has been sitting out for a few months when pregnant and coming back next year.
'The depth and the strength is obvious and choosing the winners must have been very difficult.
'There were people who didn't even make the short-list like Chris O'Hare, who won a European medal indoors, Beth Dobbin, who set a Scottish Record, Josh Kerr who was sixth in a world final and then the likes of Neil Gourley and Andy Butchart as well and Zoey Clark in two relays events in Doha.
'Jemma Reekie had grest succees at the European U23s and Steph Twell rounded off the year by breaking the Women's Marathon Record.
'To have all three GB representatives in the men's 1500m in Doha as Scots – and then to make the final – that was a memorable first.'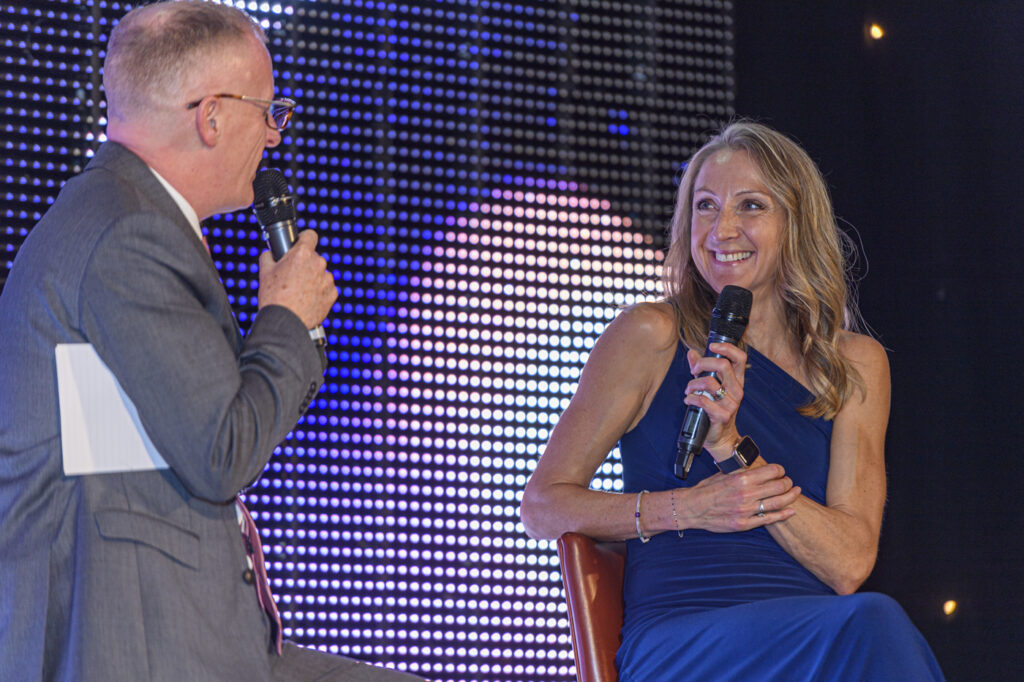 Bryan Burnett chats to Paula during their absorbing Q and A (photo by Bobby Gavin)
So what about the two main winners on the night?
'We have always known Callum is someone quite special and an athlete capable of great things,' said the erstwhile World Record holder in the Women's marathon.
'He is so tough and so committed and dedicated to his sport.
'The key thing is he was on a strong upward trajectory in terms of his career and then he hit that big 'bump in the road' if you like at Gold Coast 2018.
'It was so scary to watch that in Australia and must have been even more scary for him. But to mentally recover from that, never mind physically recover, and put those scars behind him speaks volumes about Callum.'
Maria, too, has overcome adversity.
'I am so impressed at how Maria has come back this year with double gold in Dubai,' said Paula.
'She was winning titles and setting Records at 13 or 14 and it feels as if she has been around the Para scene in Britain for so long. To deal with that pressure and to conquer her own demons with some mental health issues, well, you can't help but admire her for that. You forget she is only 19!'
While the spotlight fell on our star athletes, the FPSG Awards are about so many other folk who have contributed over the past 12 months or so.
'The volunteers and the coaches, and all of that infrastructure around the clubs, is what makes athletics happen,' added Paula.
'These people make the sport. Without them there would not be a sport.
'I would say they are the cement that holds it all together. Too often they are unsung and not applauded so I feel to take the time at an occasion like the FPSG Awards and just really celebrate their impact was very important.
'I think we were all saying 'Thank You' and emphasising that these volunteers are appreciated.'
Tags: FPSG Awards, Paula Radcliffe