LISTEN: To our interview with Stephen Maguire then join our Q and A on Twitter
Join us on our YouTube channel – please SUBSCRIBE
Stephen Maguire is the final guest in our superb Coaching Conversations video series.
In each installment we've published an extended interview with a top Scottish athlete on our scottishathletics YouTube channel.
Now, to round off the series with Episode 10, we've a lengthy and revealing chat with our Head of Performance and Coaching.
Sue Gyford has looked beyond the Stephen we know and explores his original connections with the sport, injury and illness issues which affected him at various points in his life, and his outlook on coaching.
It feels like the perfect way to conclude a series which has had great guests, some very engaged Q and A sessions on Twitter and has created widespread headlines in various Scottish media outlets.
At this juncture, we'd very much like to thank our Coaching Conversations guests: Beth Dobbin, Laura Muir, Jake Wightman, Jemma Reekie, Eilish McColgan, Neil Gourley, Maria Lyle, Jamie Bowie and Kirsty Law.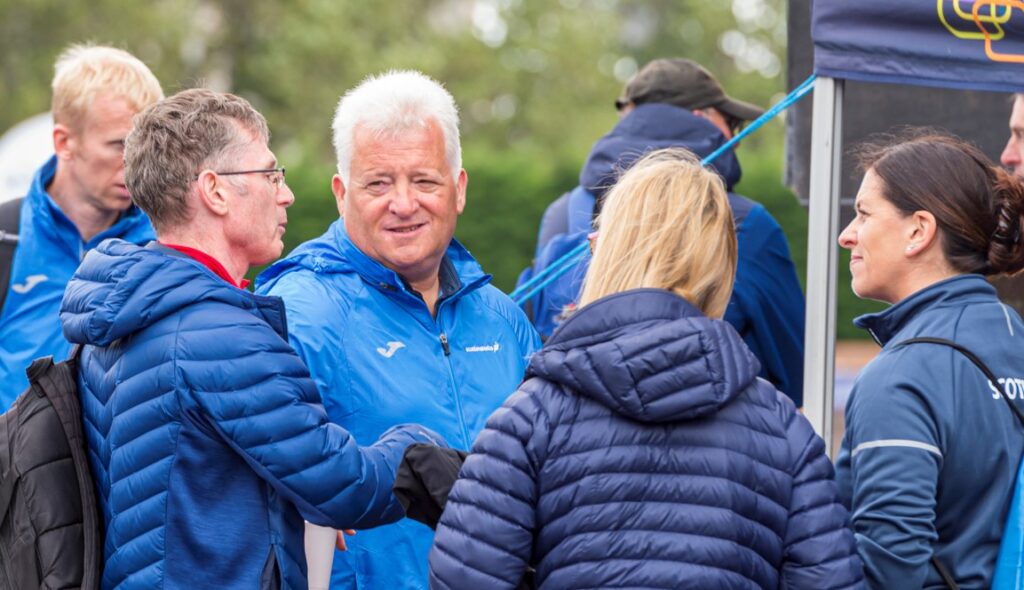 Stephen chats with coaches and staff at Grangemouth in the summer of 2019 (photo by Bobby Gavin)
Stephen recalled his athletics career early in the interview – and, as it happens, Grangemouth has a special place in his heart.
'In terms of my track and field career, I started later than most people and finished earlier,' he said.
'I was a pain in the backside at school in that I was good at most sports but brilliant at none if you know what I mean.
'Growing up and in my early teens I just loved sport – I played football, Gaelic football, rugby, cricket, athletics.
'I was a good footballer but not good enough. I was a good Gaelic player but not good enough. I was fast but not fast enough. And I could long jump and triple jump . . . but not far enough.
'I loved participating and I was lucky enough to represent Ireland.
I'n fact, my first vest with Irish Schools was the international event (SIAB) over in Scotland and we came to Grangemouth. Every time I walk through the doors at Grangemouth, the memories flood back and they are mostly good memories.
'But I was competing in the long jump and the triple jump and the guy who won it was called Hugh Davidson from Scotland, if I remember correctly.
'And I was thinking to myself 'My goodness, Hugh Davidson is a very good athlete'. So even then I think I was assessing what standard you needed to reach and, really, was 'good' is.'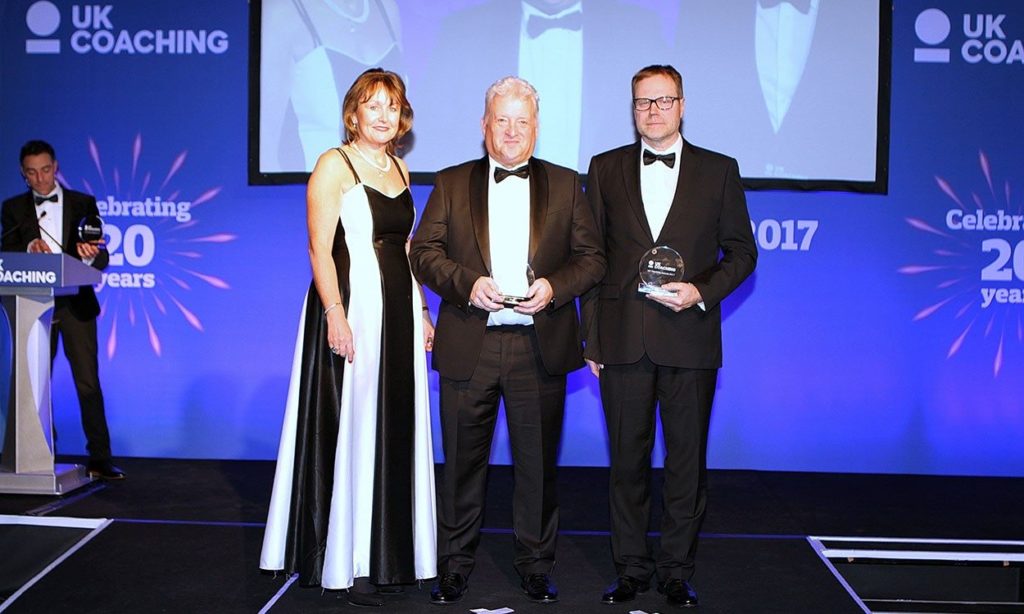 Stephen Maguire with Benke Blomqvist at the 2017 UK Coaching Awards