Lindsays Trophy – and National XC course map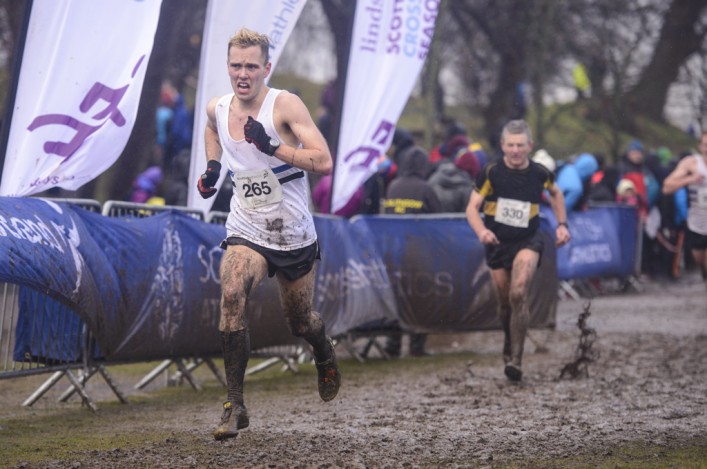 *All roads lead to the finish line at Falkirk on February 27 – for the National XC. We've had hundreds of entries from clubs the length and breadth of Scotland – thanks – and there's important info here in the downloads below.
There is a course change for 2016 with a return to what we were familiar with prior to last year but, for those on the long laps, now without the stretch out beside the high flats. Think that means the Callendar Park 'big hill' is back . . . Bring It On
2016 National Cross Country Final Information
Video coverage of the National XC
+++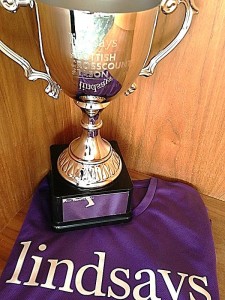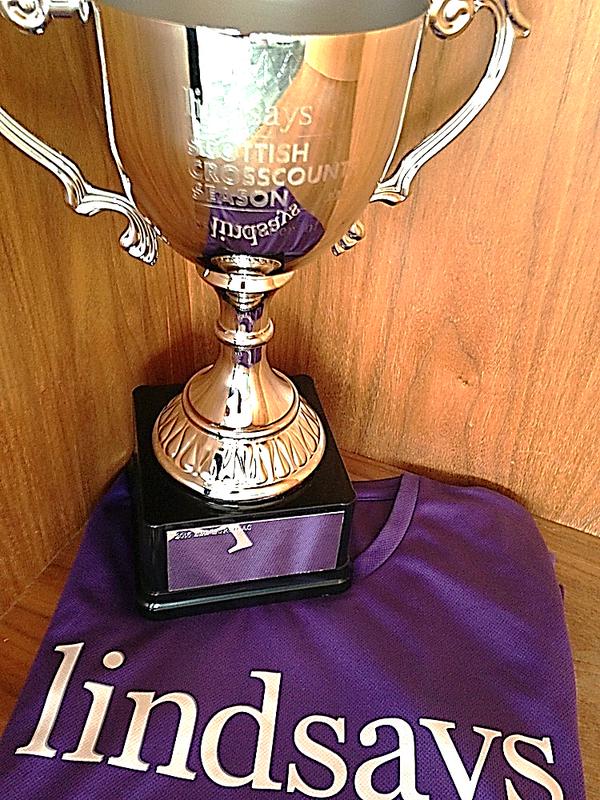 The race is on for the Lindsays Trophy for 2016 – and the National XC at Falkirk will prove decisive.
We introduced this annual 'competition' in 2015 to mark the first year of our partnership with legal firm Lindsays, who are backing the Scottish Cross Country Season.
One of the intentions behind the competition was to try and galvanise clubs to get more members out competing at cross country and there are clear signs that is happening.
Edinburgh AC were the first winners – recognised as having had the largest number of finishers at the National XC at Callendar Park last February. EAC had no fewer than 84 athletes who finished that day.
For this year's trophy, we have extended it to take in the number of finishers in all races (both male and female) across three National events at Cumbernauld in October, Bellahouston Park in Glasgow in November and Callendar Park in Falkirk in February.
Now we have a table of the leading 15 clubs, with Giffnock North AAC heading towards the National XC as clear leaders at the top! Edinburgh AC, Ronhill Cambuslang Harriers, Garscube Harriers and Central AC complete the top five.
So far, ahead of Falkirk, no fewer than 72 clubs have had finishers at Cumbernauld and Bellahouston and it would be great if we could push that figure beyond the 87 who had finishers at the National XC some 12 months ago.
*We do understand and accept that this is an 'event' which obviously favours larger clubs and that there could be arguments about the number of finishers as a proportion to the number of members within a club or indeed the geographical location of events. We may well chat to Lindsays about these issues.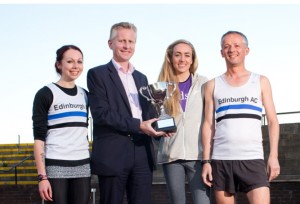 Edinburgh AC won the first Lindsays Trophy and collected it from Ian Beattie and Eilish McColgan
Current Table for the 2016 Lindsays Trophy
1 Giffnock North AAC 136
2 Edinburgh AC 93
3 Ronhill Cambuslang 92
4 Garscube Harriers 91
5 Central AC 81
6 VP-Glasgow 76
7 Kilbarchan AAC 75
8 Greenock Glenpark 74
9 Inverclyde AC 73
10 Falkirk Vics 67
11 Corstorphine AAC 62
12 = Bellahouston Harriers 61
12 = Law and District 61
14 = Kirkintilloch Olympians 55
14 =  Shettleston Harriers 55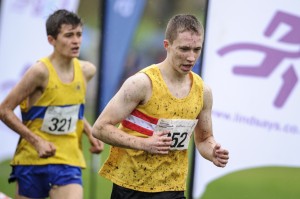 Giffnock North lead the current table with Law and District AAC also in the top 15
Tags: Callendar Park, Edinburgh AC, Falkirk, Giffnock North AAC, Lindsays Trophy, National XC