Scots in mood for Leeds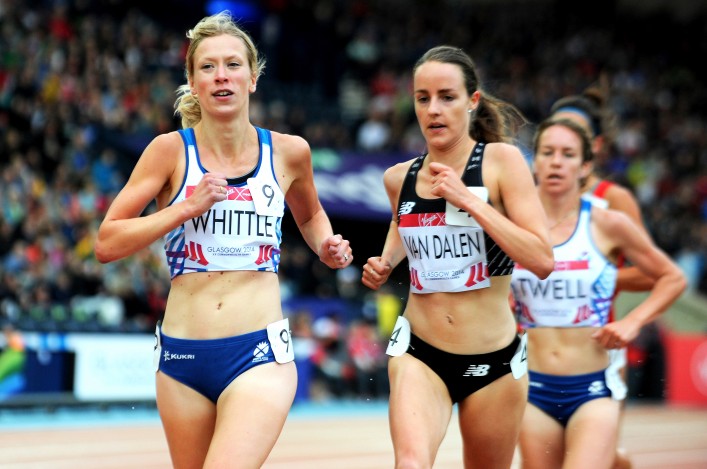 Laura Whittle and Steph Twell at Hampden – picture by Mark Shearman
Scotland savoured second and third place finishes in the Abbey Dash 10K race in Leeds last year in the men's and fourth in the women's on a good day for our road runners.
But it might not be too much to hope for even better this time around.
Eight athletes have been selected to wear national vests in what is an international opportunity as per the guidelines of the scottishathletics selection policy.
For the Women, certainly, there's something of a Commonwealth Games Team Scotland 'reunion' with three of our Hampden track athletes joining Scottish 4k Cross country Champion, Rhona Auckland, on Scotland duty. Beth Potter, Steph Twell and Laura Whittle all took part in the 5000m on the track at the Games and Hampden 3000m steeplechaser, Eilish McColgan, is set to join them as she debuts in a 10K road race.
The Men will be represented by Callum Hawkins, in-form Andrew Butchart, Andy Douglas and Luke Traynor in what also looks a very strong quartet.
Josh Lilly finished second last year with Hawkins in third while Potter, at fourth, was the best-placed of our women on a day when Matthew Hynes (29.23) and Louise Damen (33.04) took victories.
For newly-qualified physics teacher Potter, it is a race she enjoys.
'I like the Leeds race and usually like to run it as preparation for Liverpool – although this year I am undecided about the Euro Cross trial,' said Beth.
'I was fourth last year and it may even be a stronger field this year because we've four good Scottish athletes in the team for a start with myself, Steph and Laura having been at the Games and Rhona currently running very well in cross country.
'My sister used to share a flat with Rhona at Uni in Edinburgh so I usually know how she is getting on and she won at Bellahouston obviously.'
Potter for her part is adapting to a new life after appearing in the Games and the Euro Champs in Zurich and then starting work part-time as a teacher.
'I'm working two days a week in a school near where I live in Twickenham and enjoying it a lot,' she said.
'I am teaching science and physics to 11-18-year-olds two days a week and that gives me a bit of time to focus on training.  I had a two week break after Zurich and then I'd an illness not so long ago that caused me to miss a few sessions for another couple of weeks. I am in better shape now, though.
'I don't feel there's a huge rush this winter to peak and cross country after the New Year isn't in my plans. That's why I'm not sure about Liverpool. I need to sit down with my coach, Mick Woods, about it all and have a discussion.
'An indoor season is on the agenda but, again, I'm not sure yet if that may include races in America.
For the moment I'm just looking forward to Leeds on Sunday. We've good Scotland teams taking part as you say and I believe Eilish is running her first 10K on the road, as well, so it is a bit of a get together for a few of our Commonwealth Games squad.
Butchart of course heads south after a string of recent successes in cross country including the Scottish 10K, fastest lap on the English 6-Stage Road Relays and the 4K Champs at Bellahouston.
Douglas won the Frank Duffy 10-Mile race in the summer  while Hawkins made a fine half marathon debut at the Great Scottish Run.
Under our selection policy, there is at least one U23 male and one U23 female in the Scotland teams in order to help develop our younger athletes.
There is more detail on the Abbey Dash 10K on the Northern Running Guide website
Tags: Andrew Butchart, Andrew Douglas, Beth Potter, Callum Hawkins, Laura Whittle, Luke Traynor, Rhona Auckland, Steph Twell