Scottish quartet set for Monaco; Neil 2000m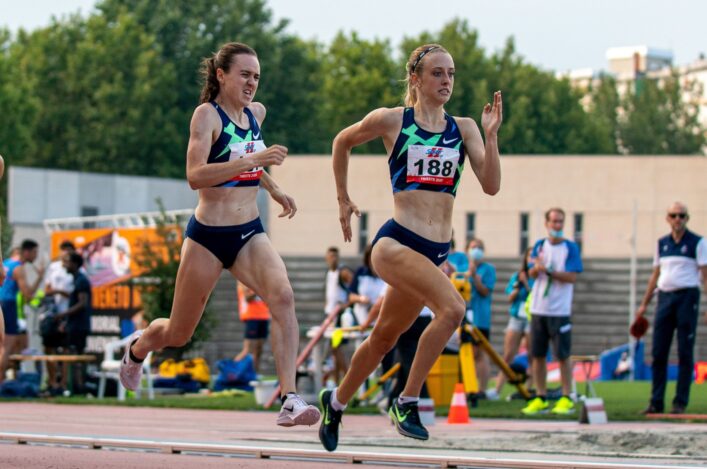 Jemma Reekie and Laura Muir in action in Italy a couple of weeks ago (photo by Chris Cooper)
Monaco Diamond League start-lists
Laura Muir and Jemma Reekie will resume their burgeoning track rivalry in Monaco on Friday night.
The Herculis Diamond League meeting will feature a host of big names and four Scots are on the start-lists – with Jake Wightman and Eilish McColgan also set to compete.
Muir and Reekie raced over 800m in Italy a couple of weeks ago with Jemma edging the victory by two hundredths of a second as both went under 2.00 minutes.
This time, coach Andy Young's two most prominent charges will contest the 1000m distance as one of a number of remaining track engagements in what will of course be a short season. Shelayna Oskan-Clarke is among the opposition for the two Scots.
Welcome back! Jemma edges out Laura and Josh wins again
'We knew we would train well together and motivate each other,' Laura told the BBC, with Jemma having stayed with her during lockdown in order to create a 'Covid-19 household'.
'It was quite natural because we are away on training camps a lot together anyway. That is why it worked to have her move in. I hope the training we have done means we can race well over the next couple of months.'
Wightman is in the Men's 1500m race in Monaco after racing 800m earlier this week in Finland.
And McColgan will open her competitive season after a long build-up in America and Switzerland with a run in the Women's 5000m race. Fellow Brit Laura Weightman is in that field, too.
'We knew we'd motivate each other' – Muir on Reekie
+++
Neil Gourley and Jake Wightman returned to the track in Sweden earlier this week when they raced in the Sollentuna meeting.
Neil was third in a 2000m race which saw him move to second in our all-time rankings for that distance with 5.00.73.
And Jake clocked a 1.45.55 for third in his 800m race ahead of that 1500m encounter in Monaco on Friday evening.
*Josh Kerr was second to Nijel Amos in Portland with an 800m run of 1:49.29.
+++
Discus thrower Kirsty Law continued her good form in Manchester earlier this week, too.
Kirsty threw out to 57.24m in the Trafford Open Series and has the UK Champs in a few weeks very much in mind as a target as well as her current PB of 57.79m.
+++
Tags: Eilish McColgan, Jake Wightman, Jemma Reekie, Josh Kerr, Kirsty Law, Laura Muir, Monaco, Neil Gourley