'Scots in Rio are an inspiration' – Zoey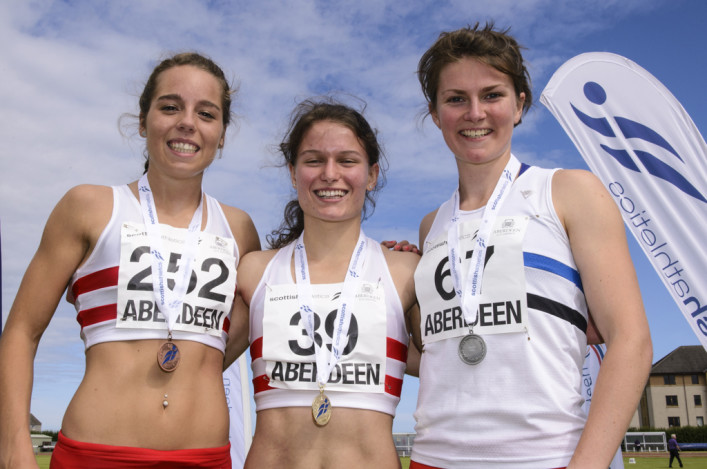 Zoey Clark won gold in 2015 and is pictured with fellow medallists Kelsey Stewart (left) and Emily Dudgeon (photo by Bobby Gavin)
Grangemouth start-lists and live Results
Zoey Clark will watch the biggest Scottish track and field representation at the Olympics for more than a century compete in Rio – and use it as motivation for the coming years.
The Glasgow 2014 relay runner will seek to defend her Scottish Senior title at 400m at Grangemouth on Saturday and Sunday after posting a PB of 52.58 last weekend which took her ninth on the all-time list.
And Clark, 21, insists the exploits of #SALfab15 are inspirational for others, albeit she herself has had a 2016 blighted by illness and injury.
'Seeing so many Scots make it to Rio with GB and NI is definitely a big motivating factor in my view,' said European U23 relay medallist Zoey, who is coached by Eddie McKenna, in a preview blog post for scottishathletics.
'It is exciting when you see people you have competed with and against over the past few years, or met on teams, being there at an Olympics.
'I think Chris O'Hare said athletes had watched Eilidh Doyle making an impact two or three years ago and started to feel they could try and do something similar and I would agree with that.
'I've not achieved things I wanted to this year because it has been pretty much a write-off due to illness initially and then injury. But you have to keep setting yourself targets in athletics and I'm sure there will be people at Grangemouth who have taken inspiration from those in Brazil.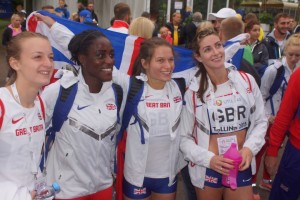 Clark won 4 x 400m gold at Euro U23 along with Kirsten McAslan
'I competed indoors during the winter and was lined up for the Glasgow Grand Prix at the emirates before coming down with a chest infection the week before.
'A few weeks later, when I tried to come back maybe too soon, I hurt my hamstring and there have been some on-going problems with that. I only tore it once as it happens but it has taken me until now to get the outdoor season off and running.
'So to get a PB (52.58) last weekend for Thames Valley in the British League meeting was a big confidence boost. I will take that into Grangemouth and hopefully I can defend the 400m title I won in Aberdeen last year.
'Looking ahead, the Commonwealth Games qualifying standard for Scotland women is set at 52.30 so that's definitely a big goal for me. It always has been, but getting there from 53 something to 52.30 would have felt like a bigger jump than it is now.
'Obviously you have to achieve those next year so the 2017 season will be important for me and for a number of other athletes.
'I won't prolong this season much and then it will be all about the hard work during the winter.'
Follow the weekend's event on Twitter #SALChamps
Tags: Chris O'Hare, Eilidh Doyle, Gold Coast, Grangemouth, Kirsten McAslan, Olympics, Rio 2016, Senior Champs, Zoey Clark