Sammi World Record; Jake, Nick; West Half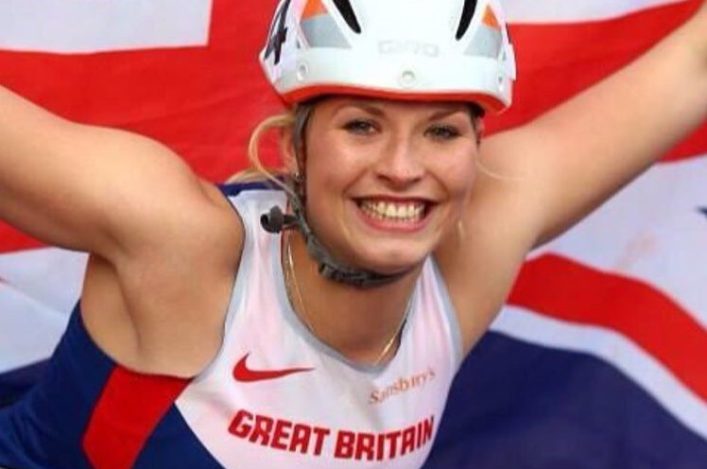 Show of intent – Herald report
Scotland's Sammi Kinghorn was celebrating last Saturday as she smashed the T53 200m World Record at Mesa, Arizona.
The Rio Paralympian, 21, raced home in 28.67 seconds to knock a remarkable 0.26 seconds off the mark set by US racer Jessica Galli five years ago.
It was a superb performance by the wheelchair racer from the Borders who is coached by Ian Mirfin – although they were unaware of the World Record until a few hours afterwards.
'We thought it was 'only' a European Record and it was only later back at the hotel that we thought to make some checks. When I called the Meet organiser to advise them, they were already aware!'
Kinghorn, who won 200m T53 bronze at the 2015 World Championships in Doha, Qatar, demonstrated that she will be a force to reckon with at the World Para Athletics Championships in London later this summer with that performance. She also led from the front to win the 800m in 1.52.05.
Many congratulations to Sammi, her family, coach Ian and all the rest of the support team out in America – and best wishes for forthcoming competitions.
By the end of the meet, Sammi had five gold medals to her name with wins in a further three events.
She took the 100m in 16.63 which was into a headwind and only 100th outside her own European record. In the 1500m, Sammi won a tactical race against T54 athletes in 3.35.53 against, opening up a four-second gap in the last 200m. And her 55.32 time in the 400m was only five hundredths outside her own European record.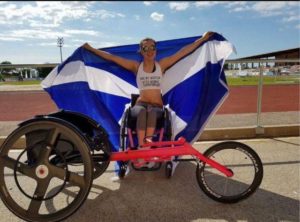 Photo courtesy of Russ Watson
*Shelby Watson was in action in the Paralympic Meet in Barcelona over the weekend and was in superb form, too. In fact, the young Scot won both her races at 100m and 200m to once again confirm her potential.
The T33 wheelchair racer already holds five World Records and set two of them in the same event in Spain last year.
+++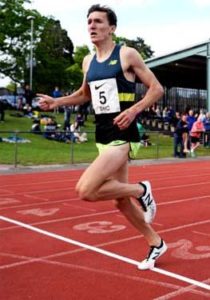 Photo by Mark Shearman
There were some good performances by elite Scots at various locations over the weekend – and one better than Jake Wightman's PB at 800m.
The Edinburgh AC athlete, a finalist at 1500m in the European Championships last year, came up with the best 800m run by a Scot for more than 20 years as he won a BMC meet race in Solihull in 1.46.37. That takes Wightman to seventh place on the all-time list outdoors.
In the 800m, Jake would need to make 1.45.90 to reach the GB standard for the World Champs in London
Meanwhile, in America, discus thrower Nick Percy continued his superb 2017 form to win the Big Ten competition with a Season's Best of 62.91m.
Nick is now unbeaten in eight meetings so far this year as he picks up where he left on 2016 when he set the Scottish Records a number of times and won the British title.
+++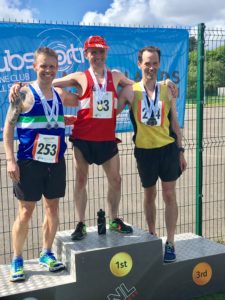 Men's 1-2-3 in the West Half Marathon Champs
The Monklands Half Marathon saw 250 athletes finish and, within that, there were West District Championship medals to be handed out.
Robert Gilroy of Cambuslang is a regular winner of this race and he did so yet again with a run of 70.32 (chip time) taking him to West Gold by a large margin. The top three men also took the Master 1-2-3.
Senior Men (and all also Masters Men):
1. Robert Gilroy (Cambuslang); 2. James Stewart (VP Glasgow);  3. Steven Prentice (North East Marathon Club)
Senior Women:
1. Julie Beveridge (Calderglen Harriers); 2. Pamela McCrossan (Clydesdale Harriers); 3. Lynne Powell (Bellahouston Road Runners)
Masters Women:
1. Pamela McCrossan (Clydesdale Harriers); 2. Jill O'Neill (Garscube); 3. Pauline Doherty (Springburn Harriers)
With thanks to Clare Barr
Tags: Jake Wightman, Jo Butterfield, Nick Percy, Sammi Kinghorn, Shelby Watson, West Half Marathon, World Record