Round-up 30/31 May: Sharp; BMC; Bowie; Hills; B.I.G.; Para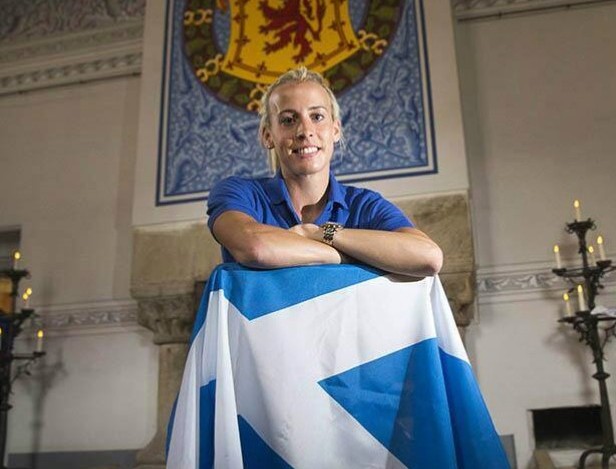 It was another hectic weekend for Scottish athletes at various locations and various levels, with track and field and hill running to the fore.
We'll seek here to give some highlights from a number of events and supply links to results.
Hard to know where to start, therefore, but Scottish women at 800m may well be as good a place as any.
Lynsey Sharp was in action for her third race of the season at that distance and, after a couple of quite low-key outings, there was no hiding the quality in the Diamond League event in Eugene, America.
Sharp clocked a season's best 2.00.61 to finish seventh in a world class field and had the bonus of achieving a World Champs standard for Beijing for GB – with 2.01.00 being asked  as the selection criteria.
'Happy with a season's best and a Worlds qualifier in a crazy fast race,' tweeted the Commonwealth and European silver medallist later.
That results puts Lynsey top of the Scottish 800m rankings but, below her, there have been some great performances in recent days.
In Manchester, Katy Brown came up with a fine PB of 2.02.33 as she finished third in the A race at the BMC Grand Prix meeting.
That gives Katy a qualification standard for the Euro U23s and the impressive 800m continued for Scots in another race. Warrington-based Scot Carys McAulay ran 2.0550 to get inside the time required for both the World Youths and the European U20 events this summer. As she is only 17, Carys looks firmly in the frame for GB for the World Youths in Colombia.
McAulay won the B race which featured runs by Jenny Tan, Caelidh Ross, Emma Leask and a PB for Kelsey Stewart.
Just to emphasise the point about Scottish impact at the moment, in the British Women's rankings for 800m there are currently seven Scots in the top 25.
Turning to the male athletes in Manchester, Josh Kerr and Cameron Boyek were both in superb form.
Josh delivered another PB at 1500m and his 3.44.12 is the seventh best of all-time for a Scottish U20 athlete. It was also a GB qualifying standard for the Euro U20s in Sweden.
Cameron, too, could be on his travels with GB this summer with his 3.40.62 a Euro U23 standard and the second best performance this season at the distance by a Scot.
Kathryn Gillespie was in Euro U20 form again, as well, at 1500m – with a new PB of 4.18.05.
The 5000m races in Manchester featured the likes of Callum Hawkins (14.13), Alex Hendry (14.28), Laura Whittle (15.34) and Rhona Auckland (15.51) and Susan Partridge (16.25).
+++
Jamie Bowie has been in action twice in the past week on the continent following a training spell in Poland.
The Commonwealth Games relay runner clocked 46.64 in Oordegem to go to the top of the Scottish rankings with his first outing at the one-lap distance this season.
This followed on from a fine 300m run in Wroclaw when Jamie clocked 33.95 – the fourth best of all-time for a Scot at that distance.
Patrick Swan ran 47.83 in Oordegem while Cameron Steven travelled for an 800m and was timed at 1.55.17.
+++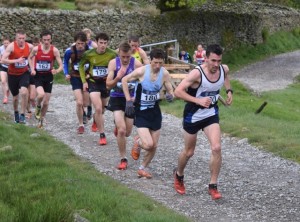 Andy Douglas and Robbie Simpson in action 
Mountain_Running_Trials_Glenridding_Final_Results
Hill running was the action in the Lake District on Sunday, as a number of Scottish athletes competed in the British Mountain Challenge event  which doubled up as a GB Euro trial.
Andrew Douglas was again in superb form and the athlete who leads the British Athletics Mountain Series for 2015 claimed victory in the second race of the three-event series.
That cements his place for Madeira and the euros but a number of other Scots have to wait and see on the selection process.
In the Senior Men's race, Robbie Simpson was fourth and Scott Fraser was fifth. Louise Mercer stepped up to the Senior Women's level for the first time and came up with a fine seventh place finish, beating some good athletes in the process.
Jacob Adkin was third in the Junior Men's race and Annabel Simpson was fourth with both harbouring hopes of selection. Catriona Graves did not run the trial but is understood to have asked to be considered by GB for the Euros.
+++
Track and field action took place at the Bedford International Games on Sunday.
There were event wins for the likes of Mark Dry, Henrietta Paxton and Kirsty Law and good performances by Adam Thomas in the sprints and David Feeney in the sprint hurdles, among others.
There was a season's best for Para athlete, Maria Lyle, in the 100m in 14.72 while Owen Miller enjoyed a 1500m win with 4.06.59 and Robert Ferrol a fourth place.
Check out all the results online here.
+++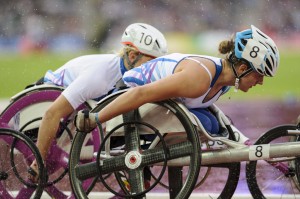 Meggan and Sammi at Hampden last year
Scottish Para pair, Sammi Kinghorn and Meggan Dawson-Farrell, have been competing at the  IPC Grand Prix Nottwill, Switzerland
The duo have mixed it with top quality fields, in fact only the Chinese are missing otherwise these would be Paralympics. Meggan's placings are in the heats she contested, Sammi's are essentially final placings as a T53.
One Scottish record for Sammi in 200m at 31.06. All times are season's bests.
Meggan: 100m 18.60 fourth in her heat; 200m 32.58, 4fourth;  400m 62.67 fourth; 800m 2.05.45 fourth and 1500m 3.46.41 third in heat. Sammi: 100m 17.87; 200m (NR) 31.06 third; 400m 58.28 fifth; 800m 1.58.69 fifth.
There's a round-up on the British Athletics website.
+++
Scottish Universities and Colleges were in action at an International Match in Northern Ireland over the weekend. The Scottish students took on their Irish counterparts at the Mary Peters Stadium.
There's a report on the match from team manager David Low.
Tags: Andy Douglas, Cameron Boyek, Henrietta Paxton, Jamie Bowie, Josh Kerr, Kathryn Gillespie, Katy Brown, Kirsty Law, Lynsey Sharp, Mark Dry, Meggan Dawson-Farrell, Sammi Kinghorn