Rees and Gyurko revel in Trail Champs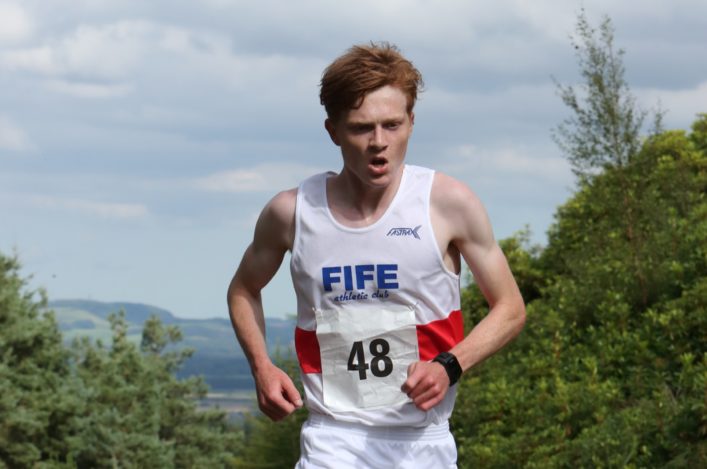 Logan Rees on his way to Scottish Trail Champs gold (photo by Pete Bracegirdle)
The sun streamed through the trees in the ancient Royal Hunting Forest of Falkland where Fife AC hosted the Scottish Mid Trail Championships at their own Festival of Trail Running.
And the host club's Logan Rees warmed to the occasion taking the lead from HBT's Tom Martyn as the course descended the scenic Arraty Craigs footpath to hold a 20m advantage going into the loop at the far end of the testing route.
Rees held his form over the return climb holding a 17 seconds advantage descending to the finish timed at 34.12 seconds for the 10km course. John Newsom (Inverness Harriers) followed Logan home to claim individual silver ahead of Martyn in third.
Ben Hukins placed fourth leading Cambuslang to the team title as the Glasgow club, winners in 2016, packed tightly courtesy of Alasdair Campbell fifth, Robert Gilroy sixth and Kevan Harvey 10th.
It was indeed a happy return for leading over 40 veteran Gilroy, after going astray two years ago when leading along an earlier version of the course.
PHOTOS – SENIORS (By Pete Bracegirdle)
Stirling-based Hungarian triathlete Fanni Gyurkó (Central AC) finished a clear winner of the women's title clocking 39.23 while Carnethy Hill Runner Charlotte Morgan relished the up and down nature of the course to take individual silver and veteran gold.
The 2016 champion, Garscube's Katie White, took individual bronze while in fourth Halina Rees led the Fife AC quartet in the retention of their team title supported by Alison McGill seventh, Heather Anderson 10th and Katie Jones 12th. Garscube were second and Cambuslang third.
Anisha Badial of Aberdeen AAC won the Women's U20 gold with George Rees taking the Men's U20 title.
PHOTOS- JUNIORS (By Pete Bracegirdle)
Drew Pollock (Cambuslang) and Grace Whelan (Moray RR) won the U17 titles over a 5km course with Garscube and Cambuslang the respective men's and women's team winners.
The U15 boy's gold medal went to James Connolly leading Garscube to the team title. Host club Fife celebrated gold as Anna Hedley added yet another championship title to her burgeoning portfolio. Garscube made it a successful trip East also winning the girl's team title.
The event supported U13 and U11 development 3km races, too, and it was good to these well-supported by various clubs from across the country.
A sizeable army of Fife AC marshals shepherded the record entry of 300 runners around the various age-group courses before returning to Strathmiglo Village Hall for the traditional post-race tea and presentation.
With thanks to Graham Bennison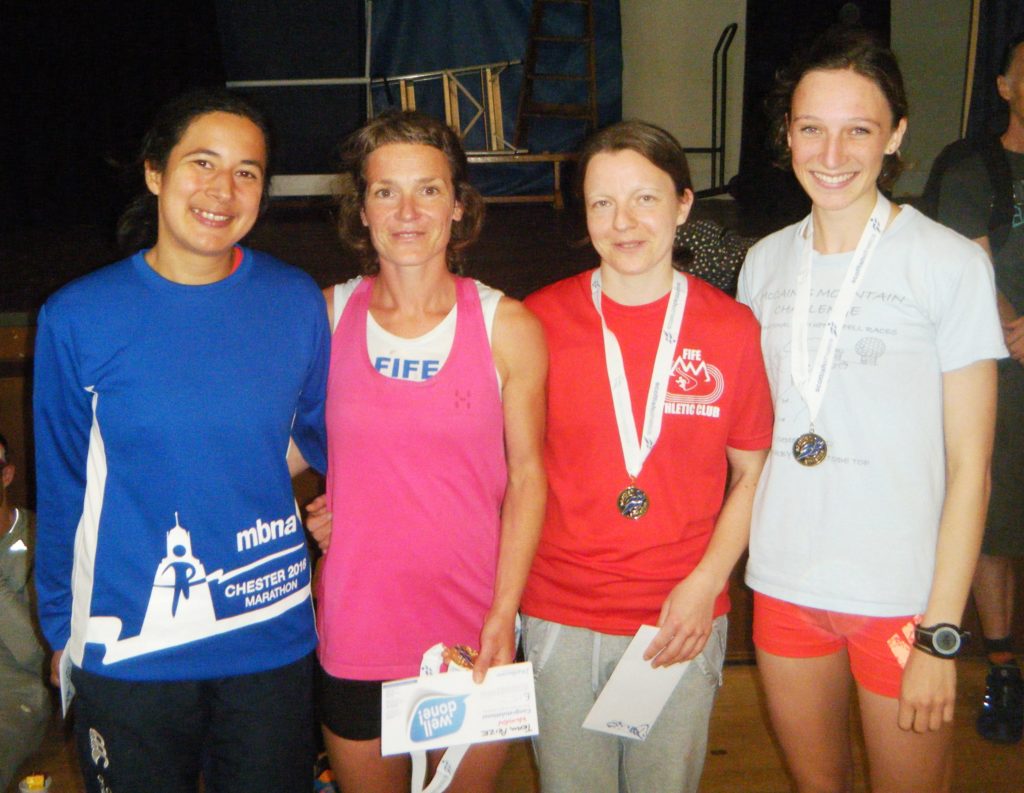 Fife AC's winning women's team
Tags: Cambuslang Harriers, Fanni Gyurko, Fife AC, Logan Rees, Scottish Trail Champs