Murray and Mitchell land 5K golds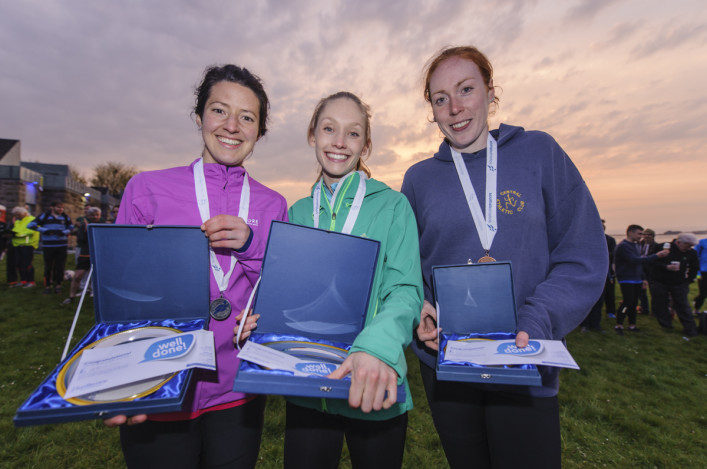 Women's 1-2-3: Maddie Murray (centre) celebrates Silverknowes victory with silver medallist, Morag MacLarty (left), and bronze medallist, Jenn Wetton
Provisional Results from Silverknowes (with this report predicated upon these results)
GB cross country international Maddie Murray broke the Scottish 5K Champs course record at Silverknowes – as she sets her sights on the European Championships on the track.
And Mark Mitchell won his first road race title, to add to others in track and cross country, with the Forres Harriers athlete now ready for a 10,000m track debut.
The 'MM double act' were the headline acts in fine conditions on the Edinburgh coast as this race once again proved the perfect setting for numerous PBs.
We make there was an 80 percent turnout in terms of those entered and racing and also no fewer than 240 runners who broke the 19-minute barrier for 5K.
Steph Pennycook and Jonny Glen picked up U20 titles once again and it was a busy night for Pennycook at the podium – as she picked up a team bronze for Senior Women and team gold for U20 Women.
The Masters titles saw Garscube's Lesley Chisholm gather in another National title and Kerry-Liam Wilson (Ronhill Cambuslang) made it an amazing six-in-row for the Men with 15.20.
Murray, who clocked 16.07, and Mitchell had been pre-race favourites and so it proved.
https://youtu.be/ze4a81uJ7e8?list=PLmLOsp-Ue_yRIBpmO7b-qEH7rorqRKpGQ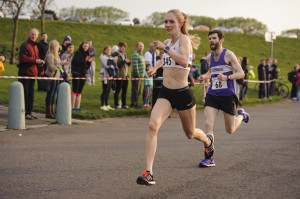 Murray on her way to Silverknowes course record
Edinburgh AC athlete Maddie, guiding her club to Team race success, took Morag MacLarty's course record of 16.14 and it was the Central AC athlete who was closest to her on the night with 16.31, with Jenn Wetton in third place in a 16.34 PB. All three athletes posted standards in our Road Race Grand Prix.
'I really enjoyed it and I am thrilled with a course record here,' said Maddie.
'I've run at Silverknowes once or twice in the Parkrun but this was totally different. Being in the same race with all the guys helps push you on and I think that was a factor in terms of the time.
'Also, I'm not used to road racing so I didn't really have an idea of how far or how close Morag was behind me – so I kept forcing myself on.
'I'm heading to Manchester next weekend for a BMC meeting and a 1500m. Hopefully I can open up well for my track season. The European Championships qualifying standard is 4.08 so I'd like to think that is a realistic type of goal for me.'
Edinburgh won the team race with Maddie backed up by Rachael and Laura Dunn with Central AC second and Fife AC third.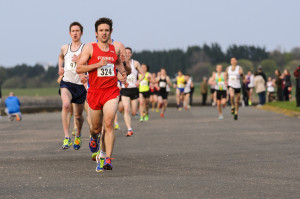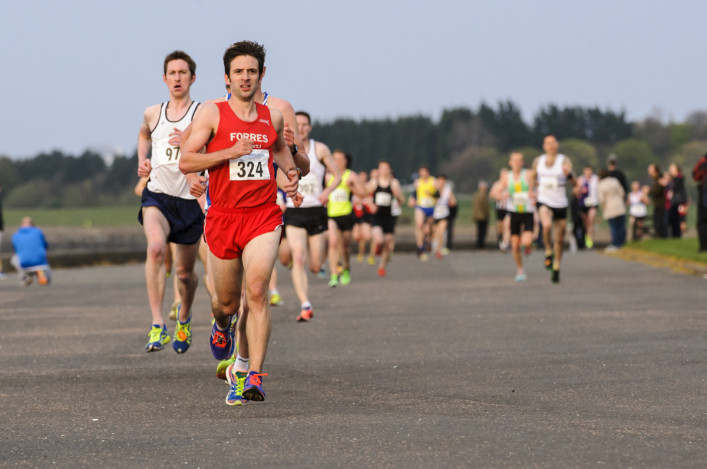 Mark Mitchell – first road race National title
Mitchell was also a clear winner in 14.32, although the margin of victory this time was 10 seconds. He saw off the challenge of silver medallist Dermot Cummins (Corstorphine AAC), who was at 14.42, and Cameron Milne (Central AC) at 14.44, to take his first national title on the road.
The three medallists landed B standards for the Grand Prix cash by getting under 14.45
'I have to be pleased with that and it is a wee while since I won a race,' said Mark.
'I was third at the National XC and second at the Inverness half marathon, though, so 2016 has been good for me already.
'Looking back over the years I've won National titles now on the track, at 800m and 1500m, and on cross country at the 4K Champs. It is all just putting one foot in front of the other and running!
'I've trained longer this winter, maybe 80 to 90 miles a week. I am living in Inverness and there's a great road circuit right on my doorstep. The only problem is I am doing the runs myself.
'I plan to run the 'Night of the 10Ks' at Highagate. I've never run a 10,000m on the track but will have a go. It is the Olympic trial and I just fancy getting involved in that and taking the opportunity.'
Central AC won the Men's race from Inverclyde AC and Corstorphine AAC.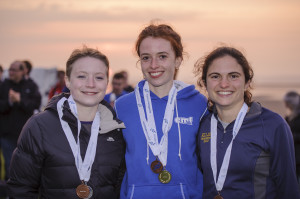 Fife AC won U20 title – with Steph Pennycook (centre) winning gold
Pennycook won the U20 women's title with an impressive 16.34 (the same time as Wetton) as she took gold from Fife AC club-mate Annabel Simpson  and VP-Glasgow's Gillian Black.
Glen was home in 14.56 to replicate last year's Men's U20 win from silver medallist Aidan Thompson (Central AC) and Elish de Mello (Edinburgh Uni Hare and Hounds).
In the team races there, Fife AC took the Women's golds while Edinburgh Uni Hare and Hounds are U20 Men's champions after just edging out Central AC.
Thanks once again to everyone who supported the Scottish 5K Champs and Run and Become who help organise these results. We'd stress that the Results are provisional and subject to scrutiny.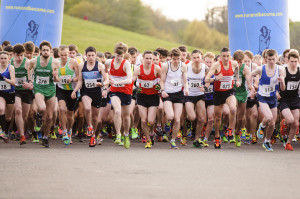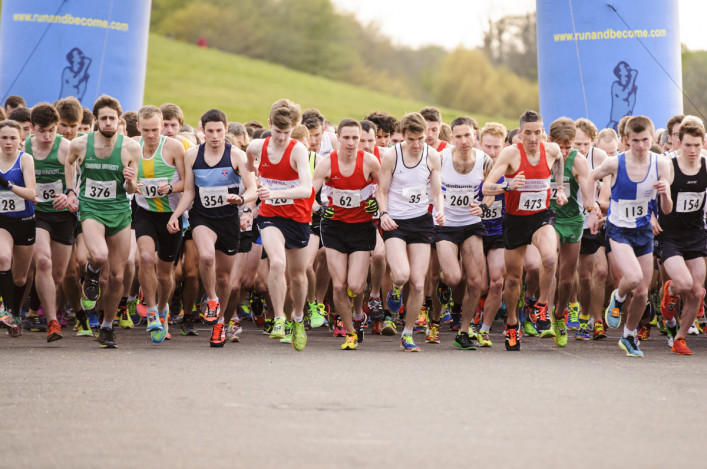 Race start – photos by Bobby Gavin
Tags: Jonny Glen, Maddie Murray, Mark Mitchell, Road Race Grand Prix, Run and Become, Scottish 5k Champs, Silverknowes, Steph Pennycook