Exciting Inter-District programme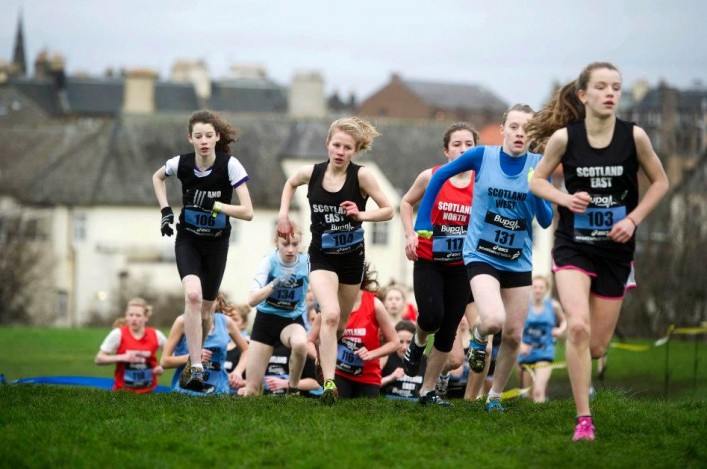 *See foot of article for Seb Coe video on the importance of cross country
Central AC athletes are usually prominent when it comes to Scottish cross country events and the 2014 Inter-Districts met that pattern.
Alex Hendry and Fiona Thompson collected the Senior titles wearing East District vests and there are coveted Inter-District medals up for grabs again at Holyrood Park on Saturday.
It is all part of a great programme of athletics on the day with something for everyone from the mass participation events for runners of all ages, the Inter-District contests from U13 to Senior and a series of top-class international races as part of the BBC televised-programme.
Athletes and clubs were informed of the District selections prior to Christmas and following the championship events in the North, East and West. Congratulations to all those selected.
There is a timetable online on the fixture page in our Events section, which includes start-lists.
North of England teams will compete for the first time in the Senior Men's and Senior Women's race and, added to Scottish Students teams, this should give stronger team competition at this level.
Unfortunately, please note that with warning of extreme winds for Edinburgh area on Saturday, we have been advised by the event organisers that it may be necessary to cut the number of laps in the U13 and U15 races early in the day in order to ensure the full day's schedule is met.
In the meantime, good luck to everyone set to compete at Holyrood in the Inter-District races and safe journey for those travelling to Edinburgh from further afield. Please arrive in plenty of time for your race.
* The Inter-District races at Senior level are the third counting event in the scottishathletics Cross Country Grand Prix.
This follows initial points awarded at the 4K Champs at Bellahouston in November and the District Championships across the three regions – North, East and West.
Central AC's Morag MacLarty and Shettlston's Tewolde Mengisteab are the current leaders after two rounds.
The fourth and final event is the National XC at Falkirk on Sunday 22 February and clubs should be aware that entries are now required for Callendar Park. Entries close on February 2.
There is £4000 worth of prize money for individuals available via the 2014-15 Cross Country Grand Prix.