Jumpers lead way amid dozen medals for Scots at Bedford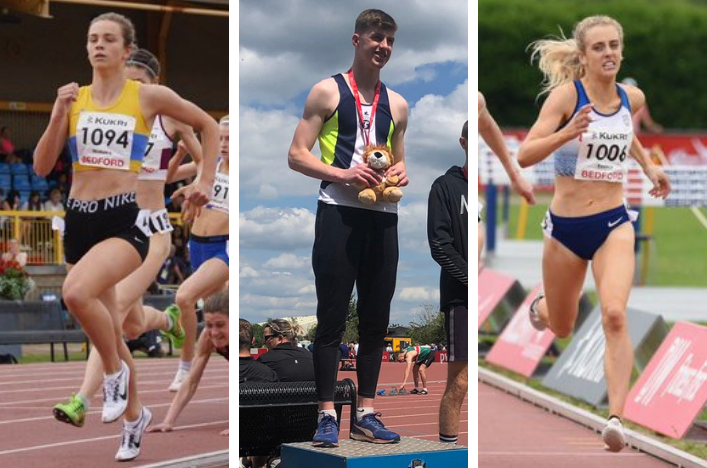 Scottish trio of gold medallists at Bedford – Erin Wallace, Stephen Mackenzie and Jemma Reekie
England Athletics website – reports and results
Scottish athletes headed for the England Athletics U23 and U20 Champs in Bedford over the weekend . . . and a dozen were to make it to the podium.
It was also the GB and NI team trials for the European U23 and European U20 Championships on the continent next month and there are now a clutch of athletics with strong selection hopes.
Indeed, our three gold medallists at the weekend – long jumper Stephen Mackenzie and 1500m runner Erin Wallace at U20 and 800m runner Jemma Reekie at U23 – are now assured of places from British Athletics.
As well as the medallists, there were a further five athletes who delivered half-a-dozen fourth place amid strong competition at Bedford and a number of PB performances, too.
Ellie O'Hara came up with one of those in the Triple Jump as she leapt out to 12.58m to once again push on the Scottish U17 Record – with Ellie now having two performances this month in the pipeline for ratification as she continues to improve the all-time mark.
With both Mackenze and O'Hara being coached by Linda Nicholson it was a great day for that particular group – congratulations!
Indeed, the jumps led the way in many senses at Bedford with a Men's U20 medal double in the long jump for Stephen and Alessandro Schenini and a Men's U20 triple jump medal as Aidan Quinn took silver and Bera Ajala a bronze, with both athletes recording PBs at 15.22m and 14.96m respectively.
Holly McArthur's 6.09m PB landed her U23 long jump silver to make it five jumps medals as well as that U17 Record from Ellie.
Here's the overall medal summary:
GOLD
Erin Wallace – 1500m U20 ; Stephen Mackenzie – Long Jump U20; Jemma Reekie – 800m – U23
SILVER
Alisha Rees – 200m U23; Aidan Quinn – Triple Jump U20; Praise Olatoke – 200m U20; Holly McArthur – Long Jump U23; George Evans – Shot U23
BRONZE
Alessandro Schenini – Long Jump U20; Bera Ajala – Triple Jump U20; Sarah Calvert – 800m U20; Emily Craig – 400m H U23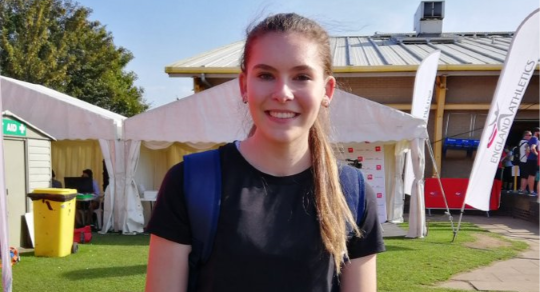 Ellie O'Hara – another Record-breaking Triple Jump performance at U17 with 12.58m at Bedford
It was also a good weekend in the sprints for Scots.
Praise Olatoke of Kilbarchan AAC took second place in the Men's 200m final and, having already raced the European U20 standard, will be hopeful of selection for Sweden.
Alisha Rees was a silver medallist in the Women's U23 200m final but is still chasing the 23.40 standard required for Gavle in Sweden.
In addition to those medals, Fraser Angus was fourth in the 200m final on Sunday to add to a fourth place on Saturday in the U20 100m final. Michael Olsen, similarly, was fourth in the U23 Men's 100m final. Both look to have a good case for relay selection for the Europeans.
Jemma Reekie completed a fine four days when she won her U23 800m final on Sunday after racing to a PB at 1500m in Prague last Thursday. That 4.05.82 was inside the British Athletics standard for the World Champs in Doah.
In the Women's U20 800m, Sarah Calvert followed up a good run in the heat on Saturday with a bronze medal on Sunday and a PB of 2.05.83 – which is inside the 2.06.00 being asked for the European U20s. It remains to be seen how that selection issue will unfold.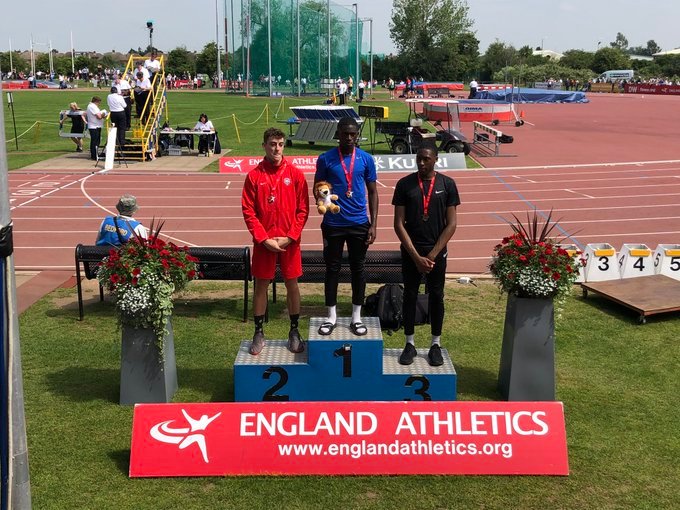 Aidan Quinn and Bera Ajala took silver and bronze in the U20 Men's Triple Jump at Bedford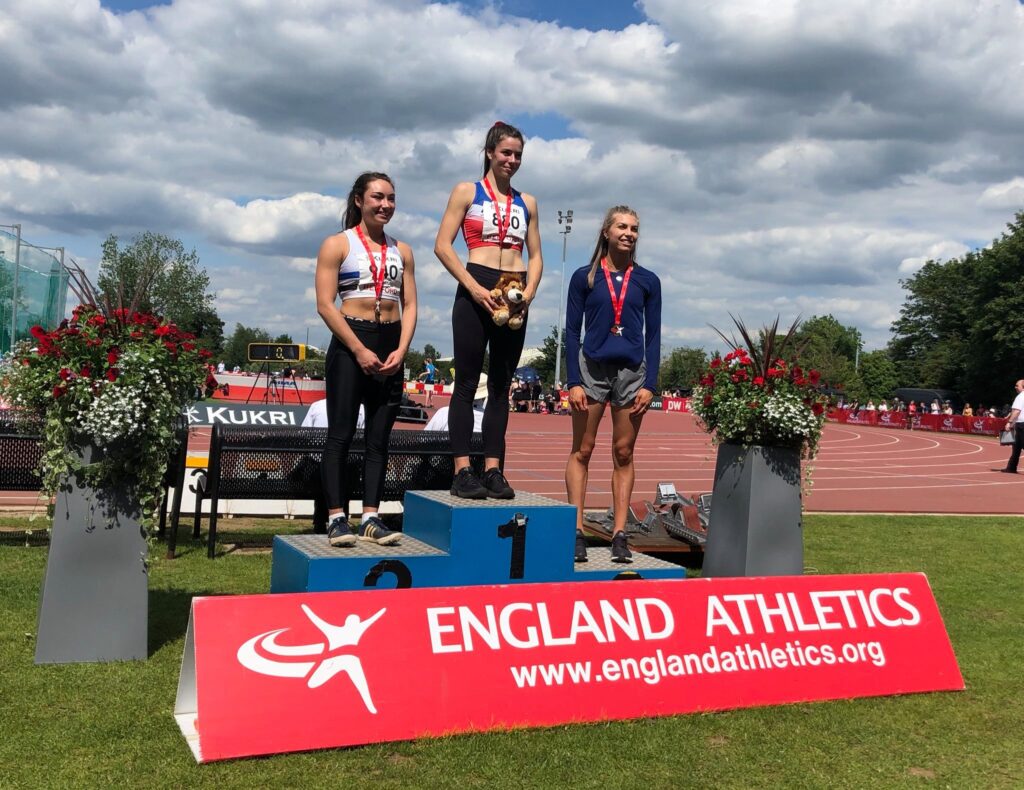 Holly McArthur was on the U23 Women's long jump podium after a 6.09m PB for silver
Tags: Aidan Quinn, Alessandro Schenini, Alisha Rees, Bedford, Bera Ajala, Ellie O'Hara, Emily Craig, England Athletics U23 and U20 Champs, Erin Wallace, George Evans, Holly McArthur, Jemma Reekie, Praise Olatoke, Sarah Calvert, Stephen Mackenzie