'You are headed right direction,' Cram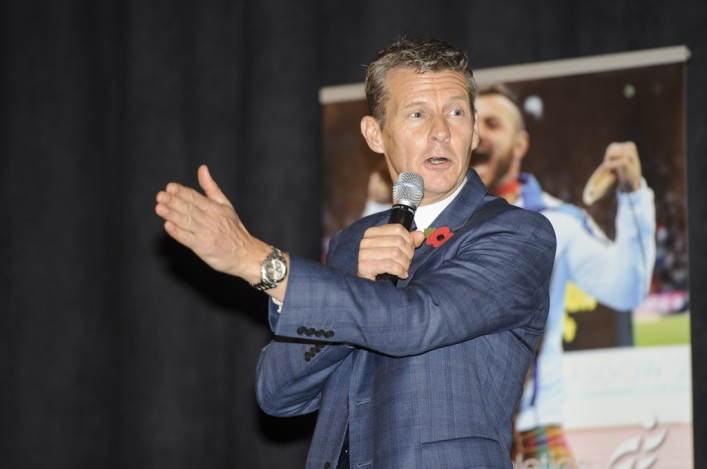 Photo by Bobby Gavin
Steve Cram has pointed the way forward for athletics in Scotland after insisting the sport is on the right path in the aftermath of the Commonwealth Games.
The middle distance idol, who is the voice of the sport on BBC, recently made the presentations at the scottishathletics Annual Awards when Laura Muir was named 'Athlete of the Year'.
Now Cram has out-lined why he thinks young athletes can follow in the footsteps of top GB internationals and how clubs must change with the times in order to stay relevant and help nurture new talent.
Laura Muir wins Athlete of the Year
Cram commentated when three Scots competed at the World Cross in China and then he was behind the microphone again in Beijing when seven athletes were at the World Champs. He believes success by elite athletes can rub off on others.
There are 14 Scots currently on World Class Performance Programme funding with British Athletics in the countdown to the Olympics in Rio and the Paralympics – with that figure having been only seven prior to London 2012.
'Scotland had a great commonwealth Games last year and hopefully athletes took confidence from that – I think it will have been a big inspiration for many,' said Cram, in an interview with PB magazine, which is issued quarterly to our members.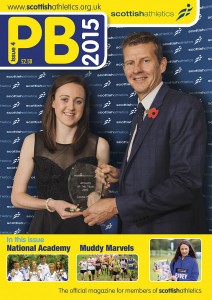 'Now there is the Olympics coming up and then a World Champs in London the following year in 2017. After that, of course, the next Commonwealths are looming up in 2018 – and early in that particular year, at that (Gold Coast event takes place in April).
'So there are a lot of incentives there for your elite athletes: to make their mark in Scotland and also beyond that in a wider context with British teams.
'You look back and the likes of Rhona Auckland did well in cross country in 2015; that followed on from the type of run Beth Potter had at Hampden in the 10,000m at Glasgow 2014; so they all inspire each other.
'Yes, the big names like Laura Muir and Lynsey Sharp are on the world stage, and Chris O'Hare has been doing well, it is easier after of that to get a bit of momentum going. Hopefully other people start to look at someone like Laura and think 'I can train and live in Scotland and still look to get to the Olympics'.
'There are club scenarios that are good here and that can be a platform for people – as guys like Callum Hawkins and Andrew Butchart have done. With support from the federation and from UK Athletics, then it becomes possible.
'So I think the upsurge in performance of Scottish athletes at World level has been great; and that is across all sorts of discipline and by both men and women.'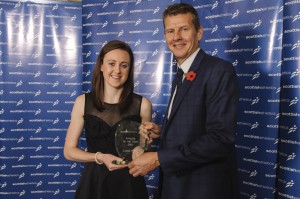 Awards night – Steve with Laura Muir at the Glasgow Hilton (photo by Bobby Gavin)
Cram presented Muir with her 'Athlete of the Year' prize at Glasgow's Hilton Hotel but his interest extends way beyond the elite.
Central AC took the Off Track Club of the Year title as Aberdeen AAC were rewarded for a fine track and field season, including a first Men's League win for two decades. North Ayrshire AC took the Impact Club of the Year title.
'Clubs have to move with the times as well (as athletes and coaches),' said Cram. 'I have been a big supporter of that – because clubs and volunteers are the bedrock of athletics in Britain.
'They should be very proud of athletes who reach a high level and represents Scotland or GB. But they should not want to feel somehow that athlete has been taken away from them. Clubs should be looking for ways to use these people – and many individuals are more than happy to come back and help their club as and when they can to try and offer encouragement or advice to others.
'We have to get more young coaches involved. We have to nurture young athletes and get them to come through from junior to senior.
'And we need to have more officials involved. The sport relies on volunteers to function and that must never be forgotten.
'But, as I say, clubs have to embrace change and I know that's been happening in Scotland but there is more that can be done.'
HOT SCOTS:
*Scottish athletes are currently reigning British champions in women's endurance events on the track as follows: 400m H – Eilidh Doyle (Child); 800m – Lynsey Sharp; 1500m – Laura Muir; 3000m Steeplechase – Lennie Waite; 5000m – Steph Twell; 10,000m – Rhona Auckland
*At the British Indoor Champs in Sheffield in February, four Scots won gold in an overall medal tally of eight. This matched the 2014 total with the nine won in 2013 the best achieved by Scots since 1995.
*At the British outdoor Champs in Birmingham in July, five Scots won gold in an overall medal tally of 12.
GB selections:
Among various GB selections for Scots over 2015 across a range of disciplines were the following:
*Four athletes selected for the World Youths (U18) in Cali, Colombia: Ben Greenwood, George Evans, Carys McAulay, Cameron Tindle
*Five athletes selected for the European U20 Champs in Eskilstuna, Sweden: Josh Kerr, Jack Lawrie, Mhairi Hendry, Kathryn Gillespie, Kelsey Stewart
*Six athletes selected for the European U23 Champs in Tallinn, Estonia: Rhona Auckland, Neil Gourley, Cameron Boyek, Kirsten McAslan, Zoey Clark, Rachel Hunter
*Seven athletes selected for the World Champs in Beijing, China: Laura Muir, Lynsey Sharp, Eilidh Doyle (Child), Mark Dry, Steph Twell, Chris O'Hare, Kirsten McAslan
Scottish athletes medalled at all of the above events and also at the IPC World Champs; the Commonwealth Youth Games; the European Hill Running Champs; the World Hill Running Champs; the European 100k Champs.
Tags: Aberdeen AAC, Central AC, Laura Muir, North Ayrshire AC, PB magazine, Scottish Athletics Awards, Steve Cram