Laura Muir is Athlete of the Year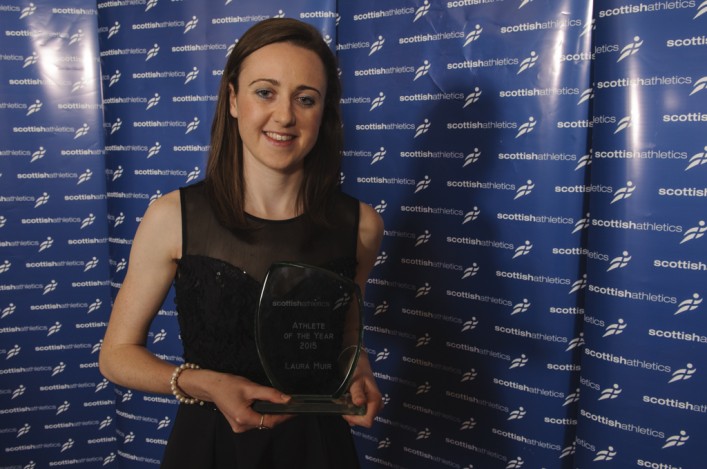 Photo by Bobby Gavin
Laura Muir has been named as Scottish 'Athlete of the Year' for 2015.
And the Scottish 1500m National Record holder's mentor, Andy Young, made it a double for the partnership as he was named Scotland's Performance 'Coach of the Year', as well.
Muir beat off the challenge of Eilidh Child, Lynsey Sharp and Robbie Simpson to win the accolade from our Annual Awards Dinner in Glasgow on Saturday night.
Josh Kerr, the European U20 1500m champion, was named U20 Athlete of the Year with Commonwealth Youth Games double medallist, Alisha Rees, taking the U17 accolade. Ultra runner Joasia Zakrzewski is Masters Athlete of the Year for 2015.
Aberdeen AAC won the Track and Field Club of the Year title with Central AC named as our Off Track Club of the Year. North Ayrshire AC, who have made tremendous strides in a short period of time, won the Impact Club of the Year title.
The main award reflected a superb 2015 for Muir which featured finishing fifth in the World Champs final in Beijing; becoming the first Scottish woman to break 4 minutes as she trimmed her own National Record; winning the British title and a memorable Diamond League race in Oslo.
And the Dundee Hawkhill Harriers and Glasgow University athlete also set PBs at 800m and 3000m over the outdoor season and, early in the year, was fourth in the 3000m final at the European Indoors in Prague.
'I am thrilled and delighted to be named Scottish Athlete of the Year,' said Laura.
There was terrific competition for this title and not just from those on the short-list – there have been so many good performances by Scottish athletes this past year.
'And I am delighted for my coach, Andy Young, to receive the top coaching award, as well. Andy works really hard at his coaching and it is good when he gets a bit of recognition.
'I felt after the 2014 that I had that I really wanted to come out in 2015 and show the world what I am capable of and how fast I can be. I am happy I've managed to do that and it is actually quite hard to pick out a highlight.'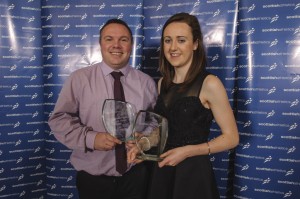 Andy Young, Performance Coach of the Year, and Laura – photo by Bobby Gavin
Sharp broke the 800m National Record in 2015 while Child medalled at the World Champs in Beijing in the relays and finished sixth in the final. Hill runner Robbie Simpson was an individual and team medallist for GB at the World Mountain Running Champs in Wales in September.
But Rodger Harkins, Director of Coaching with scottishathletics, felt Muir was an outstanding choice as winner.
'It was extremely difficult for our selection panel to even choose the short-list this year,' said Rodger, who missed the dinner as he is heading for Australia with Commonwealth Games Scotland on a fact-finding trip ahead of Gold Coast 2018.
'We started off with a dozen serious contenders among Senior Scottish athletes who had made an impact at a high level in terms of British, European and World competition over the course of 2015 – across all disciplines.
'Bringing that down to four was difficult but Laura has had a magnificent year and I don't think anyone would disagree that she is a very worthy winner of Scottish Athlete of the Year for 2015.
'Laura had something of a roller-coaster in 2014, setting a National Record but also having a tough time at the Commonwealths and Europeans.
'She has shown great maturity in 2015. When you look back, there were a number of good performances like the Diamond League win in Oslo, PBs at 3000m and 800m, the British Champs gold and of course that new National Record in Monaco, when she became the first Scottish woman under four minutes for 1500m.
'And then, in Beijing, of course she came through two rounds and took some significant scalps to finish fifth in the World Champs final – in a race where there up to 10 real top-quality athletes.'
Here's the list of winners of a whole series of Awards (there are links at the foot of this story to reports which give Awards short-lists)
Athlete of the Year: Laura Muir
Masters Athlete:  Joasia Zakrzewski
U20 Athlete: Josh Kerr
U17 Athlete: Alisha Rees
Performance Coach: Andy Young
Development Coach: Mark Pollard
Children's Coach:  Leeann and Stephen Ross
Impact Club: North Ayrshire AC
Track and Field Club:  Aberdeen AAC
Off Track Club: Central AC
Official of the Year: Pam Auckland
(Also nominated Joyce Wighton)
Raymond Hutchison Trophy for services to officiating: Angus Cameron
(Also nominated Bob Carter)
Volunteer of the Year: Alistair Dalgleish (Livingston AC)
Eddie Campbell Medal: Jacob Adkin
Honorary Life Membership: John McDonald (Central AC)
Tom Stillie Sword:  Ron Morrison
Dallas Trust Trophy: Ellie Greenwood
Athlete of the Year short-lists
Tags: Andy Young, Athlete of the Year, Laura Muir