90 Years on . . . the anniversary of Women's athletics in Scotland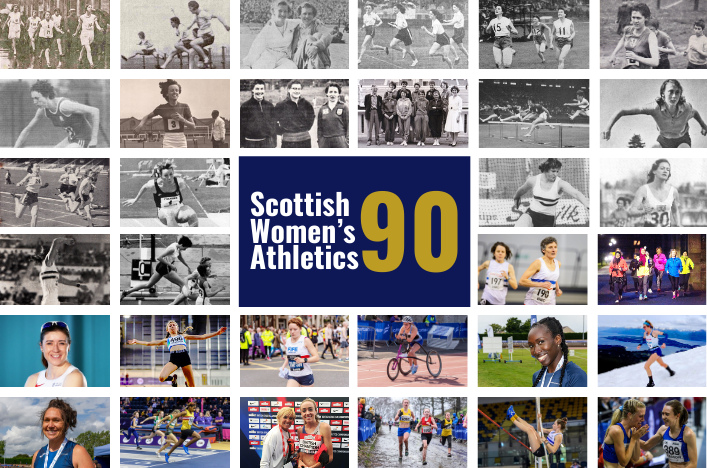 Montage created by Sue Gyford with thanks to Arnold Black
History section: Arnold's Archive
Today's date of 25 September 2020 is a very special one in the history of athletics in Scotland.
It marks 90 years to the day since the formation of the Scottish Women's Amateur Athletics Association as 13 clubs gathered in Glasgow and become path-finders for the sport as we now know it in this country.
In the latest of his Arnold Archive columns for the history section of this website, scottishathletics Historian Arnold Black has traced the origins of women's competition.
Arnold has also set down a series of landmark moments for women's athletics in Scotland and we have split those into two separate articles – up to 1969 and then from 1970 to the present day.
90 Years on . . . celebrating the formation of the Scottish Women's AAA
The appearance of women in structured competition was non-existent before World War 1 and although the men had formed the Scottish Amateur Athletic Association in 1883, the first recognised competition for the women alongside the men was the introduction of ladies' events at the Aberdeen University Sports in 1919.
At a meeting held in Glasgow on 12 August 1930, it was decided to proceed with the formation of a Scottish Women's Amateur Athletics Association.
Eight clubs were represented – Edinburgh Women's A.C., Civil Service A.C., St. Peter's A.A.C., Imperial Tobacco Company A.C., Bellahouston Harriers, Maryhill Harriers, Stranraer Harriers and Greenock Wellpark Harriers.
A proposed constitution was submitted, and it was remitted to an interim executive to communicate this to the various clubs interested, and make arrangements for a general meeting to be held for the purpose of adopting it and electing permanent officials.
It was agreed that the delegation from each club at this future meeting should consist of two women and one male member, the latter being present in an advisory capacity without power to vote.
That inaugural meeting was held in Glasgow on 25 September 1930 with Mr R. F. Dalziel (Maryhill Harriers), the interim president, presiding.
The constitution, as prepared by the interim Executive, was adopted and office-bearers were elected. Mr Dalziel was elected president, Miss Anna Miller, secretary and Miss M. McDonald (Bellahouston Harriers), treasurer. The first Committee was formed and consisted of the following ladies: F.D. Urquhart (Civil Service), I. Paterson (Edinburgh Women's), V. Finlayson (Imperial Tobacco), R. O'Callaghan (St Peter's), J. Boyd (Greenock Wellpark), I. McPhee (Kilbarchan), J. Black (Maryhill), J. Stewart (Shettleston), E. Fairlie (Plebeian) and R. White (Edinburgh University).
13 clubs were represented at the meeting, the eight at the original meeting, plus Edinburgh University A.C., Shettleston Harriers, Kilbarchan A.C., Plebeian Harriers, and Lumley's A.A.C.
READ THE FULL STORY . . .
90 Years on . . . celebrating the formation of the Scottish Women's AAA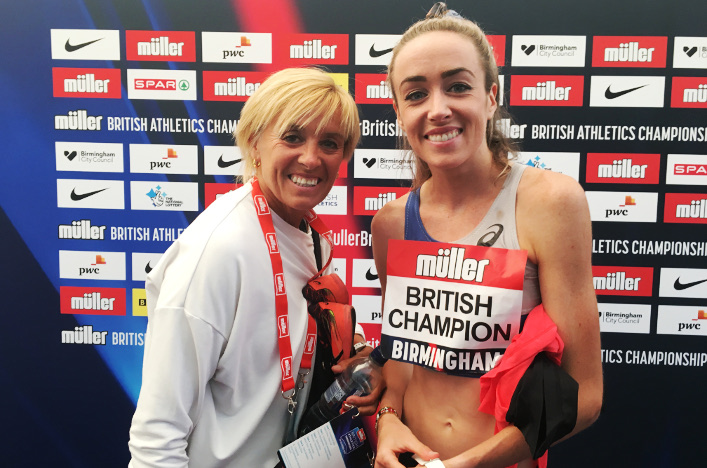 Liz and Eilish McColgan at the 2019 British Champs (photo by Sue Gyford)
Women's athletics in Scotland . . . landmarks 1919-69
Women's athletics in Scotland . . .  landmarks 1970 – 
Tags: Arnold Black, History, Scottish Women's AAA