Women set new 4 x 400m Record and Nikki seventh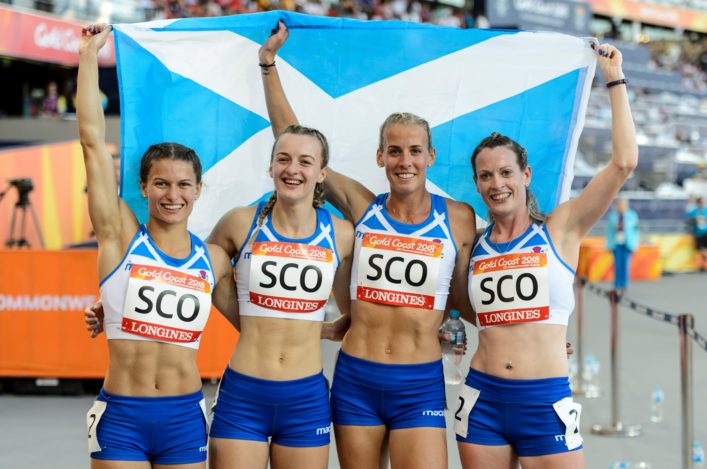 From Peter Jardine in Gold Coast, April 14
Photos from Bobby Gavin
Scotland set a new National Record in the Women's 4 x 400m as they finished sixth in the Gold Coast 2018 final.
The quartet of Zoey Clark, Kirsten McAslan, Lynsey Sharp and Eilidh Doyle clocked 3.29.18 to break a mark of 3.30.81 set in Delhi back in 2010.
It wasn't quite enough to get in contention for the medals on the day but the team had the consolation of setting a new National Record.
Jamaica won the gold with Nigeria and Botswana the other medallists as England took fourth place in 3.27.21. The Scottish splits have been given as  Clark 52.1; McAslan 52.6; Sharp 53.35; Doyle 51.03.
In the High Jump final, Nikki Manson finished in seventh place from 14 athletes as she cleared three heights before bowing out with the bar at 1.87.
Nikki, in her first Commonwealth Games and after being a late addition to Team Scotland, came in at 1.75m and cleared that in her first attempt before two second attempt clearances at 1.80 and 1.84.
Here's reaction from the athletes .  .  .
Lynsey Sharp: 'It was good to get back out there again after the disappointment of the 800m. We felt we could get the National Record and that was one of the goals – although we would have loved to be more in the mix.
'It was probably a couple of seconds away from us and that was too much to ask.'
Kirsten McAslan: 'I have been waiting all week to get out there and then the heat went out of the programme, too. It is hard but if felt good to back on the track and I'm back to stay now.
'That the season up and running for me now so I want to take it on from here and see what I can do.'
Zoey Clark: 'It is good to be part of a National Record-breaking team. We did look at it in the preparations and we all felt it was achievable.
'I am still reflecting on the individual 400m semi. I didn't get the race quite right but, even in those awful conditions, I have run quite close to a PB. Looking at the photos just reminds me that the rain really was horrendous only for the duration of our heat – it does feel a bit unlucky.'
Eilidh Doyle: 'We didn't realise Jake had won a medal until after our race! We were getting a flag to celebrate a National Record and Kirsten looked up and noticed Jake had his tracksuit and was headed for his ceremony.
'I am thrilled for him because he's had an amazing week here. Actually, I am pleased I didn't realise about that while I was waiting to run because I would have been a wee bit emotional. We're pleased with the time but we couldn't quite get close enough to the teams chasing bronze.'
+++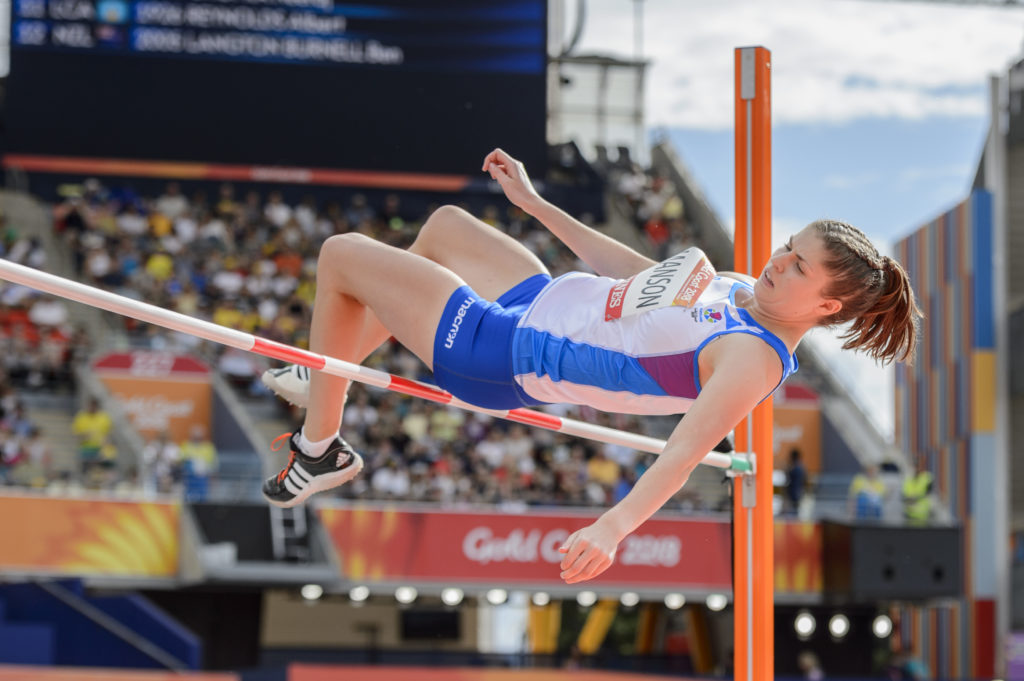 Nikki Manson: 'I have had a back injury for the past few weeks and had to nurse it through a wee bit. I wish I could have enjoyed the comp a bit more but the back was sore.
'To get over three heights is something I suppose on the day but 1.87 would have been nice for sure. I've been on pain-killers since I hurt it in the warm-up comp out here.'
Tags: Commonwealth Games, Eilidh Doyle, Gold Coast 2018, Kirsten McAslan, Lynsey Sharp, Nikki Manson, Zoey Clark