Weekend May 28/29: Euro Hill Trial; London; NCAA; Edinburgh Marathon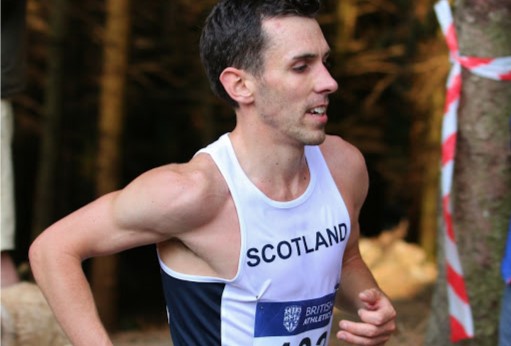 Andy Douglas – clear winner at the GB Euro Hill trials (photo by Andy Stark)
Scottish athletes delivered three race wins out of four at the European Mountain Running Trials – to clinch their places for a trip to Italy.
Whinlatter Forest was the majestic setting for the Euro Trials on Saturday with Andrew Douglas and Rebecca Hilland taking victory in the senior races.
And, in the two Junior races, there were outstanding runs by  Gavin Bryson of Edinburgh AC and Laura Stark of Kilbarchan AAC to see off all the opposition and land automatic selection for the Euro Champs in Arco, Italy.
Douglas was made to work hard for victory in the senior men's race by Andrew Davies, who pushed the Scottish athlete for two and a half laps before losing out in what was a 12km course with 750m of ascent.
'It was really tough but it is what you expect from up and down courses but because it had a really fast downhill that made it extra tough,' said Andy, who was sixth in the World Champs (up and down) last year.
'I'm really happy with that – I managed to make a breakaway on the third lap but I was conscious I never really had that much of a gap so I had to keep working hard. You are really hurting on those climbs but you have to think everyone else is too, you just have to hope you are hurting less!'
Bryson's victory was by a decent margin but Stark was pushed all the way and did well to win it by four seconds from Scarlet Dale with Becca Williams a further five seconds back. It is expected the GB selections for Italy will be confirmed over the next few days.
Photos from Euro Hill Trials by Andy Stark on Facebook
+++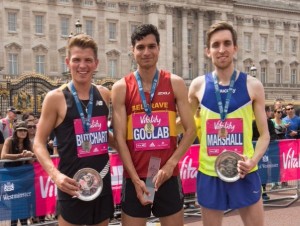 Men's medallists in London (picture via Twitter)
Andrew Butchart and Josephine Moultrie collected silver medals in the British Road Mile Champs at the Westminster Mile meeting in London on Sunday.
The men's mile was a thrilling race. In-form 5000m runner Butchart kicked clear 400m out and looked the likely winner. However, Nick Goolab caught him on the line. Many thought the Scot had held on but the judges decided that Goolab had edged it with both given a course record 4:01.
Tom Marshall was a close third in 4:02 with Olympic steeplechase prospect Rob Mullett showing good speed with 4:03 in third.
The women's race was more straightforward and Sarah McDonald's strong second half gave her a clear win in 4:38. Josephine Moultrie and Adele Tracey, shared a time of 4:40 in second and third.
Butchart followed that up on Monday morning with a superb 10K win on the road in London with a PB of 28.28 and a win by more than 30 seconds from Andy Vernon.
+++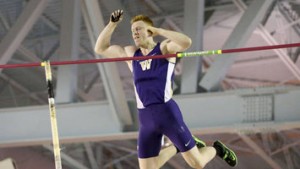 Jax Thoirs
In the United States, the prestigious NCAA finals are in Eugene later this summer and Scotland will be well-represented by some of our American-based athletes.
Making progress to the finals from their Conferences were the likes of Neil Gourley and Josh Kerr, both in the 1500m at 3.46 and 3.43; Nick Percy in discus at 59.15; Allan Hamilton in long jump with 7.58; Jax Thoirs in pole vault at 5.38 and Luke Traynor in the 10,000m at 29.53.
Well done to these athletes and their coaches and support teams – on either side of the Atlantic. Best place to check these Results is on the Scotstats.net website.
Meanwhile, back in Britain, among the good performances at the BMC meeting in Watford were a PB over 800m for Jake Wightman at 1.47.13 and really good performances by the likes of Michael Ferguson, Ben Stevenson, Edward Dudgeon, Erin Wallace and Jemma Reekie.
In Belgium, Jamie Bowie went to the top of the Scottish 400m rankings with 46.21.
+++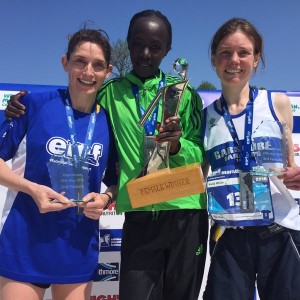 Hayley Haining and Katie White on the podium at the Edinburgh Marathon
The Edinburgh Marathon took place in warm and sunny conditions on Sunday – with Africans to the fore in the men's race.
Visiting Kenyan Boaz Kiprono just dipped below the 2.20 mark with 2.19.55 to win by 19 seconds. Abdelhadi El Mouaziz of Morocco was second in 2:20:14 with Kenya's Japhet Koech third in 2:22:50
In the Women's race there was a win for Eddah Jepkosgei of Kenya,  with 2:39:53, as Hayley Haining of Kilbarchan AAC took second in 2:43:03. There was a third place finish for Katie White of Garscube Harriers with 2:47:40.
Half Marathon: Women's: Tracy Millmore, Birtley AC, 1:18:41; Laura Dunn, Edinburgh AC, 1:19:23; Alexandra Lamond, Ronhill Cambuslang Harriers, 1:22:40. Men's: Darrell Hastie, Gala Harriers, 1:10:38; Andrew Powell, Sunderland Harriers, 1:10:48; Francisco Urbano Sales, Spain, 1:10:54.
Edinburgh Marathon Festival Results online
Tags: Andrew Butchart, Andy Douglas, Edinburgh Marathon, Euro Hill Trial, Gavin Bryson, Hayley Haining, Jake Wightman, Jamie Bowie, Jax Thoirs, Josephine Moultrie, Laura Stark