Smashing it! Steph lands British gold and Eilish earns a European silver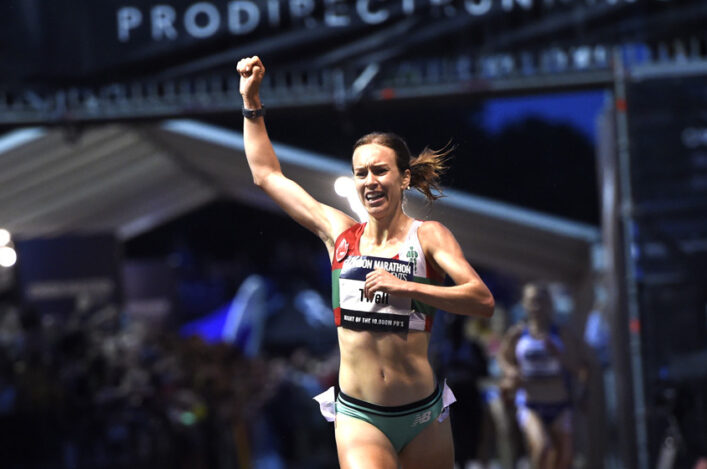 Photo by Mark Shearman
British Athletics website report
Steph Twell and Eilish McColgan delivered two of the best performances of their careers on a superb night for Scottish endurance running at the Night of the 10,000m PBs in London.
McColgan took an individual silver medal in the European 10,000m Cup and led GB and NI to the team golds overall.
Twell for her part landed the British title after she had opted to race in her club vest and thus not be part of the European Cup event. Eilish thus took silver in the British Champs.
With Mhairi Maclennan and Sarah Inglis part of the GB team and landing gold medals, as well as Twell and McColgan securing Doha World Champs standards to move second and third on the Scottish all-time list, there were plenty of reasons to be positive from a Scottish perspective.
It was a memorable moment, too, for scottishathletics Endurance Lead Mark Pollard who as Team Manager can reflect on team golds for the women and team silvers for the British men.
Twell clocked a terrific 31.08.13 to win the race outright with Eilish in third place in 31.16.76 as Israel's Lonah Salpeter edged her out for the European gold.
Steph overhauled the European 10,000m champion Salpeter with 600m to go to earn a popular victory in front of a boisterous home crowd.
The Israeli went off hard, moving away over the opening kilometres, looking in supreme form while Twell and McColgan stuck with the pace-maker as they eyed personal bests, and with it, standards for the IAAF World Championships and Olympic Games.
As Salpeter was reeled in, Twell took her opportunity, making a decisive move and holding her composure on the final lap to seal the British title in a magnificent time of 31:08.13, the sixth fastest time ever by a Briton.
'I still really can't quite believe it,' said Steph.
'The atmosphere was electric. I was really just following the light gates for so long, and I didn't realise what kind of race I was in until the second half.
'A few months ago, in my head, I would probably have let Salpeter go. On the back straight, I just thought, I could still see her heels, 'I'm not letting her go'
'I didn't even think about her as European champion, she was just another girl in the race and that was important to me to think she wasn't out of reach.'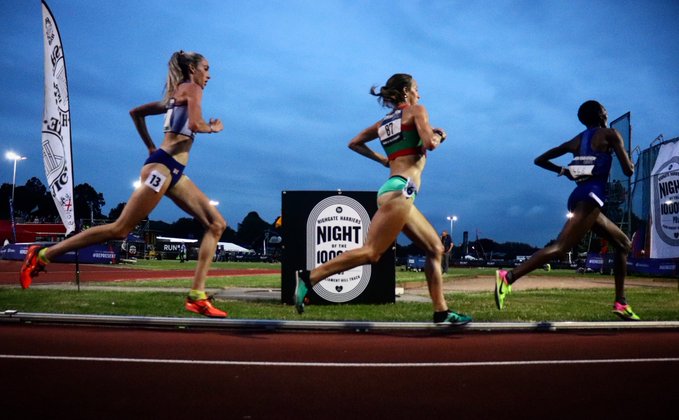 Photo via Twitter (James Rhodes)
McColgan continued her impressive 2019 form, earning a massive PB. Following her prowess over the shorter distances – improving to 4:00.97 over 1500m and 14:47.94 in the 5000m – this was another significant best for the Scot.
'When I dropped off the pace, mentally I can sometimes feel sorry for myself and drop off, but the crowd were going so crazy when the light caught me,' said Eilish.
'It panicked me a bit and I thought 'that's the qualifying time, I want to do this and get it out of the way'. I felt like I was flying over the last 600m, maybe I wasn't but I felt really strong.
'I felt the buzz going through my body as I was running. I'm glad I ran Highgate, and glad it was part of my plan. I'll be back again.'
McColgan's individual European silver medal earned the British team the gold medal overall in the European Cup, following on from victory in 2018. Backing up the Scot's impressive performance was Alice Wright in 32:27.57, the second counter in the GB and NI team, with Verity Ockenden next in 32:34.47.
Charlotte Arter [32:40.60], Sarah Inglis [32:52.51] and Mhairi MacLennan [32:58.42] all contributed to the gold-medal moment for the squad of six. Cambuslang athlete Moira Stewart, racing for the Czech Republic, clocked 32:57 in the Women's B race.
* Adam Craig clocked 29.35 with the Inverclyde AC athlete the fastest in terms of Scottish men on the night. Adam's Inverclyde team-mate Sean Fontana was a race winner in 30.02 with Michael Christoforou (Edinburgh AC) at 30.08 and Ryan Thomson  (Cambuslang) at 31.15 in a different race.
Tags: Eilish McColgan, European 10000m Cup, Highgate, London, Mhairi Maclennan, Night of the 10000m PBs, Sarah Inglis, Steph Twell