Scottish U17 Champs review – Joel hat-trick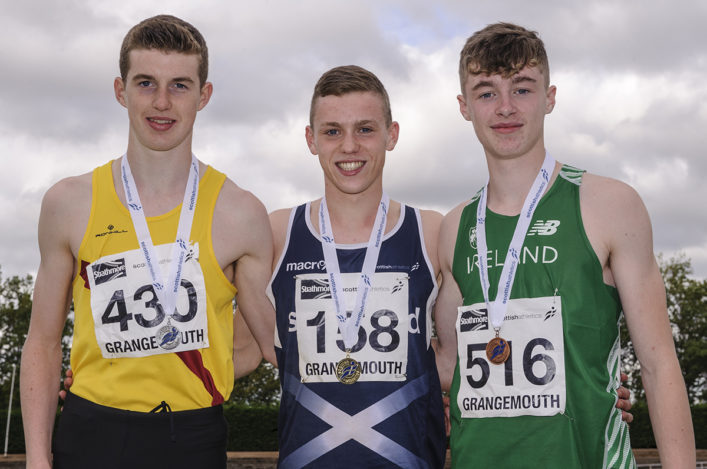 Joel McFarlane – three visits to the top of the podium over the weekend and Inverness athlete, Stephen MacKenzie, had a Championshop Best, too (photo by Bobby Gavin)
VIDEO coverage on Vinco – with each event
Joel McFarlane knows his way to the podium when it comes to National Championships – and picked up a gold medal hat-trick in the Scottish U17s.
The Arbroath and District athlete took the 100m Hurdles on the Saturday to claim his 20th title in age group champs over the past five years.
Come Sunday he followed that up with a high jump win at 1.89m and then came up with a Scottish U17 Champs long jump Championship Record with 7.02m to take that sequence to an incredible 22 national titles in recent years.
All this, after he had set an U17 England Athletics Championship best recently in the decathlon.
'It wasn't my quickest time in the hurdles but it was good to win and then follow it up in the high jump and long jump,' said Joel.
'Long jump is my favourite event I would say and I was delighted to get beyond 7m with a 7.02 Championship Best.
'I do enjoy the Combined Events, too. It takes a lot of work in training and we're at Arborath, Dundee and Grangemouth over the course of a month to try and hone the diferent events.'
Stephen MacKenzie of Inverness set a Championship Record in the U17 Triple jump with 12.24m. The Record had stood at 13.90m since 2003.
And Sarah Tait of Lasswade came up with Championship Record, also in the 1500m steeplechase with 5.12.21.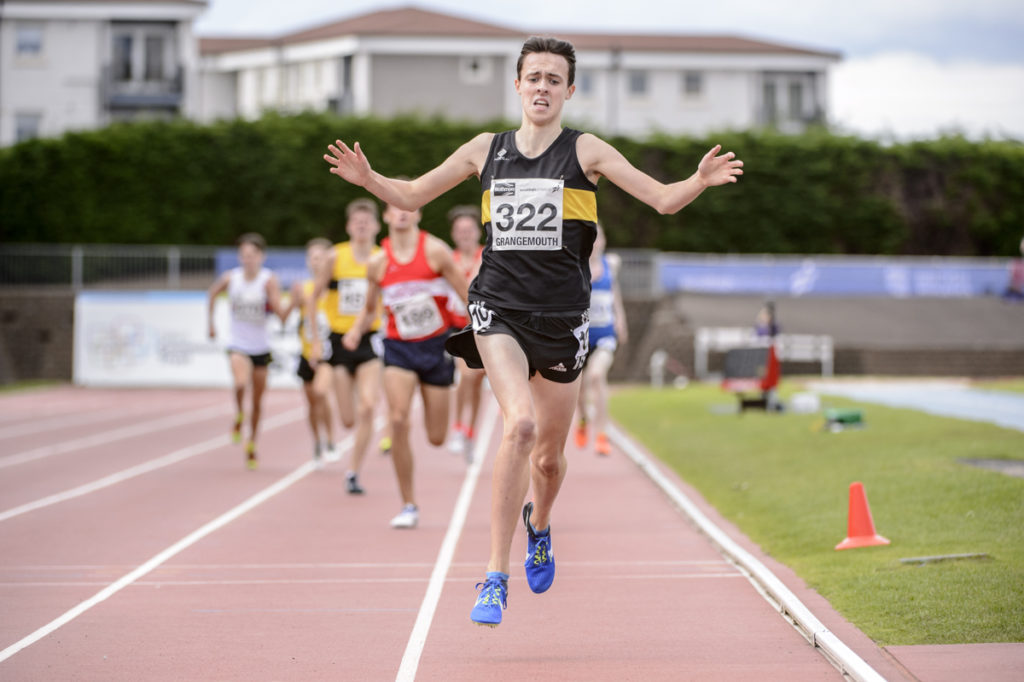 Home win – for Falkirk Vics athlete Kane Elliot in the 1500m
Shetland AAC's Lucy Holden took the U17 high jump title with 1.56m and Lauren Tenn-Mills of Falkirk Vics won the long jump with 5.50m.
In the Men's hammer, Samuel Briggs of local club Falkirk Vics won it with 53.31m. Cara Fairgrieve of Glasgow School of Sport took the triple jump with 10.71m and there was a fine performance by Matt Chandler (Central AC) in the pole vault, as he cleared 4m. Shona Crossan (shettleston) won the discus in 37.36m.
Michael Dunn (Clydesdale) took the 400m Hurdles in 57.40 and Emma Mailer (Central AC) took the 300m Hurdles in 45.23.
Jamie Stevenson won the Men's 100m and his VP-Glasgow team-mate, Jade Henry, won the 80M Hurdles after equalling her PB in the heat. Billy Doyle of Pitreavie won the 400m and Emily Miller of VP-Glasgow took the 300m race.
In the 800m races, there were wins for Zoe Renfrew of Inverclyde AAC and Alex Johnston of Pitreavie AAC. There was a Pitreavie gold in the 1500m for Sarah Coutts, with Kane Elliott of Falkirk Vics taking the U17 Men's 1500m crown.
The 200m winners were Craig Strachan of Banchory Stonehaven (22.56) and Katie Reville of Nithsdale (25.51).
There were field golds for Rosie Elizabeth of Edinburgh AC in the pole vault; Ben Wightman of Perth Strathtay in the shot; Shannon Waldron of VP Glasgow in the hammer. Keira Waddell of Edinburgh AC won the javelin with 40.49m.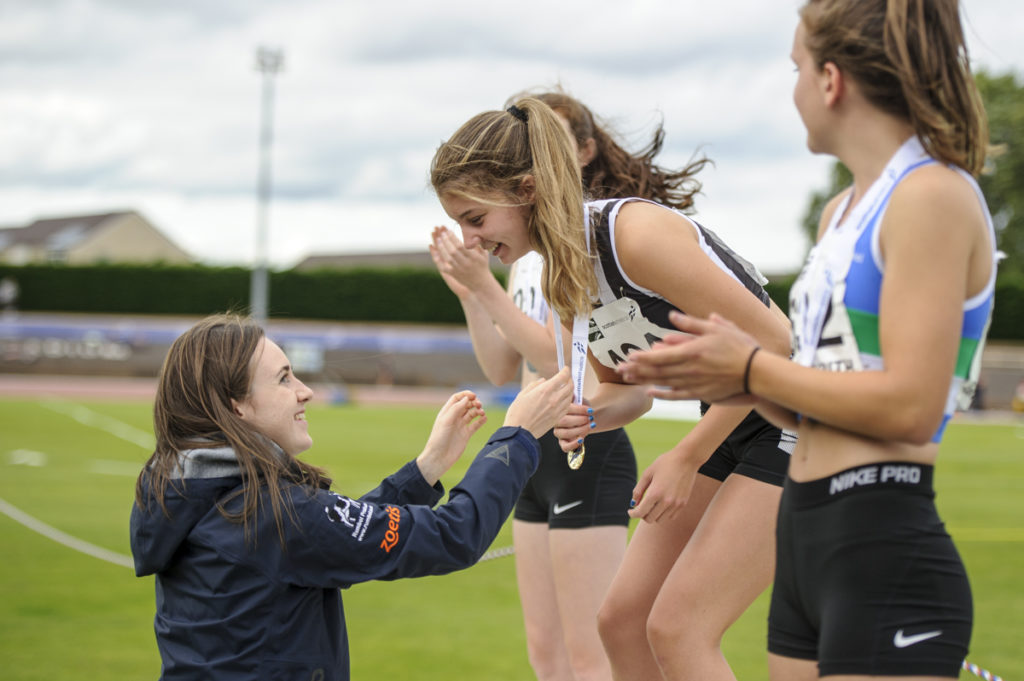 Laura Muir presented the Women's 800m medals as Zoe Renfrew of Inverclyde AC took gold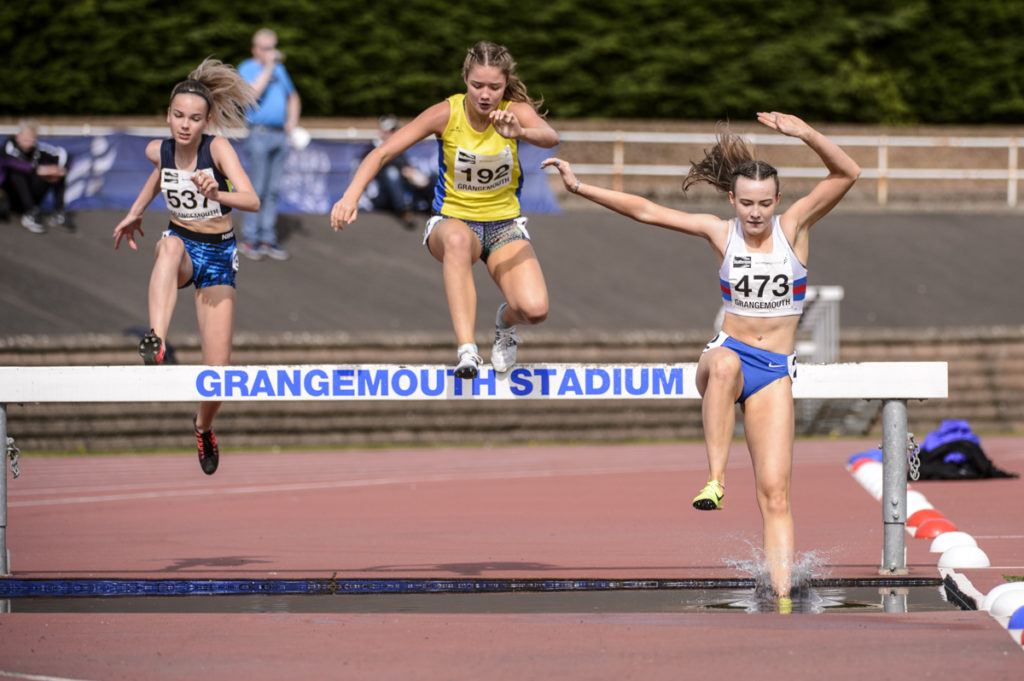 Lasswade's Sarah Tait on her way to a 1500m steeplechase Championship Record at U17 (photo by Bobby Gavin)
Tags: