Ross and Sheldon reign in Stirling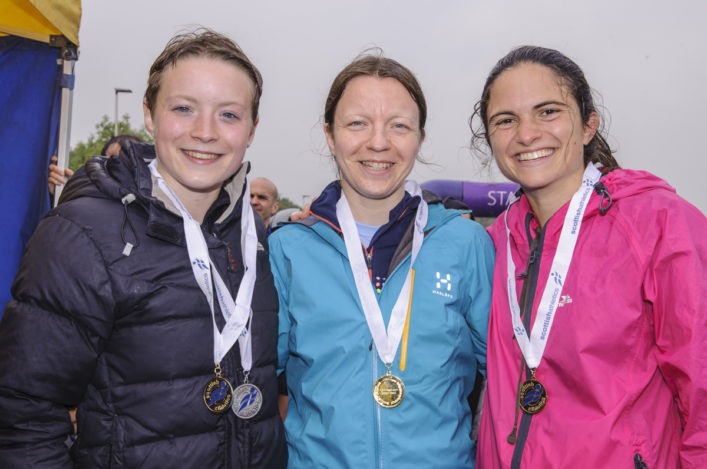 Fife AC women celebrate their team golds – Annabel Simpson, Alison McGill and Andrea Rae (photos by Bobby Gavin)
(NOTE: This report covers Scottish championship medals rather than Stirling 10K age-groups prizes issued by host club Central AC)
Shettleston's Fionnuala Ross made it a hat-trick of victories with a PB performance at the Scottish 10K Champs over her favoured Stirling course.
And Cambuslang Harriers athlete Grant Sheldon added 10K road success to his Scottish 5000m gold on the track, with the international triathlete also hitting fine form in a first official outing at this distance.
Sheldon guided Cambuslang to the men's team title as a run of wins by host club Central AC came to an end as Fife AC took the women's team gold medals.
It was an excellent day for the sport with a huge turnout of club athletes in the big field and wet conditions refusing to dampen spirit.
In fact, the only mildly deflating moment came right before the start when a 'technical issue' with the blow-up start apparatus caused a minor delay to ironic cheers!
Photos by Bobby Gavin on Facebook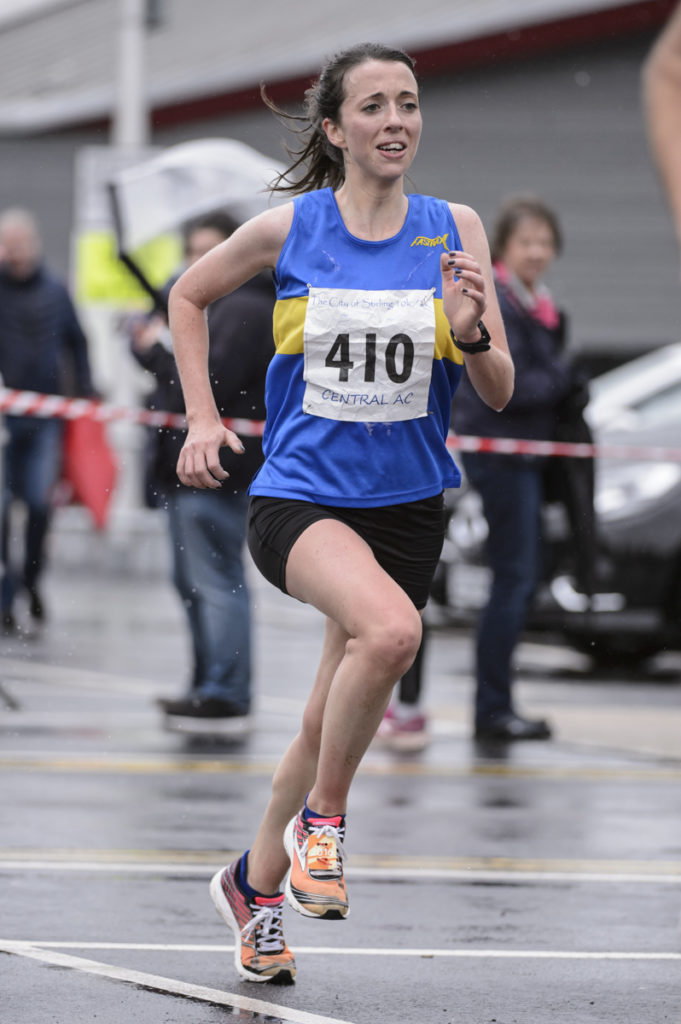 Fionnuala Ross on her way to another Stirling 10K win
'I do enjoy this race and that's a hat-trick of wins so I am delighted,' said Ross, who clocked a PB with her first run under the 34-minute mark with 33.59.
'It's a championship race and you are looking to try and win the race but the PB always makes it that wee bit better. I was just under the 34 minutes and my PB previously was 34.02.
'Conditions were windy at one part of the course and it was a bit wet and slippy at times but I still like the course.
'The good thing for me is this is a very competitive field and there are always men around you to work off and race against and I've managed to do that successfully today. A couple of years ago I wasn't eligible for the Scottish championship medals but I am now and that makes it better, too.'
Annabel Simpson of Fife AC followed Ross home with 34.41 and Jenny Bannerman of Inverness Harriers took the bronze with 35.43.
The men's race saw a group of five athletes lead initially – and indeed those were the top five finishers – before it was cut to four and then three.
Come the return over the bridge, shortly before the 8K mark, Sheldon was at the front with Logan Rees of Fife AC – who had led for most of the race prior to that – in pursuit with Lachlan Oates of Shettleston.
Sheldon cranked it up over the last 2K to win by four seconds from silver medallist Rees (30.35), who won bronze in Stirling last year, with Oates dropping back just a little for third in 30.42.
Scottish Trail champion the previous week, Rees grinned: 'I was third here last year and second this time so I can't be too disappointed, really. Grant just had that little bit more over the closing stages and I will just keep looking to improve.'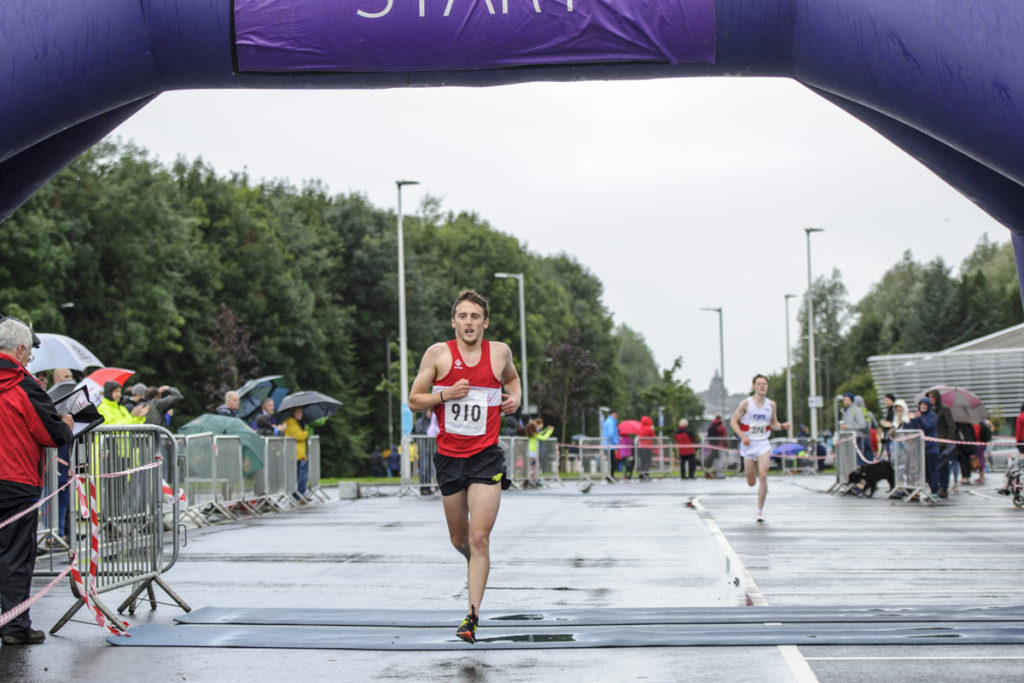 Grant Sheldon comes home with Logan Rees of Fife AC not far behind
'I've had about 30.45 for a 10K split in a triathlon but that's coming off the bike!' said Sheldon, who has Gold Coast 2018 selection hopes in triathlon.
'So I've got to be pleased with the win and 30.31. The young buck (Logan) was quite aggressive early on so I was happy to sit in behind him for as long as I could.
'I put in a few surges from shortly before the 8K mark but in fairness to him he didn't fall away. I've had a lot of running training recently because a broken wrist prevented me from cycling and swimming.
'The Leeds 10K is one I want to do now in a couple of months – because that's a race where the strength and depth of the field is such that I feel I could maybe break the 30-minute mark.'
Kenny Wilson of moray Road Runners and Central's Cameron Milne also went under 31 minutes, from that initial lead group of five. Young athletes to impress included Kate Gallagher (Central AC), James Donald (Dundee Hawkhill) and Joe Arthur (Edinburgh AC).
Paralympian Derek Rae of Fife AC finished 15th with a PB run of 32.33 – with that being a Scottish best for an ambulant athlete.
Cambuslang took the Men's team golds with Sheldon backed up by Robert Gilroy and Craig Jardine with 23 points. Fife AC landed the silvers (34 points) and Shettleston the bronze medals (38 points).
Fife AC won the Women's team golds as Simpson was supported by Alison McGill and Andrea Rae with 25 points. Central AC were second (30 points) and Bellahouston Road Runners were third (62 points). There have now been four different winners in the Women's team race over the past four years.
Gilroy won the Men's Masters title in 31.39 from Kerry-Liam Wilson (Cambuslang) and Scott Brember (Central AC).  Fiona Matheson (Falkirk Vics) took the Women's Masters gold with 37.21 from Jennifer Forbes (Gala) and Louise Ross (Bellahouston Road Runners).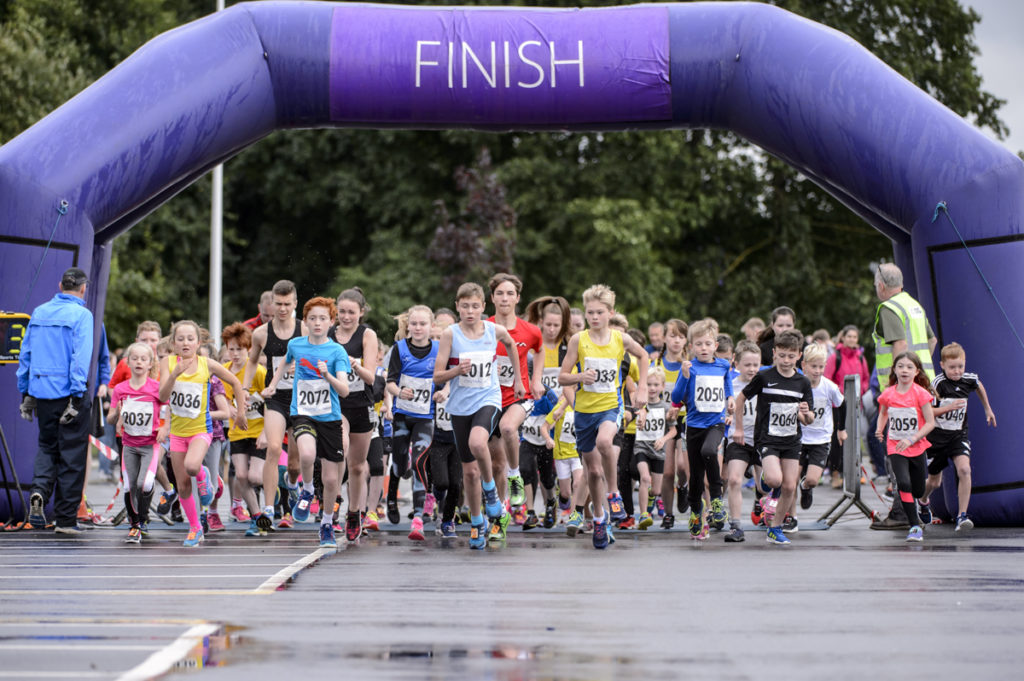 The start of the Fun Run in Stirling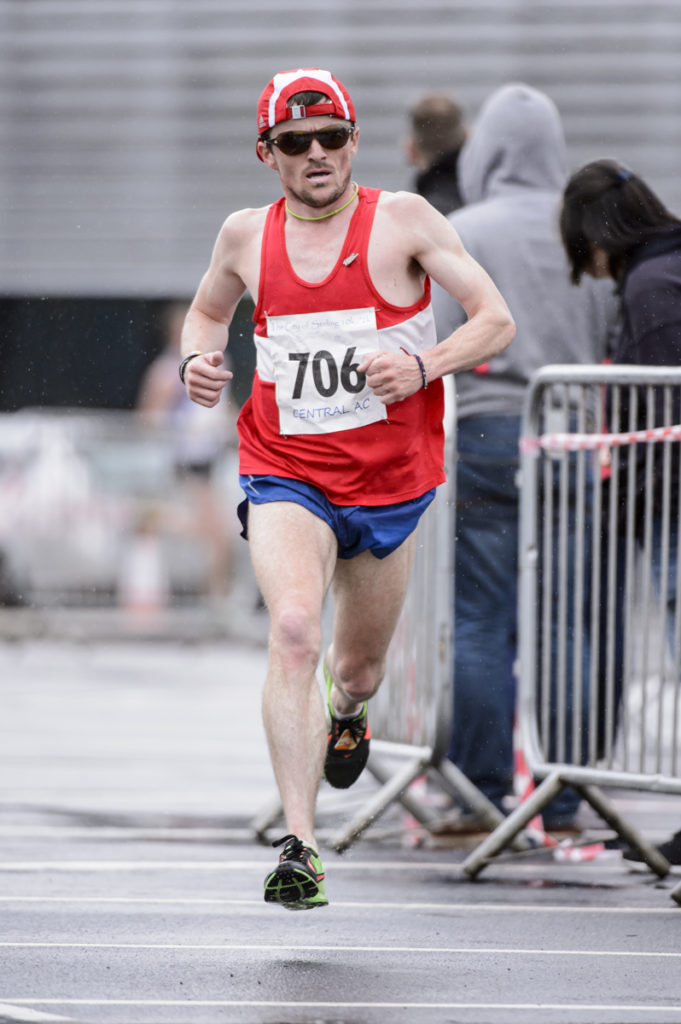 Robert Gilroy – on his way to Men's Masters gold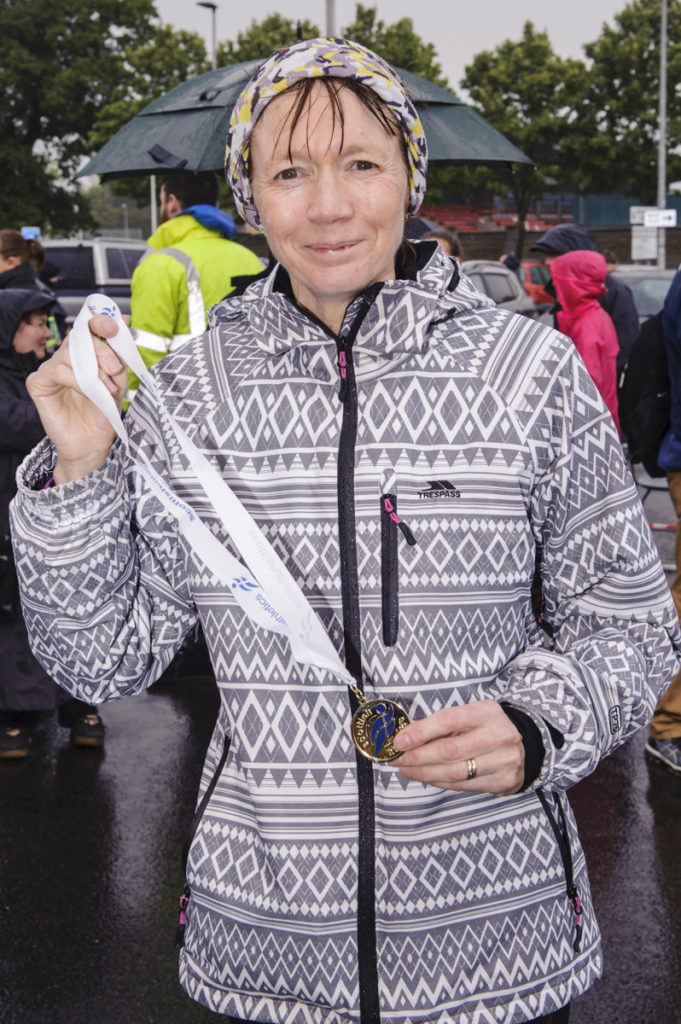 Fiona Matheson – Women's Masters gold
Tags: Annabel Simpson, Cambuslang, Fiona Matheson, Fionnuala Ross, Grant Sheldon, Jenny Bannerman, Lachlan Oates, Logan Rees, Robert Gilroy, Scottish 10K Champs, Shettleston, Stirling