PBs mark progress for Beth, Jemma, Sol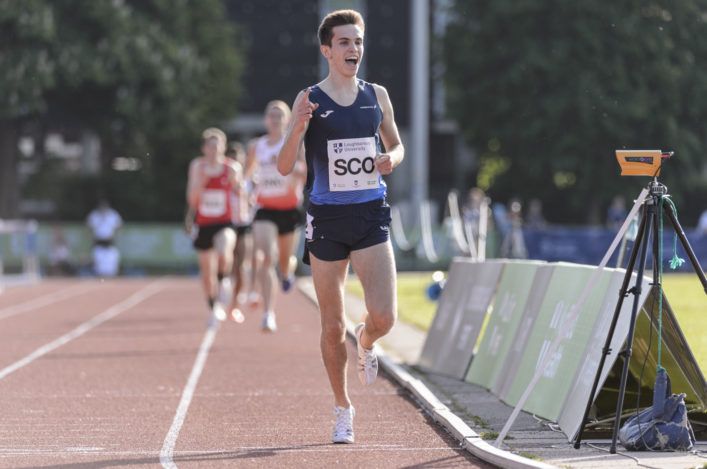 Sol Sweeney savours the moment as he crosses the line to win Men's 3000m at Loughborough (photo by Bobby Gavin)
Scots impress at Loughborough International
The whoop of delight uttered by Beth Dobbin echoed around the Paula Radcliffe stadium when she learned of a legal wind speed for her 23.14 PB over 200m after a superb race win.
Jemma Reekie and Sol Sweeney, both coached by Andy Young, were more restrained but they savoured match race wins at the Loughborough International with PB performances, too.
For that trio – and we could certainly add Jamie Williamson, the Scot who won the Men's 1500m in the purple colours of the host University  – the traditional early-season international put a marker down for the track season ahead.
While the standards of Loughborough 2018 overall might be open to debate, there is no doubt some of the performances in the sunshine on Sunday were positive portents for athletics in Scotland.
No more or no less, maybe, but the fact remains the nine event wins spanned across throws (Mark Dry, Kirsty Law), jumps (Allan Smith), sprints (Beth Dobbin, Grant Plenderleith), hurdles (Kirsten McAslan) and endurance (Reekie, Williamson, Sweeney). What's not to like?
Furthermore, in Dobbin, Reekie and Sweeney there are young athletes showing real focus on setting goals and making plans.
Here's the reaction from each of those three athletes: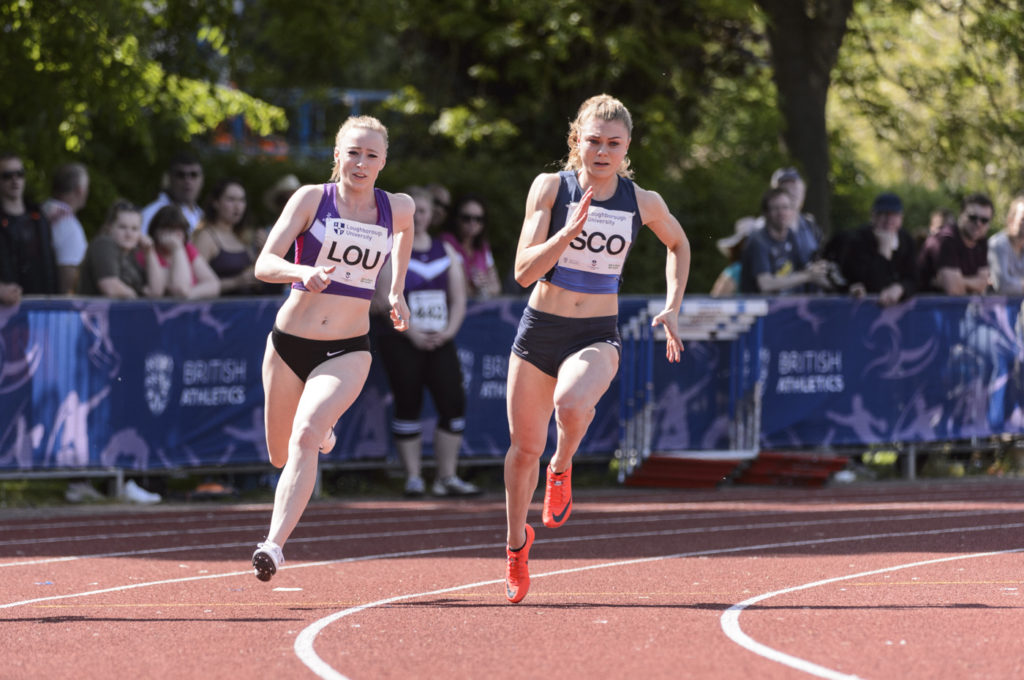 Sharing Beth Dobbin's PB moment on Sunday were her dad Jim (from Dunfermline) and mum Jean (from Doncaster) – which might explain the Yorkshire accent.
The loud cheers that met her performance may be connected to the fact she actually works at Loughborough Uni, in reception of the indoor track and in security.
'I missed out on the Commonwealth Games qualifying time for the 200m by one hundredths of a second last year,' said Beth, who is 23.
'I recorded a PB of 23.31 at the British champs last year and I half thought it might be enough and they would take me anyway. They didn't and I couldn't blame anyone because, at the end of the day, I didn't have the standard and I understood the selection process.
'I did do a couple of 400m runs and thought about the relay but, six years ago, my coach told me to get under 23 seconds first and then move up to 400m That is still the plan and next year it is on schedule – I will move up to 400m.
'I have always thought of athletics as a long-term plan. I am 23 now and work here at Loughborough and it is a great feeling when you are still improving. All my work-mates were thrilled for me on Sunday.
'I've never been close to a GB vest at any age group so that's another thing that I have to keep on chasing.'
+++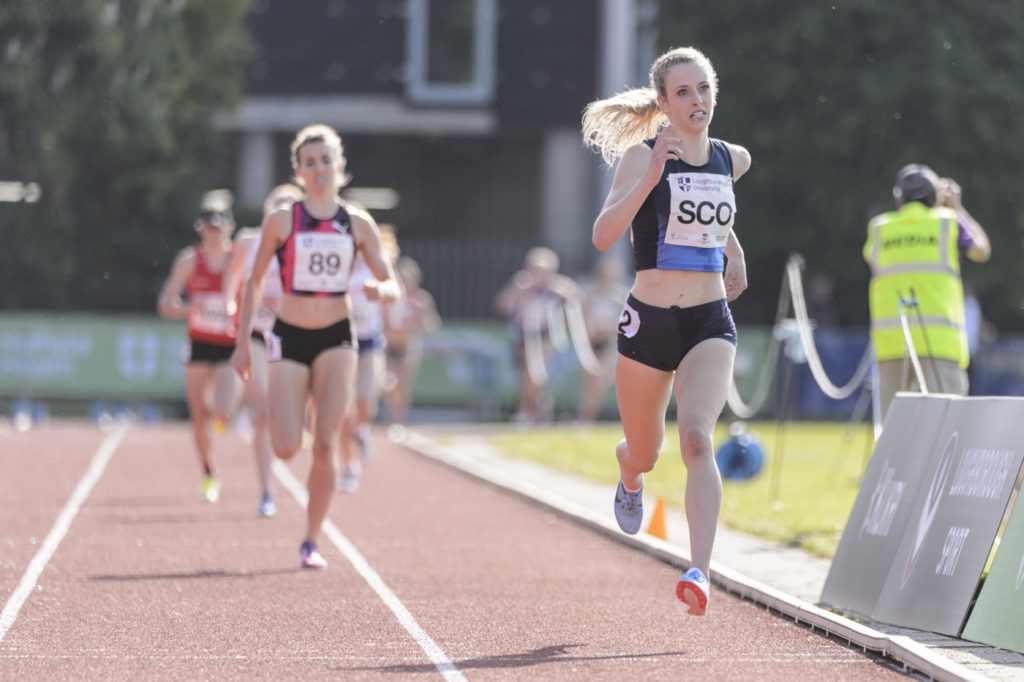 Jemma Reekie won the Women's 1500m in a style which will be familiar to those who have watched her develop in the past couple of years – she grabbed control of the race early and then pushed it on until she had an unassailable lead.
The European U20 champion at 1500m did something similar the week before when recording an 800m PB, albeit she was caught on the line in Manchester.
Her 4.11.96 chipped away at her 1500m PB and Jemma isn't shy about setting tough targets.
'I do like to attack races,' she said.
'I like to run hard and if someone comes by me towards the end then at least they have had to run hard, too, and I might have a good time. That's two PBs so far this season and it is quite early.
'I would like to have run quicker at Loughborough but at the end of the day I will take it and I wanted the win for Scotland.
'The European Championship qualifying time is a tough one (4.07.00) and the event in Britain is quite stacked – but I just have to try and aim high. I have to see if I can chip away at my PB, get under 4.10 and then see if I can take it on further from there.
'I ran in hot conditions in Italy last year and learned a bit about splashing water over yourself and so on and it was pretty warm in Loughborough. I think it is always that bit harder when you are at the front and doing most the work yourself but, as I said, that is the way I like to race.'
+++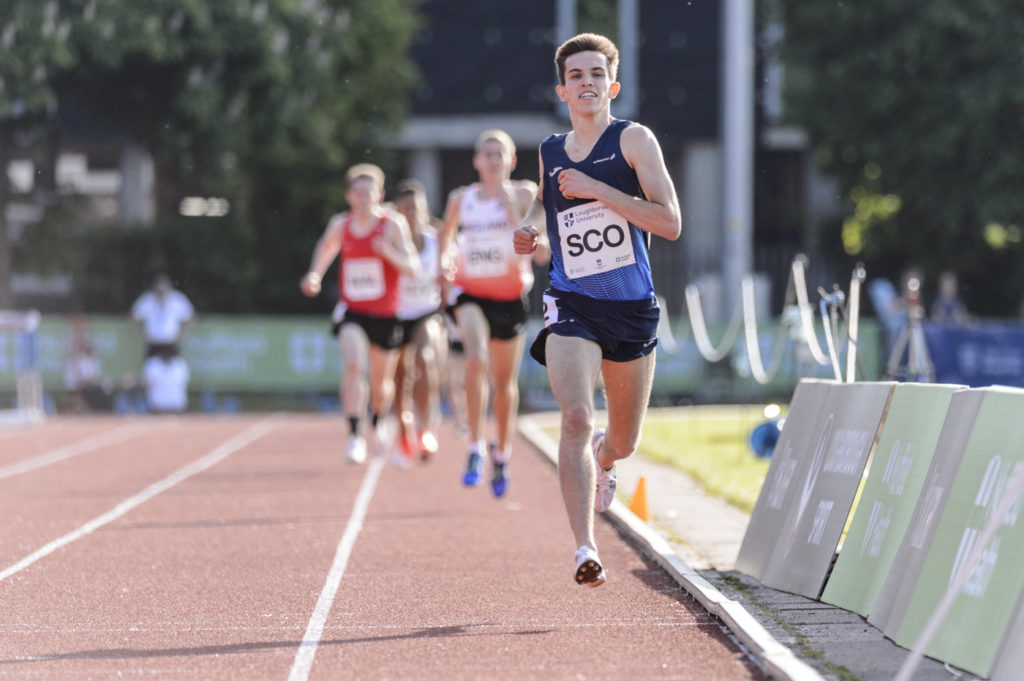 Sol Sweeney had a good week, with his Loughborough 3000m win following on from a PB of around 40 seconds in the 5000m in Manchester the previous weekend at a BMC meet.
The British Champs in Birmingham are the immediate goal for the Perth Strathtay athlete who is at Glasgow Uni and trains with Laura Muir and Jemma Reekie.
'Training with Laura is good because you see how focused she is for sessions, and Jemma, as well, to be fair,' said Sol.
'I am ahead of Laura now but often I hear her breathing behind me and it pushes me on. So I would like to think we are helping each other!
'I had a big PB in the 5000m in Manchester last weekend and then on Sunday I really wanted the win for Scotland.
'Looking at the field, I felt I had a chance. I maybe wasn't quite in the right places initially but I started to wind it up with 600 to go ad then, with 300 left, I managed to kick clear.
'I am racing a 1500 at Watford next weekend and will see where that takes me. I am looking to race at the British Champs but don't know as yet whether it will be 1500m or 5000m.'
Tags: Beth Dobbin, Jemma Reekie, Loughborough International 2018, Sol Sweeney