Scots impress at Loughborough International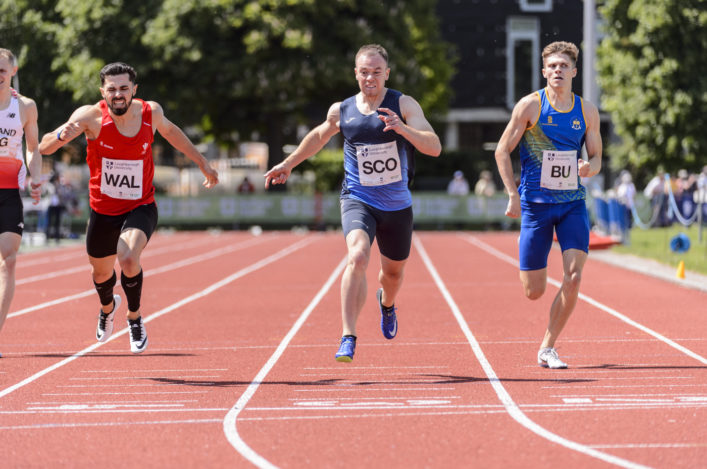 Grant Plenderleith on his way to 400m win in a PB of 46.60 (photos by Bobby Gavin at the Paula Radcliffe Stadium)
RESULTS service from Loughborough International
MATCH SCORE: England 172, Loughborough 128, GB Juniors 119, British Universities 111, Scotland 109, Wales 87.
Scottish athletes really did perform when it counts at the Loughborough International 2018 on a day of some very fine individual displays in the sunshine at the Paula Radcliffe Stadium.
There were event wins in Scotland vests for Mark Dry, Grant Plenderleith, Kirsty Law, Beth Dobbin, Allan Smith, Jemma Reekie and Sol Sweeney.
Kirsten McAslan won the 400m Hurdles while representing Loughborough and, similarly, Jamie Williamson wore a Loughborough vest and came up with the win in the Men's 1500m at 3.44.57 for a PB in another strong performance by a Scottish athlete.
Sweeney, for his part, took control of the 3000m in the final lap and came home well clear in 8.06.90 for an outdoor PB and full points for Scotland in one of the last races of the day.
McAslan and Dobbin savoured a 4 x 400m Relay win, too, for Loughborough as did Plenderleith for a GB select quartet on an excellent day for those three track athletes.
In fact, Dobbin's 23.14 PB in the 200m was the second equal best run all-time by a Scottish woman (non-windy performances) – and a testament to the determination of the 23-year-old who missed the Gold Coast 2018 qualifying time by one hundredth of a second last summer.
PHOTOS on Facebook by Bobby Gavin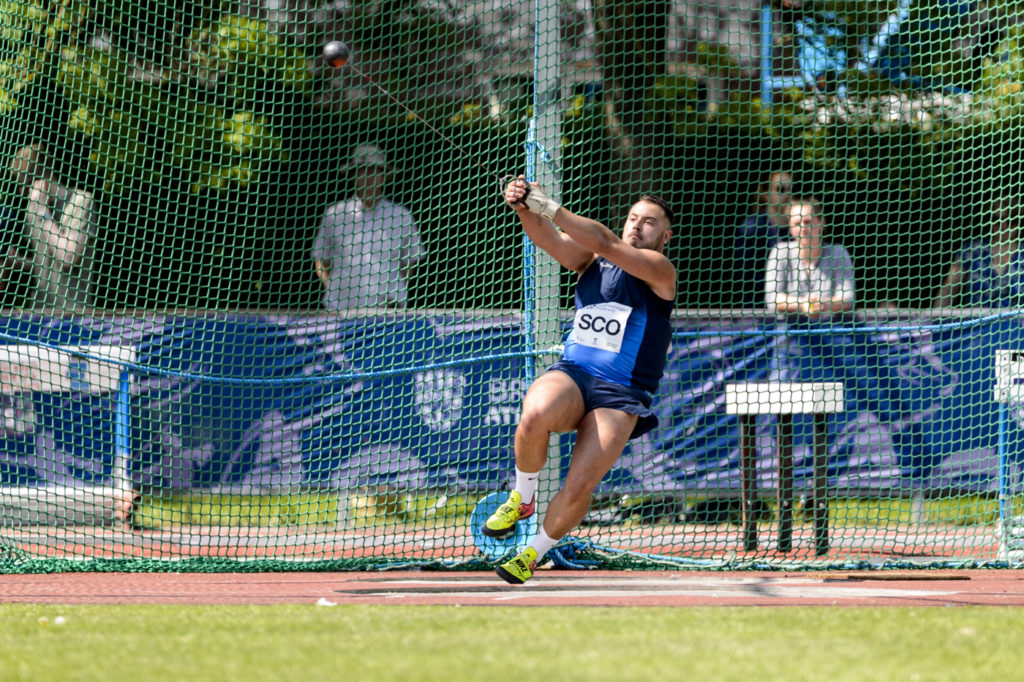 Dry threw 72.35 in his fifth round to win the competition from Loughborough Uni's Taylor Campbell, a GB U23 international, by just 4cm.
'I really wanted to get the win as Scotland captain and lead by example for the team,' said Mark.
'It was a tough comp and I wasn't throwing too well initially. The hip hurt and I am sore now but I came up with a 72.35m and that was enough with Taylor Campbell, throwing for Loughborough, at 72.31m. I will see how it feels later next week with a GB appearance coming up in Germany.
'In terms of today, I'm so proud to be captain. I've been on teams here before and people like Eilidh Doyle have been the captain. And other years I was selected for Loughborough rather than for Scotland.
'I told the other athletes on Saturday night to take real pride in the vest. It is an individual sport, yes, but I think there's a real team spirit with Scotland at the moment and I think it means more to us than to other teams.
'I and others won't be around forever in the sport so it is up to the younger ones – and there were a number of athletes here competing at Loughborough for Scotland for the first time – to carry the baton. We have a lot of talent around at the moment but, of course, it is small talent pool in Scotland in population terms.'
Plenderleith pulled off a superb win in the Men's 400m as he stormed home in a PB of 46.60 in a race that featured the likes of fellow GB internationals Lee Thompson and Owen Smith.
'I wanted to run under 47 seconds here today with the conditions good but to get a PB of 46.60 (from 46.65) and win the race wearing the Scotland vest is just a brilliant feeling,' said Grant, with Shawn Wright sixth in the race representing Loughborough in 48.70.
'It's my first win in six visits to Loughborough and I just kept working hard and tried to keep my form over the last few strides.
'I wasn't too aware of what else was happening and ran my own race. I'm trying to get in the mix for the European Championship selections this summer and we will see what happens.'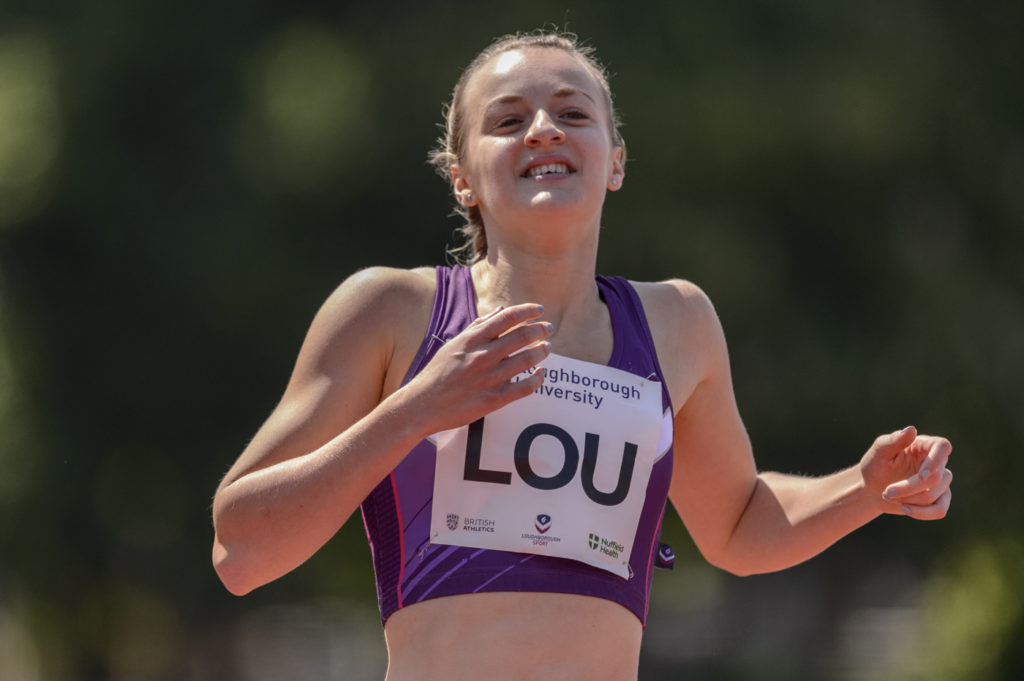 McAslan took the win, as well, in the Women's 400m Hurdles as she recorded 59.01 to win from England's Georgina Rogers with Mhairi Patience seventh in 60.39.
'It was a bit of a scrappy race but it was nice to win it and I've not yet raced the 400m Hurdles event all that often – I just fancied a change so we will see how I get on,' said Kirsten.
Allan Smith took the high jump in 2.23m from rival Chris Baker.
'After Mark and Grant posted wins early in the day I did feel a wee bit of extra responsibility to try and do my bit for the team,' said Allan.
'I've had two competitions since Gold Coast at BUCS and then here and won them both – and this one was a step-up in standard from BUCS.'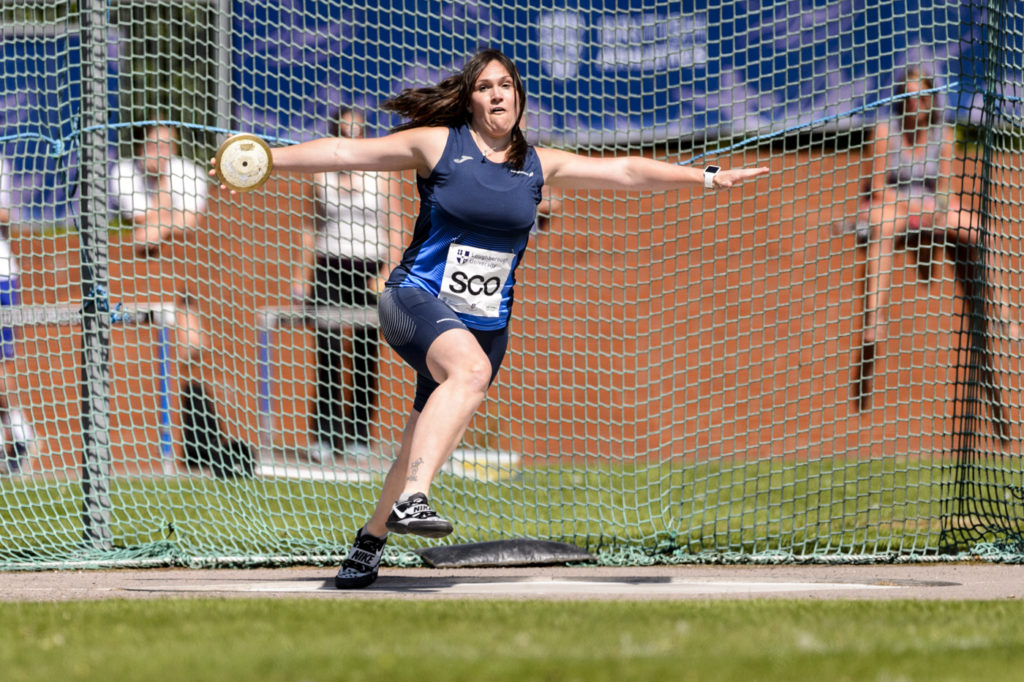 And Kirsty Law was an individual event winner, as well, on the day her 11th appearance for Scotland at the Loughborough International gave her a record after last year joining Eilidh Doyle and Kathryn Evans on 10 appearances.
'I surprised myself there with a decent throw in the opening round,' said Kirsty. 'I will take that for this stage in the year and it was really fitting to win the match event on the day of that appearance Record after sharing it last year with Eilidh and Kath.'
Dobbin's excitement at a 200m victory in a new PB of 23.14 was clear for all the see in the Paula Radcliffe Stadium – as she smashed her previous best of 23.31 and the opposition.
'I'm so excited by that because I want to get under 23 seconds this season and now I really do believe that is achievable,' said Beth, who actually works at the Paula Radcliffe Stadium in Loughborough on reception at the high performance centre.
'My dad, Jim, is from Dunfermline and he is always so proud to see me race in a Scotland vest so the win means a lot. He's always keen for me to beat the English!'
Reekie clocked a new PB of 4.11.96 to win the 1500m race in fine style, with Megan Davies sixth for BUCS in 4.22.18.
'I like to run hard and run from the front if I can but it was tough today as it is pretty warm,' said Jemma. 'But I've managed a PB to add to one last week for the 800m and that's decent for early-season. Hopefully I can go faster over the course of the season.'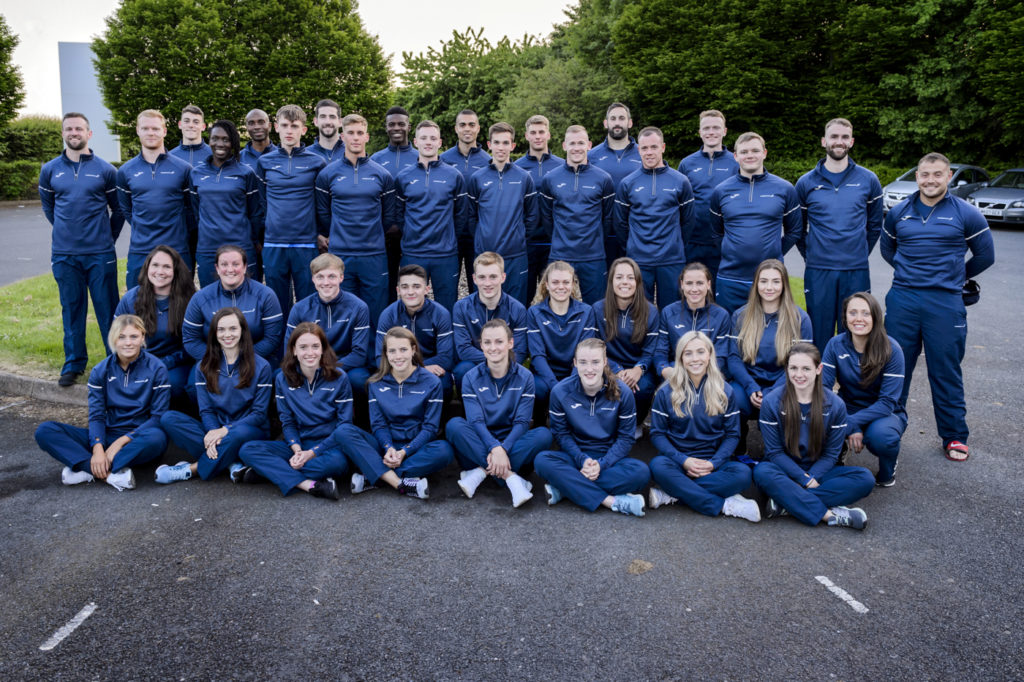 There was also a Guest race 200m win for Chloe Lambert, who had raced for Scotland in the 4 x 100m. Lambert won in 24.69. Adam Clayton was sixth in the men's 200m match race with 21.83.
Mhairi Hendry took second in the 800m race with a SB performance of 2.03.61 with Edinburgh AC U20 athlete, Sam Brown, close to a PB with 1.51.70 for seventh in the men's race. Williamson's 1500m win came in a race which also saw a PB for Ben Potrykus at 3.49.03.
Zara Asante took third in the Women's triple jump with 12.45m while Kelsey Stewart was fifth in the Women's 400m with 54.70. Alisha Rees, who raced for GB and NI in a 4 x 100m relay, was third in the Women's 100m in a Loughborough Uni vest in 11.72 with Scotland's Katy Wyper in sixth at 12.05.
Michael Olsen was seventh in the 100m in 10.76 on a day when the Edinburgh AC athlete also represented GB and NI in the 4 x 100m relay.
Scott Huggins was third in the men's Pole Vault with 4.95m, Ciaran Wright fifth in the shot at 15.36 and Emma Canning sixth in the high jump at 1.62m. Jack Lawrie was fourth in the 400m Hurdles in 51.26 in a race where Declan Gall took seventh in 53.03. Andrew Murphy was sixth in the 110m Hurdles in 15.18.
Paul Ogun was fifth in the men's long jump with 7.21m, with Alessandro Schenini competing for GB at seventh and Aidan Quinn was seventh in the triple jump in 14.42m.
Mhairi Porterfield was sixth in the shot with 12.27m; Heather Paton was fifth in the 100m Hurdles in 15.84; Greg Millar fourth in the javelin in 67.40m; Natalie Robbins was sixth in the hammer with 54.83m.

Tags: Grant Plenderleith, Kirsten McAslan, Kirsty Law, Loughborough International 2018, Mark Dry