O'Hare retains British road mile title as Muir home third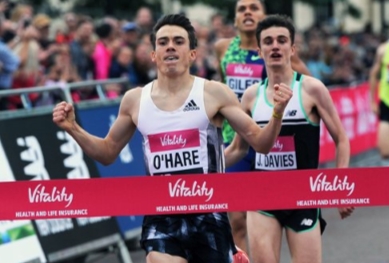 Photo by Mark Shearman
Chris O'Hare relied on his finishing strength to clinch a repeat win in the British Road Mile Champs in London on Sunday afternoon.
The Glasgow 2019 medallist returned to these shores from his American home to repeat his gold medal win of 12 months ago in the Westminster Mile event on a day when Laura Muir had to settle for third place and bronze in the women's race.
As Chris finished, the clock was clearly showing 3:59 and it looked as if he achieved the first sub-four-minutes mile in the event but road times are rounded up to the nearest second and it was officially recorded as 4:00.
'I was not too bothered about the time but to win the race but Tom Marshall set a good pace and I knew it would be fast,'said O'Hare.
Also matching that time was the race revelation Jonathan Davies. The former European U23 cross-country champion showed impressive speed in finishing second with Elliott Giles having his best mile race to date to finish a close third in 4:01 after having made much of the earlier pace.
Melissa Courtney showed her strength by leading after a slow start and then repelling the challenges of Sarah McDonald and European champion Muir along the finishing straight outside Buckingham Palace as the Commonwealth bronze medallist retained her title.
Courtney was given a time of 4:31 which was the same as McDonald with Muir timed at 4:32.
'I'm delighted but a little shocked,' said Courtney. 'I felt strong but the wind was tough and everyone was sitting behind me but I finished well.'
Muir had only arrived back from altitude in Switzerland the day before and endured a lot of travelling but admitted Courtney and McDonald were better on the day.
'I wanted to win but it's okay at this time of year with a long season,' she said. 'I had a break after the indoors and trained very hard at altitude.'
*There was also a new World Record for the Mile while Holding Hands by Steph Twell and her husband, Joe Morwood, in 4.50.
Tags: British Road Mile Champs, Chris O'Hare, Joe Morwood, Laura Muir, London, Steph Twell, Westminster Mile