Noticeboard: SAL short-listed; Nominate now; U15 Inter-Club; 4K XC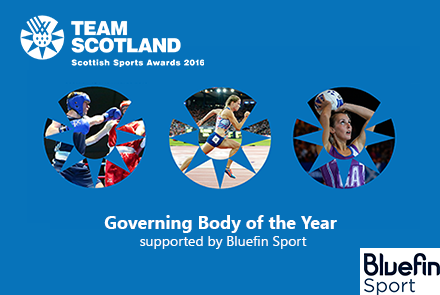 scottishathletics have been short-listed for the title of Governing Body of the Year at the Team Scotland Scottish Sports Awards on Wednesday 28 September 2016.
Three organisations have been recognised for driving participation, development and performance at all levels.
Netball Scotland, scottishathletics and Boxing Scotland emerged as finalists from a strong list of nominees, in what has been a fantastic year for Scottish sport and are now vying to scoop the award sponsored by Bluefin Sport.
The media release from Team Scotland stated:
'It has been been a bumper year for scottishathletics with a raft of medals at World, European and Commonwealth events across all disciplines and age groups.
'The 15 Olympians selected for Rio 2016 comprise the largest Scottish representation for a century, with a further six athletes selected for the Paralympics Games which are underway this week.
'Underpinning this success is the new national strategy 'Perform When It Counts'  delivering the highest competition entry numbers since the 1970s with over 120,000 athletes participating in scottishathletics permit events over the past year.
'The strategy has also driven significantly increased membership of clubs and the recreational jogscotland programme, as well as the launch of eight new clubs and centres, catering for para-sport athletes, in partnership with Scottish Disability Sport.
'Along with innovative developments in coach and club development and the creation of an industry leading physical competency programme, scottishathletics is working hard to ensure that the success of 2016 is repeated in years to come.'
*There was further good news with Paralympic sprinter, Maria Lyle, short-listed for the Young Athlete of the Year Award. Maria is in contention for the Sir Peter Heatly Award.
+++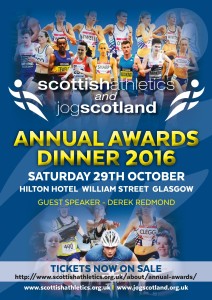 On the subject of awards, the scottishathletics and jogscotland Annual Awards Dinner is coming up in Glasgow at the end of October.
It should be a night of celebrations and acknowledgement for our 15 Olympians from Rio, six Paralympians and many others within the sport who are unsung heroes in their own right.
And the time is right now for you to get involved by giving us nominations in various categories. We are looking for your help in choosing winners in three scottishathletics categories – Clubs, Coaches and Volunteers.
scottishathletics are committed to recognising and rewarding the dedication, commitment and success of coaches, officials and volunteers. Our Awards have been in existence for a number of years and during that period have acknowledged over 100 clubs, coaches, and volunteers.
Nominate now for scottishathletics awards and jogscotland awards 2016! Closing date – Friday 9 September.
The Annual Awards Dinner will be held on Saturday 29 October at the Hilton Hotel in Glasgow, with tickets now on sale.
Nominations for Athlete of the Year, Performance Coach of the Year and Official of the Year are closed awards, chosen by the relevant selection committees.
Winners again – Edinburgh AC topped the points tally at U15 (photo by Bobby Gavin)
Edinburgh AC picked up the overall title in the U15 Age Groups Inter-Club competition – repeating their success of 2015.
There was  a really good spread of clubs involved in the 15 Age Groups Inter-Club  with no fewer than 15 in all contributing the maximum 10 scoring athletes.
Well done to Aberdeen, Ayr Seaforth, Central, Cumbernauld, Dunfermline, Edinburgh, Giffnock, Glasgow School of Sport, Inverclyde, Inverness, Kilmarnock, Livingston, Pitreavie, Team East Lothian and VP-Glasgow.
The Event Group winners were Edinburgh in the sprints and jumps, Inverness Harriers in the throws and Giffnock North AAC in endurance.
Results (last year's positions in brackets):
OVERALL
1 (1) Edinburgh AC 4907; 2 (2) Inverness Harriers AAC 4127; 3 (12) Glasgow School of Sport 4087; 4 (3) VP-Glasgow AC 3849; 5 (7) Giffnock North AAC 3781
SPRINTS
1 (5) Edinburgh AC 2263; 2 (-) Dunfermline T&F 2109; 3 (6) Pitreavie AAC 1907; 4 (2) VP-Glasgow AC 1755; 5 (-) Aberdeen AAC 1740
ENDURANCE
1 (5) Giffnock North AAC 1823; 2 (8) Glasgow School of Sport 1815; 3 (4) Edinburgh AC 1609; 4 (7) Inverclyde AC 1563; 5 (-) Fife AC 1448
JUMPS
1 (1) Edinburgh AC 2357; 2 (-) Glasgow School of Sport 2081; 3 (-) Cumbernauld AAC 1784; 4 (4) VP-Glasgow AC 1531; 5 (2) Inverness Harriers AAC 1297
THROWS
1 (2) Inverness Harriers AAC 2551; 2 (1) Edinburgh AC 2310; 3 (6) VP-Glasgow AC 1202; 4 (7) Central AC 1112; 5 (3) Law & District AAC 1111
With thanks once again to Arnold Black
Short Course Champs – venue switch
There's been a change of venue for the National Short Course XC Champs in November.
Saturday 5 November is the date for this event, which has been held at Bellahouston for the past couple of years and grown in numbers significantly (with U20/Seniors racing 4K).
Now the venue will be King George V Playing Fields, Broadloan, Renfrew PA4 OSA. Check out the page on our Events section (in the Winter 2016/17 icon on the calendar).
Meanwhile, at the National Relays, on Saturday 22 October, there's a change for the Women's race.
Following discussions by the Road Running and Cross County Commission, the Senior/U20 Women's race will now consist of four legs(rather than three in previous years). The Masters Women and W50+ races remain as before at three legs.
Tags: Annual Awards, Edinburgh AC, Maria Lyle, National XC Relays, scottishathletics, Team Scotland Sports Awards, U15 Inter-Club