Noticeboard: Beattie; Junior HI; Vest vote; Dinner
Ian Beattie, chairman of scottishathletics, has been short-listed in the Team Scotland Scottish Sports Awards for the 'Sports Leader of the Year' accolade.
It's terrific to see Ian's work recognised there in a three-strong short-list for the Awards, with the winners to be revealed on September 28.
scottishathletics has already been announced on a shot-list of three for the 'Governing Body of the Year' award with netball and boxing our rivals. And Maria Lyle is in the running for Young Athlete of the Year'.
On Ian Beattie's nomination, the media release from Team Scotland stated:
'As Chair of scottishathletics, Ian Beattie has led the organisation in a quite remarkable year across all sections of the business.
'Working closely with the Board, staff team and sport as a whole, he has provided clear leadership to refocus the organisation, implementing his brainchild 'Perform When It Counts' national strategy across the sport.
'Encompassing not just athletes but also coaches, officials, volunteers, parents and staff members, the past year has seen a massive growth in the sport with numerous successes from participation numbers, across club and coaching initiatives, to athlete performances including record numbers selected for the Olympic and Paralympic Games.'
Ian faces competition from Maureen McGonigle from Scottish Women in Sport and the late Richard Thomas from boxing.
+++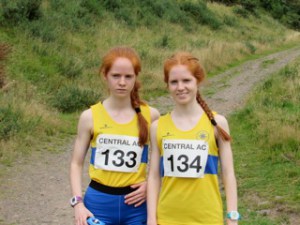 Scotland's junior hill runners head for the Lake District this weekend for the Junior Home International event.
It is always a special moment when representing Scotland and it may be particularly special on Saturday for two families – as they 'supply' no fewer than five athletes in the 16-strong team.
The Rees brothers Logan, Tristan and George from Fife AC will all be involved in the U17 and U20 event at Keswick on September 17. We understand it is the first time all three of the Rees boys have been included in the same Scotland selection.
And the McKenna twins from Giffnock North AAC, Lynn and Charlotte, (pictured above from the club website) were automatic picks for the Scotland U17 Women's team after finishing 1-2 at the trial.
GB international Euan Gillham, 13th in the World Champs in Bulgaria last weekend, has also agreed to race for Scotland U20 Men in the Junior Home International – after his own superb introduction to hill running at the World trials.
Indeed, that Scotland Men's U20 teams looks a selection with the strength which may be able to challenge the regular dominance of England at this event, with Logan Rees a bronze medallist at the Scottish 10K Champs in Stirling last Sunday with a fine run of 30.48.
Scotland U17  Men: Tam Munro-White (Inverness Harriers); George Rees (Fife AC); Cameron Corrigan (Kilbarchan AAC); Robert Sparks (Fife AC)
Scotland U17 Women: Lynn McKenna, Charlotte McKenna (Giffnock North AAC);  Grace Whelan (Moray Roadrunners); Mairi Wallace (Moorfoot Runners)
Scotland U20 Men: Logan Rees, Tristan Rees (Fife AC); Euan Gillham (Kilbarchan AAC); Alasdair Coupar (East Sutherland)
Scotland U20 Women: Anisha Badial (Aberdeen AAC); Ailsa Cruickshanks (Fife AC); Laura Stark (Kilbarchan AAC); Emily Nicholson (Pitreavie AAC)
All at scottishathletics would like to wish all athletes selected and their families, coaches and clubs all the best for this event.
+++
VOTE HERE!
scottishathletics were delighted to announce a new kit deal with Macron earlier this month.
And now we are looking for help from the athletics community to help Macron and ourselves select a suitable design for the new Scotland international vest.
Macron, who are currently kit sponsors of Edinburgh Rugby, Glasgow Warriors and all Scottish national rugby teams, will produce the entirely new competition kit design for scottishathletics teams across all disciplines and age groups.
With help from Macron, we've now selected three options for a new Scotland vest – two of them navy blue and one white – and are asking folk to get involved in our online poll to help us pick one of those designs to proceed to manufacturing.
Simply give us a choice from the three options and we will collate the responses when making the final decision. The poll will close at noon on Friday 16 September. Only one response will be accepted per computer/device.
+++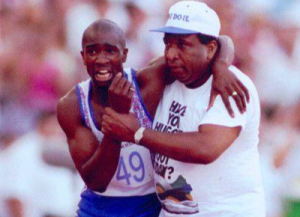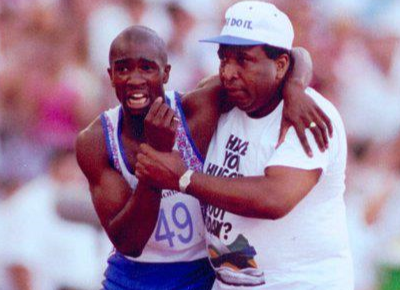 British sprint legend Derek Redmond is our 'Guest of Honour' at the scottishathletics and jogscotland Annual Awards Dinner on Saturday 29 October.
It should be a night of celebrations and acknowledgement for our 15 Olympians from Rio, six Paralympians and many others within the sport who are unsung heroes in their own right.
And the time is right now for you to buy tickets for what will be a great night – with the price £40 per person.
The Annual Awards Dinner will be held on October 29 at the Hilton Hotel in Glasgow, with tickets now on sale. Use the 'online entry' function on that page and go through the process from there. Thanks
+++
Tags: Awards Dinner, Derek Redmond, Ian Beattie, Leader of the Year, Macron, Team Scotland Scottish Sports Awards