New Year Sprint preview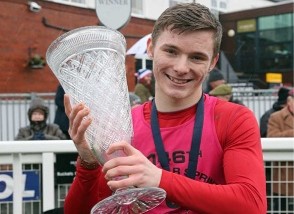 Cameron Tindle won the 2015 event at the age of 16
By Sandy Sutherland
Despite all the odds, it would seem, the famous Scottish Professional Sprint Handicap, once known as the Powderhall Sprint, continues to excite interest and support amongst Scotland's athletics community.
Last year a diminutive 16-year-old with remarkable leg speed and cadence burst upon the scene to claim the £4000 first prize, bettering 12 seconds for the 110 metres event on a heavy grass track from a start of five metres.
A member of Edinburgh AC, Berwick-based Cameron Tindle went on to prove that this was no Forest Gump but a genuine new talent who later in the year became the youngest ever winner of the Scottish senior 200m title at the age of 17 years and two months.
Tindle is back to defend his New Year title and with his handicap cut to two metres is the back-marker for the event which has attracted an entry of almost 90 runners in 12 heats.
In heat five, Tindle faces his EAC clubmate Sarah Malone, who is off 19.75m and has been tipped as a possible to become the first female winner of the 147-year-old race.
Strangely the event will take place this time at two different venues, the heats scheduled for the first time on Wednesday 30 December Meadowmill Sports Centre, East Lothian, which has an all-weather track, and the semi-finals and final two days later on grass at Musselburgh Racecourse on New Year's Day, Friday 1 January, during the National Hunt Race Meeting.
For the first time, three brothers have entered the Sprint: Steven, Ryan and Jordan Charters from Dolphinton.
Steven regularly competes for City of Glasgow AC and has a start off 8m in heat eight where he faces the younger of his two brothers Jordan, off 11m, and a former winner Cumbie Bowers (Glenrothes) off 8.75m.  Jordan (Lasswade AC) is coached by John Scott and has a best long jump of 7.19m. Ryan (Lasswade AC) is also off 11m in heat one where the backmarker is Kieran Kivlin (EAC) off 6.25m.
Other back-markers include former winner Dylan Ali (Hawick, 5m) in heat 11 and Moro Bajo (EAC, 5m) in heat three.
More details on the event website.
Tags: Cameron Tindle, Meadowmill, Musselburgh, New Year Sprint