National Open review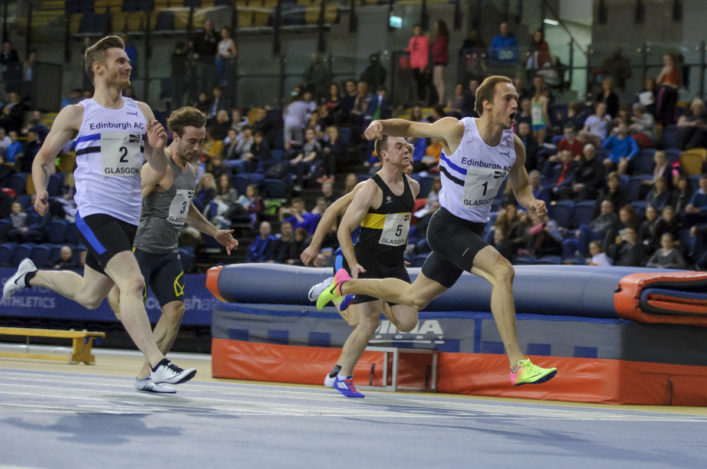 Allan Hamilton en route to 60m PB and victory at the National Open (photo by Bobby Gavin)
National Open photos on Facebook by Bobby Gavin
The Emirates Arena packed with athletes competing is always a sight to gladden the heart – and that's what greeted observers for a number of hours on Saturday.
Our National Open has become a hugely-popular event with many athletes as the start of their indoor season and hopefully an encouraging portent for outdoor performances to come.
With no medals on offer, it is all about participation and performances as athletes and coaches chase PBS and good signs for later in the year.
National Open live results service
We had both of the above in spades on Saturday with sprint PBs notable for the likes of Allan Hamilton and Alisha Rees while 40 heats listed in the 200m says it all about the numbers involved – with 700 or so overall on start-lists. And as this excellent highlights video – produced for us by Sergiu Timar – shows, it was a superb day:
'There were some good performances on Saturday and the National Open is the kind of event that bridges the full spectrum of track and field – it is about athletes of all ages and stages,' said Rodger Harkins, our Performance Director.
'It is always enjoyable to see the Emirates Arena busy with competing athletes and it is a great venue for our Indoor Season.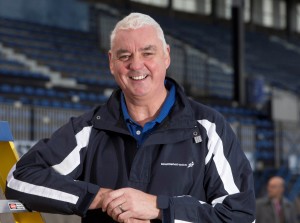 'For many of our top end athletes, it was a chance to blow away the cobwebs and get a first performance out there.
'In terms of some of the sprinters, like Allan Hamilton and Alisha Rees, it was good to see them coming out and getting PBs right away – that's a great sign.
'Allan just headed a good race in the 60m, with Cameron Tindle not far off his indoor PB, also. Alisha took a slice off her PB going from 7.65 down to 7.59 which is encouraging looking ahead to the marks she needs in the summer for the European U20s.
'So I think for a few athletes there were indications of hard work having been put in over the winter by them and their coaches.'
Hamilton headed Cameron Tindle in an exciting 60m showdown, with Allan nicking a PB of 6.77 by one hundredth of a second. Tindle was at 6.90 and there was a PB also for Grant Plenderleith in third. Grant followed that up with a 200m win in the top heat with 21.56.
Rees was another athlete celebrating a PB with a good run of 7.59 – bringing her time down from 7.65 previously. Alisha then clocked 24.47 in the 200m.
There were wins for Jake Wightman at 800m in 1.50.22, Jade Nimmo at the 60m Hurdles in 8.87 and Cumbernauld AAC athlete Lewis Brown demonstrated his 400m potential with 48.73 as he edged out Greg Louden (49.12) and Anthony Young (49.40) – seventh equal best on the all-time list at U20.
For his part, Jake later tweeted that it was 'nice to finally re-write my 800m indoor PB from 2008' – when he had clocked 2.18.5.
Kilbarchan AAC athlete Jemma Reekie has caught the attention recently with a Scottish U20 indoor record at 3000m and then her last-leg run in the International Relay at Holyrood.
She followed that up with an overall PB for the 1500m at 4.21.57 – and that is fourth on the all-time list for U20 at 1500m indoors for women.
In the field, Jax Thoirs was at 5.15m in the pole vault and there was a 5kg shot debut for Finbar Dunne with 11.63m.
And there was a really good PB for Aidan Quinn in the triple jump to reach 14.20m for sixth place on the all-time list indoors at U20.
*Once again we want to thank all our hard-working team of scottishathletics Officials for their support for the Indoor Season – as well as other volunteers and staff who were on duty throughout Saturday.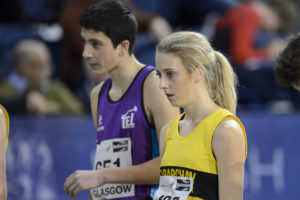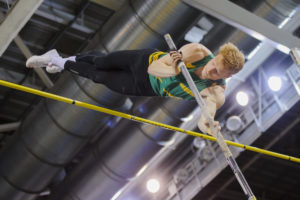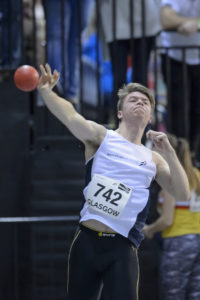 Tags: Aidan Quinn, Alisha Rees, Allan Hamilton, Emirates Arena, Jade Nimmo, Jax Thoirs, Jemma Reekie, Lewis Brown, National Open, Rodger Harkins