Maclennan weighs up Commonwealth Games target
Just champion . . . Mhairi Maclennan wins the Lindsays National XC for the second time at Falkirk back in February  (photo by Bobby Gavin)
By Fraser Clyne
Scottish National XC champion Mhairi Maclennan would love to represent Scotland at the 2022 Commonwealth Games in Birmingham, but she's not yet sure which event to target.
The 10,000m would be an obvious choice as the Edinburgh-based Inverness Harriers club member was ranked fourth in Scotland behind Steph Twell, Eilish McColgan and Sarah Inglis in 2019.
Maclennan has a decent pedigree for the distance, her PB of 32.58.42 was set when representing Great Britain in the European Cup team competition at London's Parliament Hill track 12 months ago.
'I know I can run a decent 10,000m,' said Mhairi, in an interview with Fraser Clyne for the Press and Journal.
'But I need to do it quite a bit faster than I've managed before, so we'll have to see.'
There is, however, also the intriguing possibility of the 25-year-old launching a bid for a place in the 3000m steeplechase, an event she hasn't tackled in any shape or form since her teenage days at Charleston Academy in Inverness.
'I've had a conversation about it with my coach, Helen Clitheroe,' she explained.
'I guess it would be fun. But the girls doing it are really fast. I doubt if I have that speed. You have to remember it's only 3000m and even although the barriers are there to slow you down, I don't know if I'd have the turnover for it.'
Maclennan still holds the Inverness Harriers U17 record of 5:54.2 for the 1500m steeplechase, set 10 years ago, but admits that doesn't prove she still has an aptitude for the event.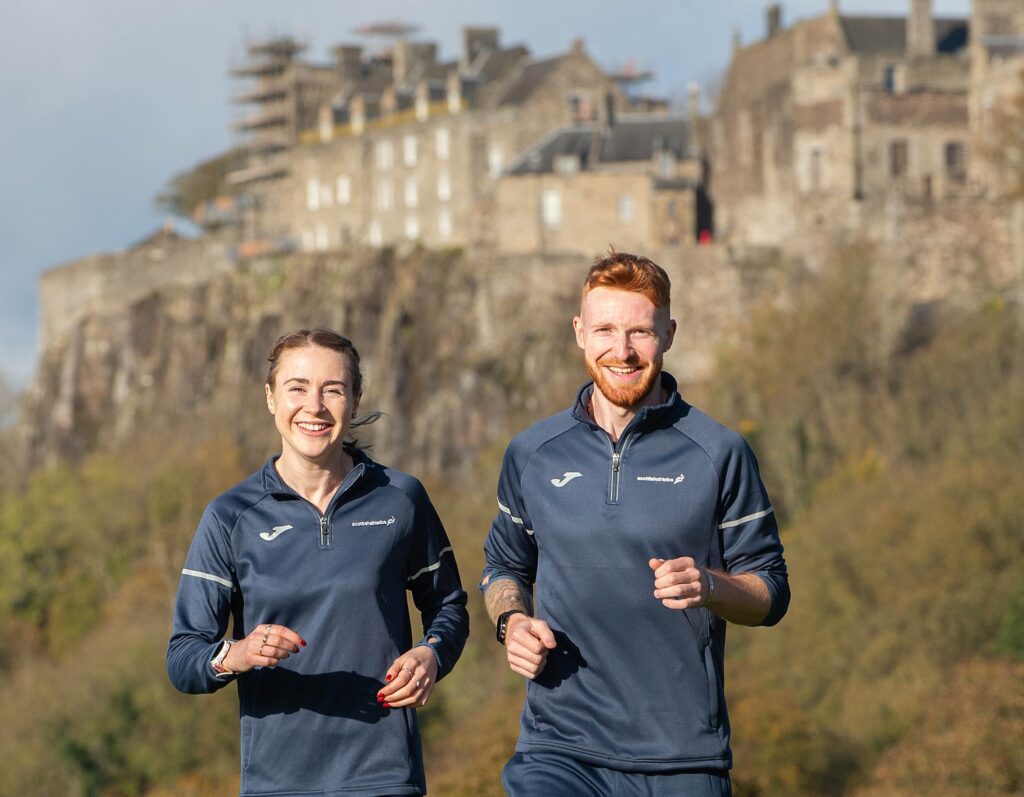 Mhairi on promotional duty for scottishathletics with Jonny Glen of Inverclyde AC 
The third and possibly most enticing option for Maclennan is the marathon which she is seriously attracted to despite not having yet raced beyond 10 miles.
'The marathon excites me far more than the others,' she said.
'I don't know why, but since I was 16, every time I watched the London marathon on TV I cried. I just found it very moving. I'd love to be part of something like that. For me it's a motivating goal.
'But I'm aware I haven't so much as run a half marathon yet but I'd hope to do that at some point over the next year or so. I was hoping to have run one by now, but that hasn't happened because of the current situation.
'You never know what's going to happen next, especially at times like these, so it's difficult to plan with any certainty.'
Aside from her 2022 Commonwealth Games aspirations, Maclennan is also optimistic about her future as a cross country runner.
'I would love to keep making GB teams for the European and world cross country championships. It's always a great achievement to be selected for these events.'
+++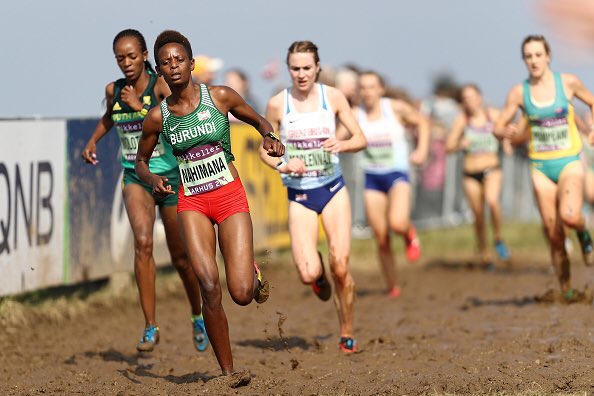 Mhairi in action for GB at the 2019 World Cross event in Denmark
Great Britain international Mhairi Maclennan can trace her love for cross country running back to her days as a pupil at Kirkhill primary school in Inverness-shire.
The school janitor, Mark Sloggie, started a running group at lunch-times which Maclennan joined.
She made good progress and in 2007 collected her first national title at Kirkcaldy, leading from the start to win the P7 girls' race at the Scottish schools cross country championships.
'The janitor organised two training sessions at lunch-times on Tuesdays and Thursdays. It was fun but I remember getting nervous before them. It was like having two races every week.
'Then I got involved with Colin Baillie, a coach, and I started going to Inverness Harriers. I was always very active as a youngster and naturally fit, so I think that's why I did relatively well.
'When I went to Charleston Academy my running dipped to begin with as I was more interested in making friends, but I kept going with it.
'In 2010 I made my first Scotland appearance, running in the Celtic international cross country match in Dublin. I sprinted off at the start and led for the first 100m but then finished almost last.
'It was such a huge experience for me at the time. When I got the selection letter I took it to school to show my friends. Nowadays you get an email which isn't so exciting.'
Maclennan is now an established cross country international and has won the Scottish women's national title twice over the past three seasons.
In 2017 she made her Great Britain debut at the European under-23 championships in Slovakia, finishing ninth to help her side win team gold medals. Last year, at senior level, she was 32nd at the world championships in Denmark.
+++
It is a tribute to her passion for running, combined with a steely determination to succeed, that Mhairi Maclennan has achieved national and international honours despite battling against recurring bouts of illness.
The Inverness Harriers club member has been plagued by a series of chest infections and bouts of bronchitis which at times have seriously affected her ability to train and compete.
Some might argue that she should have looked after her health more seriously before now, a fact she acknowledges.
Maclennan said: 'As there haven't been any races because of lockdown, and I doubt if there will be any for a long time,I've been able to prioritise my health over my running.
'It's something I should have done before but I was always too keen to get back to racing, so I wasn't doing that. When you're having success, you become addicted to it and just want to keep going.
'I got another chest infection earlier in lockdown and my doctor sent me for tests.
'The preliminary diagnosis is that I suffer from asthma and my lungs get badly irritated. I've had a pneumonia vaccine and I've got a nasal spray.
'But I am due further tests. All of this is good as it's a full assessment of my immune system and I'm getting a better understanding of the problem. Finally, I feel I'm getting to the bottom of it.
'In the meantime, I'm running regularly again and beginning to get a bit more structured with my training. It has been good to take a step back and re-evaluate everything and enjoy running for its own sake.'

Tags: Denmark, Fraser Clyne, Lindsays National XC, Mhairi Maclennan