Laura and Kayleigh among SWiS award winners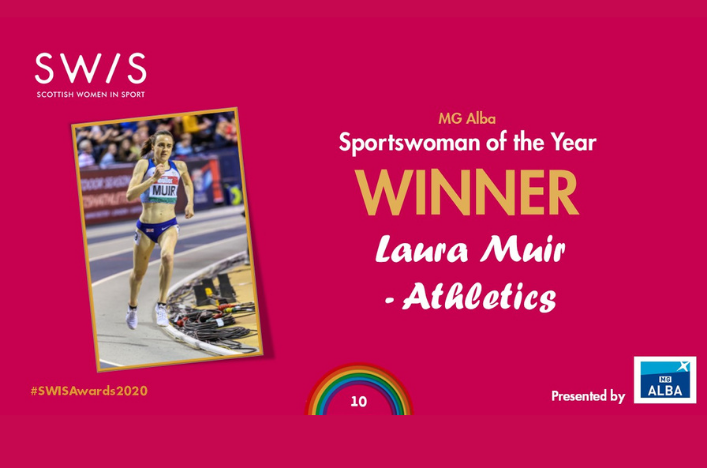 Photo by Bobby Gavin
Laura Muir and Kayleigh Haggo have picked up honours at this evening's Scottish Women in Sports Awards. Laura was named MG Alba Sportswomen of the Year, while Kayleigh received the SW/S Inspiration in Sport award.
They were among four winners from the world of athletics and running on the night: Also recognised were jogscotland's Saheliya Community Strides project, which won the Active Scotland – Community Sport Champion – Senior award, and our 4J Studios Virtual SUPERteams series, which won the UWS Media Academy Innovation award.
Laura's victory comes in a year which has seen saw her leading the world rankings for 1500m, winning all three of her 1500m races in sub four-minute times.
Last month she was named joint winner of our own 4J Studios Performer of the Year award.
Kayleigh has also had an extraordinary year, setting a new 200m World Record in the RaceRunning2 classification. She clocked 37.75 on 30 August at the 4J Studios National Open Series in East Lothian. The achievement means she has now broken World Records at 100m, 200m, 400m and 800m.
Saheliya Community Strides is a project run by jogscotland to help women from diverse communities in Edinburgh to benefit from being active.
The project, run by jogscotland's Andrea Gavin, moved online during lockdown, with a focus on mental, as well as physical, wellbeing. It was part of the wider jogscotland Community Strides project, supported by the Changing Lives Fund.
4J Studios Virtual SUPERteams won in the UWS Media Academy Innovation category, which recognises the best and most innovative approaches from governing bodies during lockdown to promote the development of girls' and women's sport.
Over four separate virtual events, young athletes could compete both as individuals and representing their club, with a particularly high participation from girls.
As well as our four winners at the awards, we were delighted to also have four other shortlisted nominees from our sport, showing the strength and breadth of women's athletics in Scotland across the board.
They were: Nancy Davidson nominated for Frame Excellence in Communication award; Nicola Moriarty, nominated for Tru Wealth Volunteer of the year 2020; Nasreen Choudhry – jogscotland TaySmilers – nominated for Most compassionate Role Model of the Year; Annan & District AC nominated for The Royal Navy – Community Sport Champion – Junior.
As well as celebrating the awards winners, the event featured conversations with Boston Marathon pioneer Kathrine Switzer and with the first female President of Cricket Scotland, Sue Robertson.
You can watch the awards here:
Tags: 4J Studios SUPERteams, jogscotland, Kayleigh Haggo, Laura Muir, Scottish Women in Sport, Scottish Women in Sport Awards