'Important we're role models' – Chris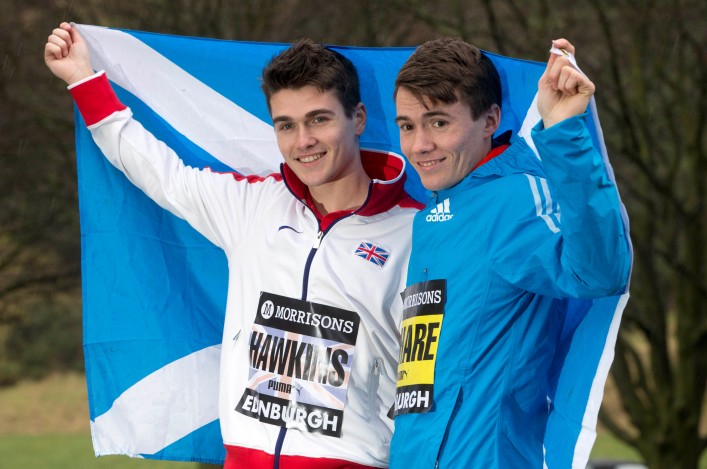 Morrisons back Great Run series
Chris O'Hare believes it is vital Scotland's elite athletes continue to inspire the next generation.
The Boston-based middle distance runner is back on home turf at the Great Edinburgh XC event which will see a series on international stars in action in Holyrood Park.
O'Hare spent some of last weekend giving tips to young athletes in the Borders during his Festive break back in Scotland and, even though he now lives in the United States, this has been a feature over the past 12 months as he helped with medal presentations at the Scottish Schools at Hampden, the Age Groups in Aberdeen and indulged in club visits to the likes of Moorfoot Runners.
International athlete visits to schools were part of the scottishathletics development programme prior to Glasgow 2014 and there's little doubt dozens of youngsters involved in the Inter-District races in Edinburgh will run on Saturday and then ultimately be looking to follow the example set by the likes of Chris, Callum Hawkins, Laura Muir and Andrew Butchart.
'It was a pleasure to take some time out from my training to speak to the young distance runners from the Borders,' said Chris.
'Potentially, somewhere in that room were future international athletes and I hope I managed to pass on some useful advice about what that takes. It really is imperative for me as a person to pass on anything I can to the next generation of Scottish athletes.'
It is only a few short years since Chris himself raced in the Inter-Districts in Edinburgh and he's back in action in a mouth-watering 4k International race.
'Cross country can give you a good base and I feel stronger now than I did at this time last year, training with the group in Boston,' he said.
'It is working hard day in, day out to try and achieve your goals. The European Indoors in March would be one of those and that would be stepping stone to Beijing and the World Champs. Then, hopefully, that is a stepping stone to the Olympics in Rio.
'After the cross country, I head back to America for some indoor races in Boston and New Year and then come to Birmingham for the Indoor Grand Prix there – and hopefully get a place for the Europeans in Prague.'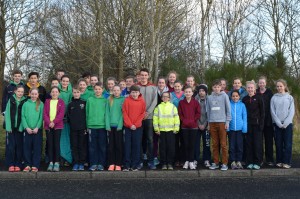 Chris O'Hare with runners in the Borders (with thanks to Gregor Nicholson for the photo)
Six Scots represent GB and NI in the team contests at Holyrood with Hawkins, Butchart and Luke Caldwell in the 8k Senior Men's race, Jonny Glen and Euan Gillham in the Junior Men's race and Rosie Smith now in the team for the Senior Women's (With Rhona Auckland having withdrawn).
Muir, Josephine Moultrie, Ross Matheson and Grant Muir will run for Scotland in the new 2 x 1K International Relay (at 10.40am).
Callum said: 'I will always do cross country as it is my bread and butter. It gives you the core endurance base but I've some targets on the track this summer in terms of 5000m and maybe 10,000m. The World Champs standards are very tough so it may be a development year for me on the track.
'There's definitely something positive happening in the Scottish endurance scene. Andy (Butchart) has stepped up and it is good to have someone else at that level and not just my brother (Derek).
'Jonny Glen from Inverclyde was at the Euro Cross and now my Kilbarchan training partner, Euan Gillham, has been picked for GB as well so I'm delighted for them.
'And then of course you have Rhona winning the U23 Euro Cross title in Bulgaria, as well. I think at the Leeds 10K we saw a number of Scots doing really well and it is encouraging.'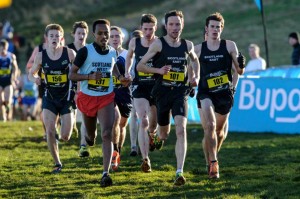 The international races are part of a great programme of athletics on the day with something for everyone from the mass participation events for runners of all ages, the Inter-District contests from U13 to Senior and a series of top-class international races as part of the BBC televised-programme.
There is a timetable online on the fixture page in our Events section, which includes start-lists.
North of England teams will compete for the first time in the Senior Men's and Senior Women's race and, added to Scottish Students teams, this should give stronger team competition at this level.
The Inter-District races are the third instalment in the Cross Country Grand Prix. This follows initial points awarded at the 4K Champs at Bellahouston in November and the District Championships across the three regions – North, East and West.
There is £4000 worth of prize money for individuals available via the 2014-15 Cross Country Grand Prix.
Tags: Andrew Butchart, Callum Hawkins, Chris O'Hare, Euan Gillham, Grant Muir, Jonny Glen, Laura Muir, Luke Caldwell, Rosie Smith, Ross Matheson