'It's a great time to be involved' – Jack McConnell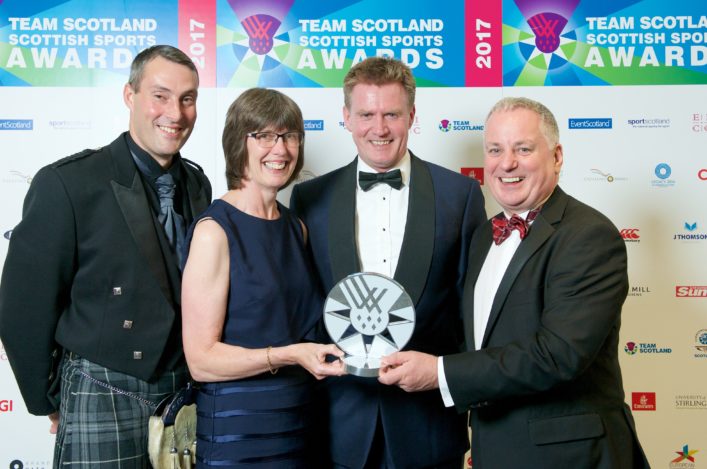 Jack McConnell helped present scottishathletics with the Governing Body of the Year award in September – just before his appointment as Honorary President
Mindset changes are paying off – Mark Munro blog
Former First Minister, Jack McConnell, was appointed to the role of Honorary President of scottishathletics at our Annual General Meeting back in September.
Jack's first involvement was at Holyrood in October when a Parliamentary reception was held to celebrate recent success and help promote athletics in Scotland at MSP level. 
Now, in a special blog post piece, he gives his thoughts on his own role and talks about a healthy sport which he feels can make a huge contribution to Scottish life.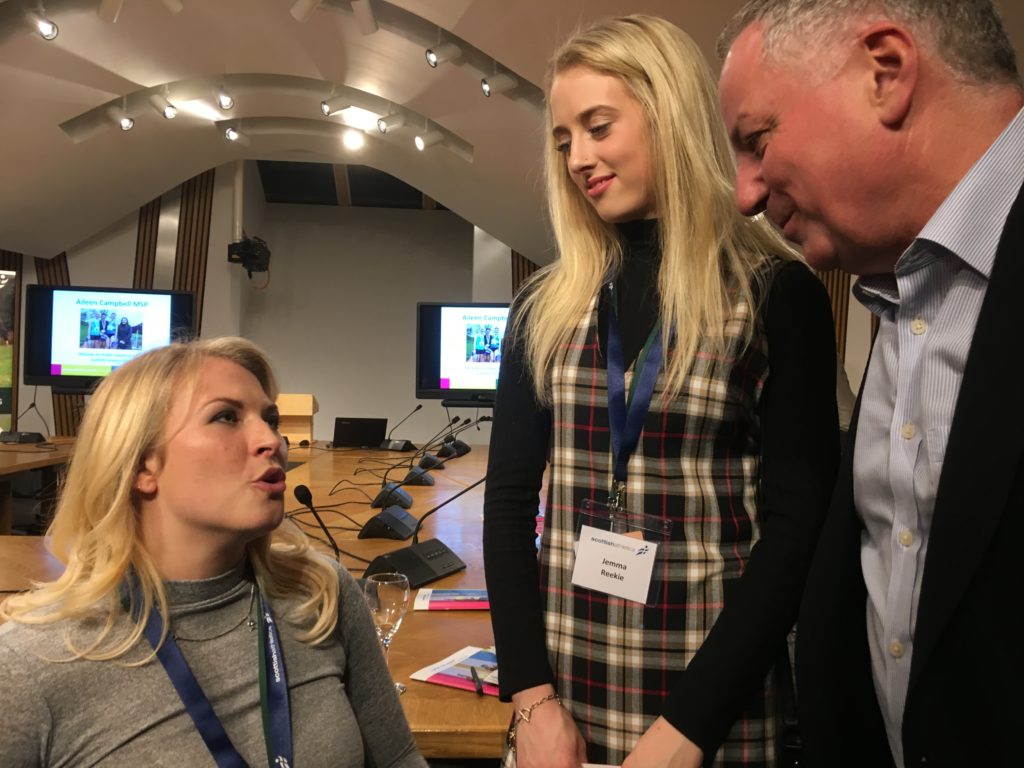 Jack McConnell meets Sammi Kinghorn and Jemma Reekie at the Scottish Parliament last month (photo by Sue Gyford)
'I can't think of a better time to be taking up a role supporting scottishathletics.
'It's such an exciting time with more world-class competitors than we've had for decades and there's also a renewal of activity at the club level across Scotland so those two things together make it the perfect time.
'I've been an athletics supporter and attender for a long time, and that actually goes for all sports. I'm a sports enthusiast and I like watching so many sports. If I was a bit more capable, I'd enjoy taking part, too.
'As a public figure over the years, I've felt strongly that it was important to keep sport at the centre of public policy and not just at the margins. I think it's vital to see it not just as a voluntary activity or a private activity to recognise just how important it is.
'I believe it's important on three levels – firstly, if you have inspirational role models, they're great to watch. They do what they do but also inspire activity throughout the population.
'Secondly, you have the immediate health benefits for individuals of participation and that doesn't need to be what people would call sport but physical activity of any kind is a better remedy than medicine for many people.
'And the other thing – something that I think is perhaps undervalued – is the positive benefits for communities of physical activities and organised clubs. Being part of local activities, local clubs, that kind of thing, is a key element in local communities.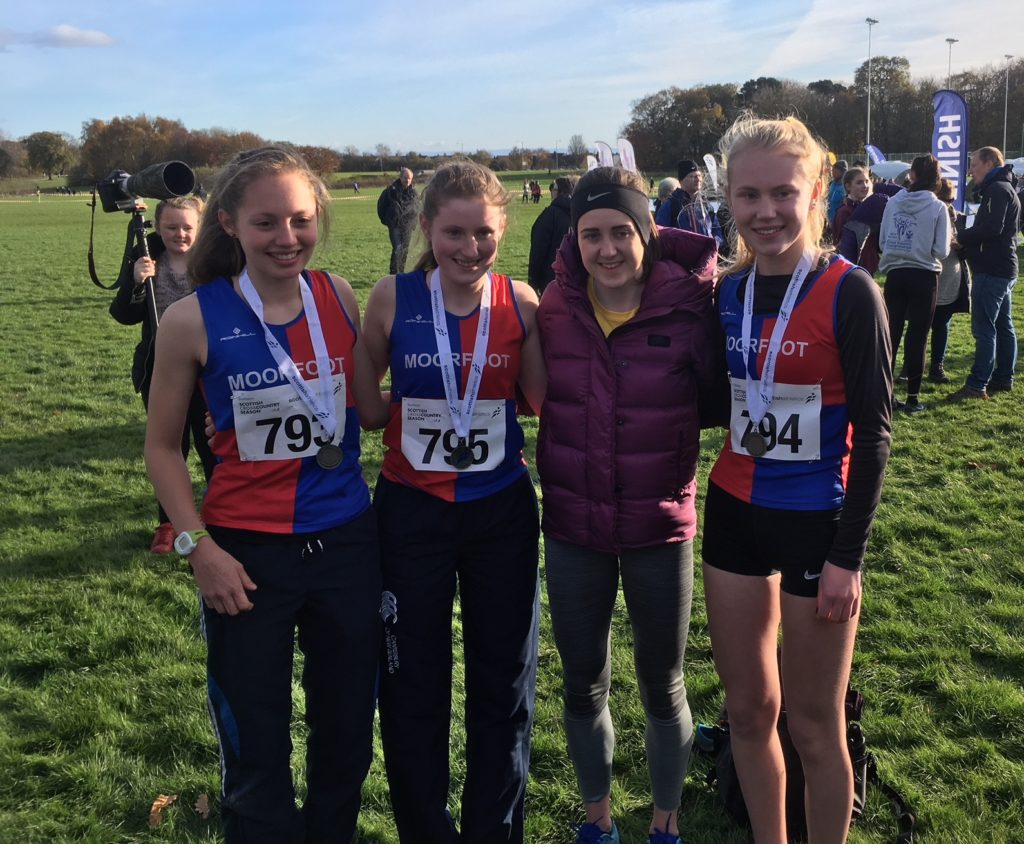 Laura Muir with U17 medallists from Moorfoot Runners at the Lindsays Shorts Course Champs (photo by Gregor Nicholson)
'I think you can tell when an organisation is healthy and scottishathletics is clearly supporting some of the most elite individuals we've had for a long time but, when you look behind that, you can see how much the club structures matter and how much they're growing.
Volunteer coaches who work at clubs are just as important as the coaches who are helping produce winning performances from Eilidh (Doyle) or Laura (Muir) or anybody else. That's a fantastic combination and that's a recipe for long-term success.
'I would really like to be able to use my experience to advise and support the organisation and the people involved as well as support the people who are running and throwing and jumping.
'But I also want to be an advocate for funding and support for sport. I think the Commonwealth Games and the development of Scottish sport has been a success over recent years but you can never become complacent about that.
'Maintaining budgets and keeping sport at the centre of strategy is so important.
'I think we showed in 2014 that when politicians from different parties over a long period of time invest in and give a strong commitment to sport whether that's a major sporting event or in the participation level you can see the impact that makes. We did that in 2014 – it was cross party and it was long-term.
'Despite the fact that everybody would welcome the progress that has been inspired by 2014 – and there has been progress in some sports since then – I think there is still more that can be done to spread that across Scotland and to make it long-term.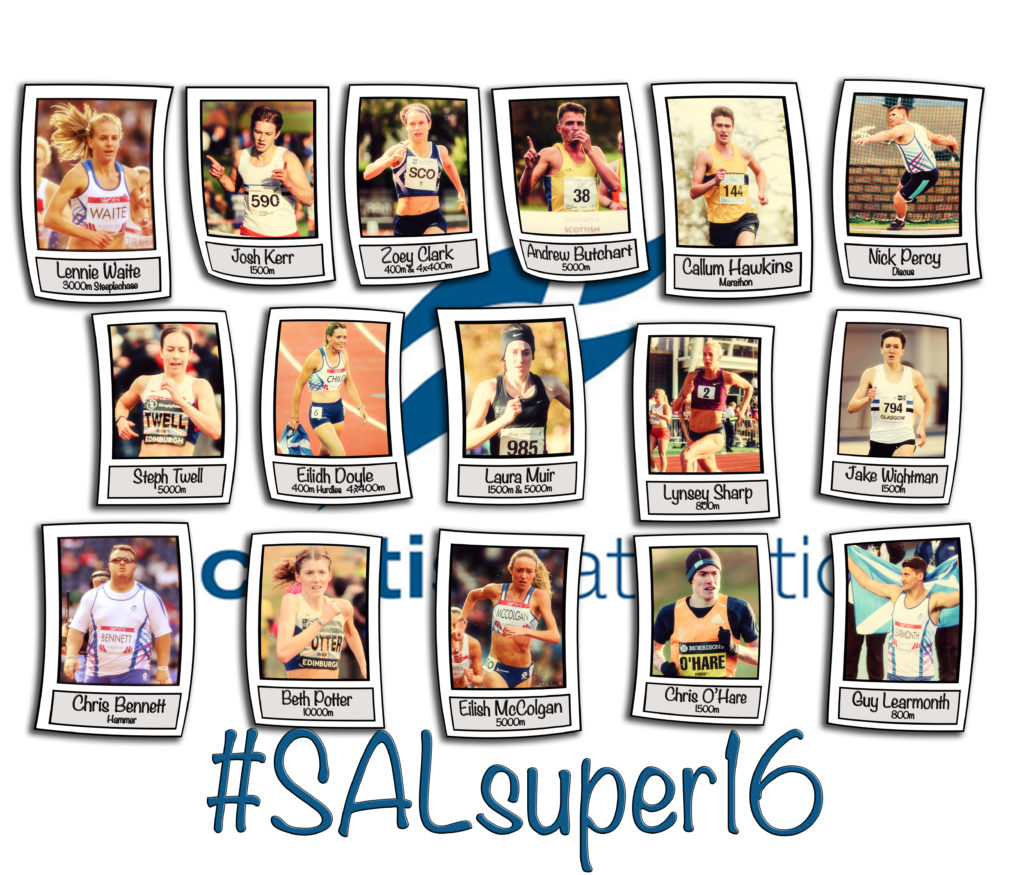 The #SALsuper 16 for London 2017 was Scotland's biggest representation for a World Champs – and more than double the seven athletes achieved twice before (montage by Bobby Gavin)
'If we're going to see the full long-term benefits from Glasgow 2014, we need consistency of funding. We need the best coaches, the best volunteers, the best administrators and the best competitors and you don't get any of those four unless people know what they're going to be doing from one year to the next. That's why I'm in favour of long-term plans.
'I'd like to see cross party commitment from politicians but I'd also like to see more of a commitment from other people in public life in Scotland too. As a nation, we need to invest in this because it's important for our national pride but it's also important for our national health.
'If you go back to Athens and the other major international Games around that time, we were hoping that a Scot might make a final.
In track and field, that wasn't far from being the case, in the Commonwealth Games as well as the Olympics, and that was less than 15 years ago. Now, we're disappointed if people don't get medals. That's a huge turnaround. I think what you see is success feeding off success.
'There's no doubt that Eilidh's success in recent years has inspired others and there's no doubt that Laura's success has pushed Eilish McColgan to another level. Success breeds success.
'I remember going to these Games in the past – Manchester 2002, Melbourne 2006 and hoping that we would be possibly competing in finals.
'I was in London in the summer for the World Championships and you're almost expecting Scots to win medals and that's just incredible. The turnaround is bigger than any one individual performance.'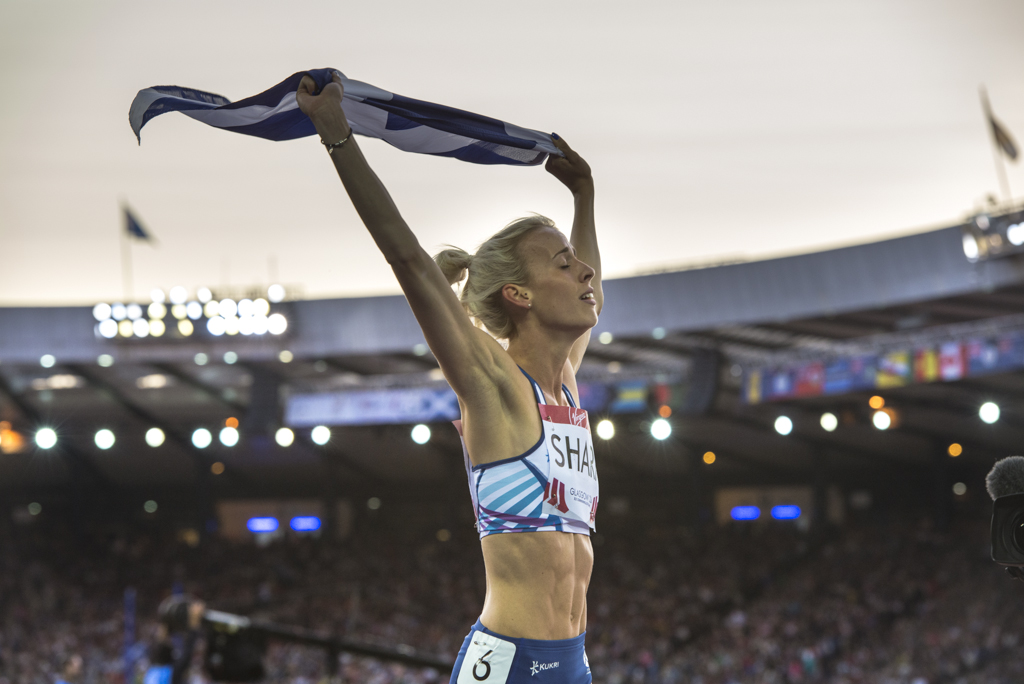 Gold Coast 2018 is coming up – and here's hoping for more moments like Lynsey Sharp 's silver medal at Hampden (photo by Bobby Gavin)
With thanks to Susan Egelstaff of The Herald
Tags: Eilidh Doyle, Eilish McColgan, Jack McConnell, Laura Muir