Good luck to four Scots at Euro Cross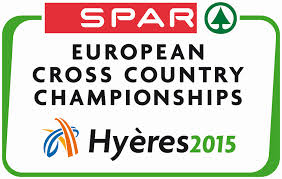 Two comebacks, a veteran (not strictly speaking in an athletics sense) and a rookie.
That pretty much summarises the Scottish contingent headed for France this weekend as Team GB prepare for the Euro Cross.
Six teams of six athletes head for Hyeres on Friday to ready themselves for Sunday's event, which features the races at Senior, U23 and U20 level – with four Scottish athletes to make the journey to what will certainly be conditions somewhat different to the mud-spattered Liverpool trial on November 28
Laura Muir and Luke Traynor have competed in this event before but not for four and three years respectively as they make welcome returns at U23 level.
Steph Twell is so well-versed in the Euro Cross, of course, that she was named captain for GB in Bulgaria a year ago on the occasion of her ninth appearance at the event. Make that double figures now for 2015 in Hyeres, where she won a cross country race less than a fortnight ago as the ideal 'warm-up' for this Sunday.
And then there is Australian-born Scot, Maddie Murray, who dips her toe into full international action after a very decent debut at Antrim late last season when she won the Home Countries International race in fine style.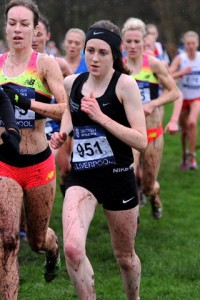 Laura Muir and Steph Twell in the trial (photo by Mark Shearman)
Twell, 26, has vast experience now of the Euro Cross, and a number of medals, and she even won in Hyeres in November in the perfect 'warm-up' for Sunday. Steph of course finished third at the trial behind last year's European gold and silver medallists – Gemma Steel and Kate Avery.
'The British team is very strong at Senior Women's level but once I am in a race, I am in a race and I would love to medal again individually at the Euro Cross,' said Steph, after the win in France.
'We will have to see how it goes but it is definitely a target. I was in the top ten again last year so want to improve on that if I can.
'I love cross country and I think it's the purest form of running. It's more about running your heart out. There's a beauty to that.
'So many athletes have come from cross country and I think it's very easy to dismiss once you're at the likes of the Olympic Games but these are the stepping stones.'
Muir for her part will be looking to add a European U23 medal in cross country to a bronze achieved at the Euro U23 track champs a couple of years ago in Finland at 1500m.
With Rhona Auckland the 2014 champion, a podium place at U23 for Muir or indeed for Murray would be another great fillip for Women's cross country running in Scotland. Rhona was given the opportunity to defend her title but, after much deliberation, decided against racing after recently competing in the NCAA finals with New Mexico University.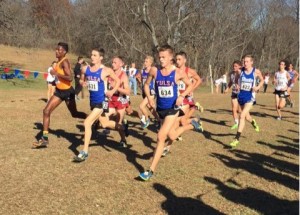 Luke Traynor in action for Tulsa 
For Luke Traynor, it is a return to this level after competing with GB at the Euro Cross in 2012. Injury hampered his progress in the interim and the trial in 2014 was a disappointment but fifth place in Liverpool in the U23 division won him a place.
'I am looking forward to it and feeling in a better position now than I did for the trial – when I was just off a plane from the United States and it was difficult with the time difference and all the travel,' said Luke, who raced for Tulsa at the NCAA finals just before Liverpool.
'It is good to be back in a the team and representing GB at the Euro Cross again. I expect that the conditions in the south of France will be a lot more like they are for cross country in America than what we've seen in Scotland in the past month or so.'
All at scottishathletics would like to congratulate the four athletes and their families and coaches on their selection by British Athletics for the Euro Cross in Hyeres. We wish them the best of luck for Sunday's races.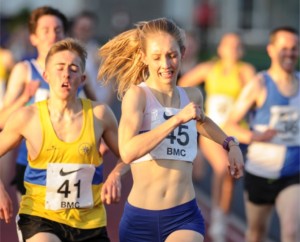 Maddie Murray – track progress and now GB selection at XC (photo by Bobby Gavin)
Tags: British Athletics, Euro Cross, Hyeres, Laura Muir, Luke Traynor, Maddie Murray, Steph Twell