Good Luck in Birmingham! World Indoors schedule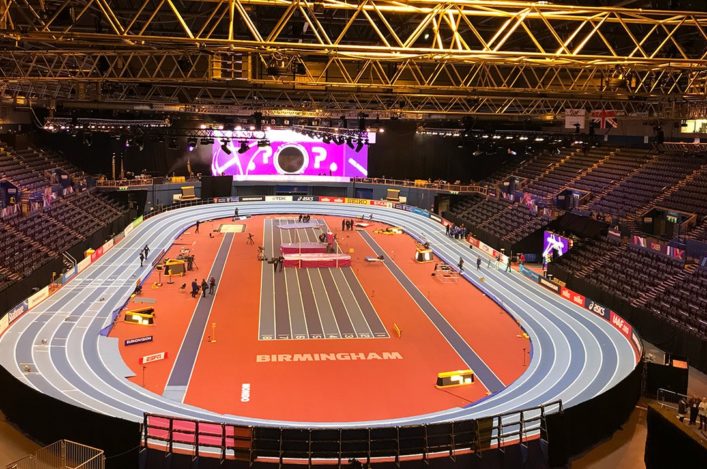 Eight Scots selected for World Indoors 2018
The sense of anticipation is building ahead of the World Indoors in Birmingham and another 'home Games' opportunity for GB and NI athletes.
And that excitement certainly stretches to Scotland with no fewer than eight athletes from these shores picked to #represent British Athletics on the global stage.
It's another fillip for the sport in this country as we await performances by Eilish McColgan and Laura Muir in both the 3000m and the 1500m; Chris O'Hare and Jake Wightman in the 1500m; and Zoey Clark and Eilidh Doyle in the 400m and the 4 x 400m Relay.
For Mhairi Hendry in the 800m and Grant Plenderleith in the 4 x 400m Men's Relay squad, this is a first Senior champs selection with GB and NI.
'World Indoors selection means so much' – Mhairi
'GB selection was great but I'll still help set-up National XC course' – Grant
That's double the best representation previously in terms of Scottish athletes in a British team for the World Indoors event and it bears repeating that they make up almost 25 percent of the team.
We firmly congratulate each of these athletes and their families and coaches on their selections and, of course, the clubs involved in their development over a number of years, at whatever stage in the athlete pathway. We wish all of them well for later in the week.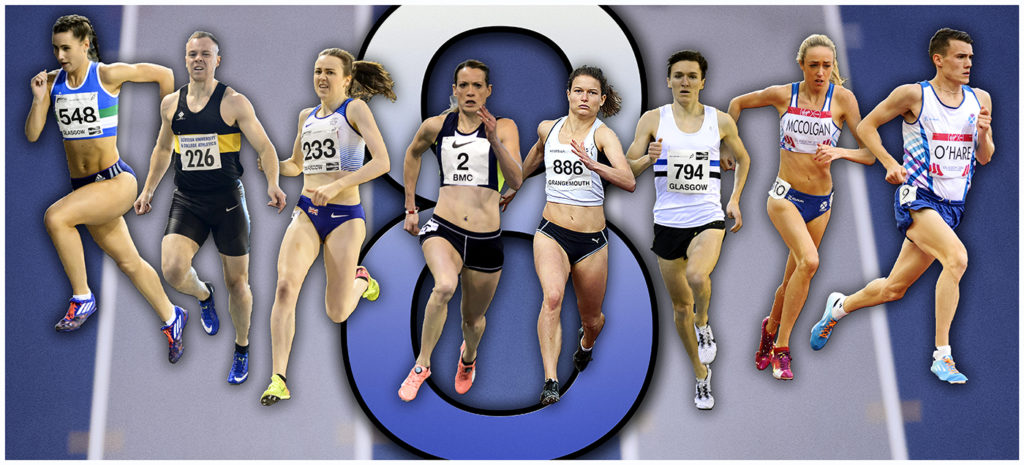 Laura Muir interview in Scotland on Sunday
Jake Wightman interview in the Herald
Here's the schedule for our eight Scots in Birmingham:
Thursday 1 March:
8.15pm: Women's 3000m Final (Eilish McColgan and Laura Muir)
Friday 2 March:
12.10pm: Women's 400m Heats (Zoey Clark and Eilidh Doyle)
8.32pm: Women's 400m Semi-final
7.48pm: Women's 1500m Heats (Eilish McColgan and Laura Muir)
Saturday 3 March:
11.15am: Men's 1500m Heats (Chris O'Hare and Jake Wightman)
11.50am: Women's 800m Heats (Mhairi Hendry)
12.31pm: Men's 4 x 400m Heats (Grant Plenderleith)
13.05pm: Women's 4 x 400m Heats (Zoey Clark and Eilidh Doyle)
8.05pm: Women's 400m Final
8.39pm: Women's 1500m Final
Sunday 4 March:
3.58pm: Women's 800m Final
4.12pm: Men's 1500m Final
4.30pm: Women's 4 x 400m Final
5.25: Men's 4 x 400m Final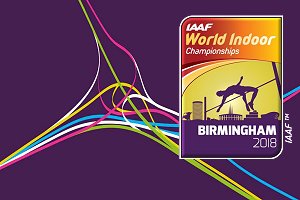 Tags: Birmingham, Chris O'Hare, Eilidh Doyle, Eilish McColgan, Grant Plenderleith, Jake Wightman, Laura Muir, Mhairi Hendry, World Indoors 2018, Zoey Clark