Eilidh Doyle lands Olympic bronze in relay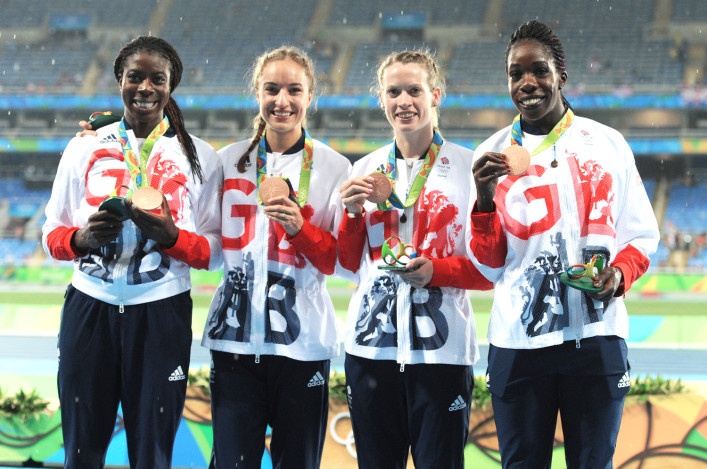 Scotland's first athletics medal since 1988 – Eilidh Doyle celebrate with 4 x 400m team (photo by Mark Shearman)
Eilidh Doyle helped Team GB and NI top the London 2012 medal haul – and in so doing ended 28 years of waiting for a Scot to medal in athletics at the Olympics.
Doyle landed bronze with the Women's 4 x 400m team in an exciting final night in Rio as the team clocked 3.25.88.
Scottish Records for Lynsey Sharp and Andrew Butchart in the 800m and 5000m finals respectively set up the relay final – with Eilidh having been brought into the quartet in the only change from the semi-final lineup.
And the Scot had GB and NI in third place from her opening leg run to hand over to Anyika Onuora before a great third leg from Emily Diamond allowed Christine Ohuruogu bring it home behind America and Jamacia.
What a moment for Doyle, in her second Olympics, with that being Scotland's first track and field medal since Elliot Bunney took silver in the 4 x 100m relay with GB in 1988 in Seoul on October 1 that year. Earlier that week, Yvonne Murray and Liz McColgan had landed individual medals.
Six Olympics have come and gone since then and, in some ways, it felt like Eilidh's bronze was one for all of #SALfab15 – with that huge contingent having delivered so many fine performances in qualifying for the Olympics and in Brazil itself over the past 10 days.
Eilidh told British Athletics in Rio: 'I have so much faith in these girls as soon as I pass the baton over I think I can trust these girls to get the job done. So hopefully I set it up nicely and then it just looked incredible.
'I was screaming at them the whole time and hoping we could just hang onto the medal.
'It's hard to tell. I felt that I was tying up a little bit you know but I was just trying to get the baton to Anyika as quick as possible.'
Tags: Andrew Butchart, Eilidh Doyle, Lynsey Sharp, Olympics, Rio 2016