Debutant Douglas in peak form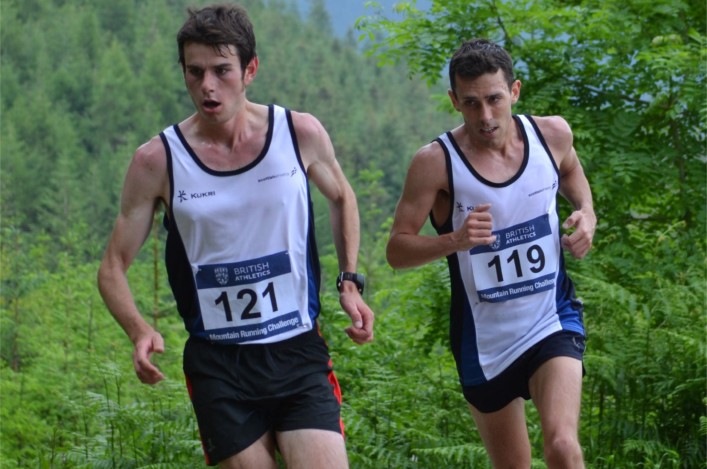 Andrew Douglas (right) and Robbie Simpson are headed to World Champs – photo courtesy of Woodentops.org.uk
Five Scots bound for Italy with GB
To describe a first season in hill running as decent for Andrew Douglas would be something of an understatement and do him no little dis-service.
The Inverclyde AC/North Highland Harriers athlete who hails from Caithness and lives in Edinburgh heads to Italy this weekend for the World Mountain Running championships as one of five Scots with Team GB and NI.
And the summary for Douglas this summer reads something like this: Scottish Trail Championship victory; 10th place at the European Championship with GB; an outright win in the overall series for British Senior men in hill running; selection for the Worlds.
Just to prove he's not completely forgotten how to run on the roads, he led the Scotland challenge at the Frank Duffy 10-Mile race in Ireland by winning it in under 50 minutes.
It all started back in April in a story which runs from the streets of London to France to Dublin the familiar slopes of Arthur's Seat in Edinburgh and is now bound for Pisa.
'It has been a surprise but hugely enjoyable,' said Andrew, when asked about his debut year on the hills.
'I didn't really plan for it to happen this way and I didn't have a huge expectation of how I would do.
'I ran the London Marathon and was a bit disappointed with that – I did 2.27 and the Commonwealth Games qualifying time of 2.19 had been something in my mind for a year or two prior to that.
'So, after winning the Scottish Trail Champs in May in what was basically new territory for me, I decided to give hill running a bit of a go. I guess I went into it without any fear. I didn't really know who the opposition were and it has just progressed really well for me from there.
'I've ended up at a European Champs with GB, winning the British series over the summer and now selection again for Italy for the World Champs.  The Series win was definitely because those guys are regular hill runners but, again, I didn't think too much about who I was up against!
'I am excited about this weekend and it is good to be travelling with other Scots – we've five in all in the GB selection and that is a great representation.'
Andrew and Robbie Simpson are part of the British Senior Men's team with Andrew Lawler and Jacob Adkin in a four-man Junior Men's team. Catriona Graves is with the Junior Women's team with all five – part of a 17-strong British selection – having finished in top 10 slots at the Europeans in France.
Simpson's class at this strand of the sport is well-known and he collected a European silver, with the Deeside Runner now having moved to Austria to hone his skills.
'Robbie is someone I really look up to,' added Andrew, who is coached by Sophie Dunnett.
'He's specialised in hill running, he's worked on technical aspects and he has had some great results in recent weeks and months.
'At the moment I can only aspire to his levels but I'm very pleased with a  good first season. I live in Edinburgh so training runs up Arthurs Seat are a regular feature – and the Pentland Hills. I'd say I am up and down Arthur's Seat a couple of times a week at the moment.
'I've done track training with Corstorphine and there's another group, involving folk from more than one club, who meet at the Meadows on a Tuesday. I have in the past been involved in the Harrison Park Sunday run group as well although recently I've been looking for more hills.'
There is also a preview on the British Athletics website
Tags: Andrew Douglas, Andrew Lawler, Catriona Graves, hill running, Jacob Adkin, Robbie Simpson