Callum bronze amid GB team gold glory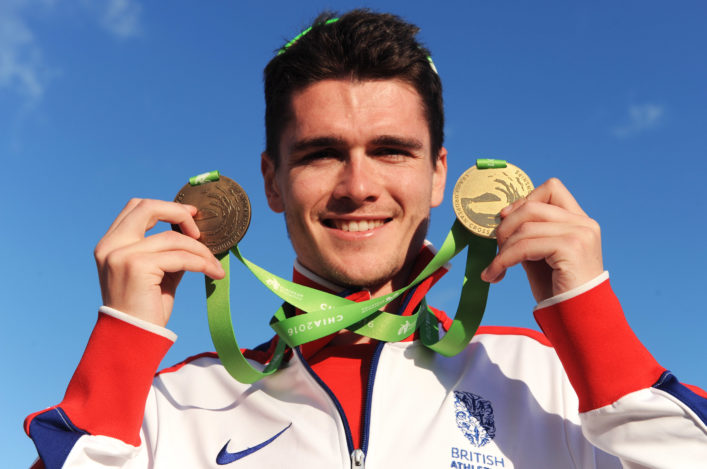 Callum Hawkins with his individual bronze and team gold medals – photo by Mark Shearman
Video of the Senior Men's race finish
Post-race interview with Callum
Callum Hawkins claimed a superb individual bronze medal at the Euro Cross in Italy – and helped lead Team GB and NI to Senior Men's team golds in Chia.
The Rio marathon runner delivered a terrific performance to claim this place and win his own personal duel with his team-mate and fellow Scot Andy Butchart, who finished fourth some 12 seconds back.
Hawkins duly becomes the first Scottish male medallist ever at the European Cross Country Championships, with Rhona Auckland having won gold at U23 a couple of years ago.
Butchart had lead in the early stage and then Hawkins had a spell at the front but later they had to defer to two (Kenyan) Turkish athletes on a fast course in Sardinia, with Aras Kaya taking the gold.
With Steph Twell again a top six finisher and Josh Kerr the third Brit in the junior Men's team in 14th place, it was yet another demonstration of the power of Scottish endurance running.
Indeed, for a few glorious moments in the Italian sunshine, the Euro Cross Senior Men's race was something vaguely akin to the Scottish Inter-Districts with West (Callum of Kilbarchan AAC) v East (Andy from Central AC) and that really was something to behold!
Rhona Auckland medalled at this event at U23 level two years ago with gold and Callum went close that year before being forced to settle for fifth in the same age group.
This time, the 24-year-old was in with the Seniors while Butchart had been named British team captain and European Athletics Male Athlete of the Month for November in the pre-race countdown.
British Athletics website report
Hawkins, pre-selected this past week for the marathon at London 2017 World Champs, won the 'Scottish battle' to become our first male to medal at the Euro cross; as both he and Andy emphatically erased the previous best performance in the Senior race (a 25th place by Chris Robison in 1997).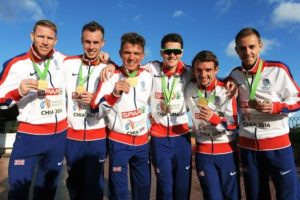 Photo via British Athletics Twitter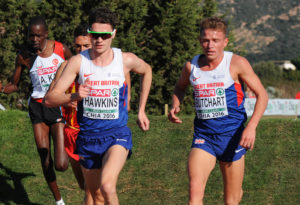 Britain's top two – photo by Mark Shearman
'I got out a lot better than I thought I would – I thought I'd be chasing but I saw Andy take it on and I thought 'I'll do it with him',' said Callum, who is coached by Robert Hawkins.
'He almost got me – I fell off a bit about 4 laps in – but I managed to get it together. I wasn't a fan of the mounds on the course; I felt like I was losing time over them, but when I got back on the flats it was about trying to break the two Turks, but they were too strong for me.
'I think between me and Andy that one day he'll probably beat me and the next I'll beat him – it's that even between us, but we both went for it. We've both only really been at it properly in the sport for four or five years, too, so we've still got a long time left in our careers.
'I think that is the strongest senior men's team we've had, maybe ever. We have four Olympians – in our top four we had  a sub 13:10 guy (5000m), a sub 61 guy (half marathon) and two sub 28 guys (10km). It is a really strong team and we are really pleased to come out with the gold.
Butchart, who is coached by Derek Easton, said: 'I'm happy – Callum delivered a medal today and has put a lot of work in, but I definitely think if you want to beat the top guys you have to go for it, and for us to be that close to them and compete properly against them is great to see.
'You never want to come off that course and think 'I could have given it that bit more', and I think that myself and Callum have both killed ourselves out there today – he's got a medal and we've won team Gold, so it's amazing to see that.'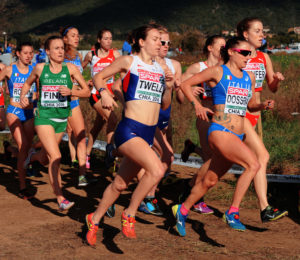 Twell in action in Chia – photo by Mark Shearman
Twell finished sixth for the second year in a row in the Euro Cross at Senior Women's – as GB and NI took the team silver medals. It was a strong run by the Scottish Olympian in a race dominated by two (former Kenyan) Turkish athletes at the front.
'I am really pleased with that, I definitely had to hold on during the final lap,' said Steph, who more then justified her discretionary selection after missing the trial race in Liverpool.
'I wish I could have held on for a medal – I had to work to stay with the group. It is quite tactical going into the corners; there is a bit of knocking around there so to get through it, I'm happy. It is great to run against these 5000m runners who I'll be facing on the track again next year.
'I wanted to be patient as I maybe went into the championships under-cooked rather than over-cooked – I haven't raced too much recently so this was a good indication to see where I am. I am over the moon with my year as a whole; I've performed well at all four championships I have gone to, so I couldn't be happier.'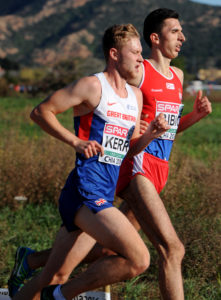 Josh Kerr – helped GB to team bronze (photo by Mark Shearman)
There was a really solid run in Sardinia by Josh Kerr for 14th place in the Junior Men's race at the Euro Cross.
Josh was the third best Brit in the team of six and the four counters duly landed a team bronze medal for their efforts in Chia.
Many congratulations to the Edinburgh AC/New Mexico University athlete, his family and his coach from all at scottishathletics on a fine debut in the Euro Cross event.
Read a pre-race feature piece on Josh by Mark Woods in Scotland on Sunday.
Tags: Andy Butchart, Callum Hawkins, Chia, Euro Cross, Josh Kerr, Rhona Auckland, Steph Twell, Team GB and NI