BOOK NOW for our 2017 Coaching Conference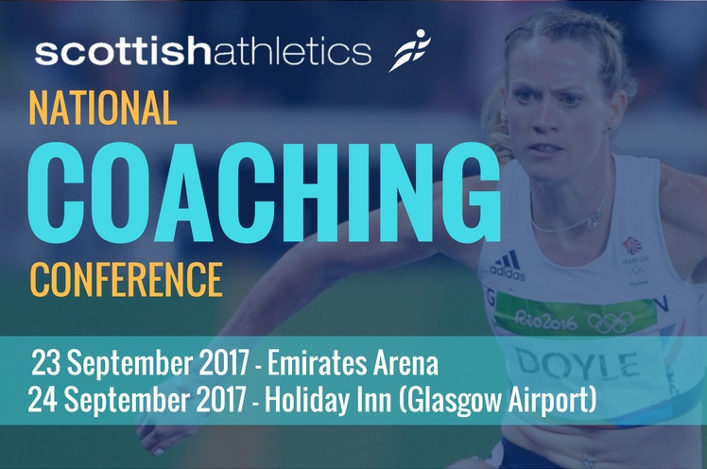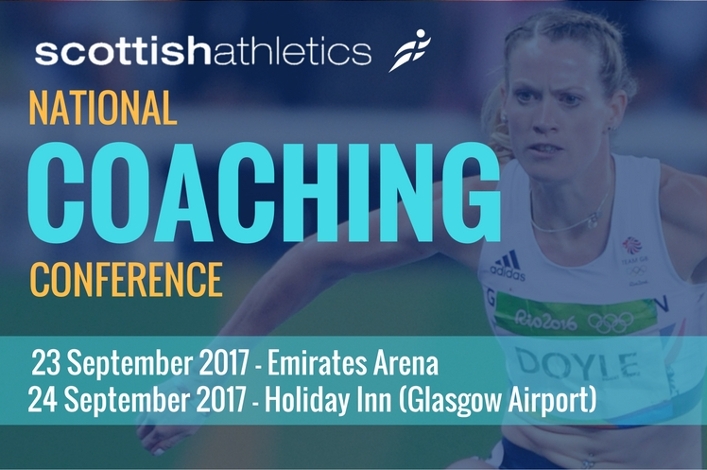 The World Champs in London have captured the imagination of the athletics audience in Scotland and beyond – with some fine performances by Scots.
But behind every good athlete is a good coach as well as the right backing which can include supportive parents, progressive club and guidance from various sources.
That's why at scottishathletics  we believe working to improve the skills, knowledge and experience of our coaches is absolutely fundamental to the growth and development of the sport.
Building on the success of last year, scottishathletics are now looking to improve the learning experience at this year's National Coaching Conference  – with a number of World-class coaches and speakers lined up to deliver.
It promises to be an exciting weekend of learning, networking and sharing experiences for all!
This year we will focus on creating opportunities for coaches to discuss and reflect on the content presented over the weekend, which is being staged on Saturday 23 September at the Emirates Arena and on Sunday 24 September at the Holiday Inn, Glasgow Airport.
This will give coaches the opportunity to put into context some of the key topics and discuss how they may be able to relate some of the key messages in each session in to their own coaching.
Throughout the weekend there will be structured opportunities for coaches to network and share knowledge and experiences within.
To achieve this, and create a positive learning environment, there is going to be dinner and social networking at the end of day one of the conference at the Holiday Inn (Glasgow airport). Day two of the conference will continue at the hotel with a keynote to kick-start start the second day.
scottishathletics are offering the full conference package including accommodation at the hotel on a first come, first served basis.
Prices:
Conference, 3 course dinner + 1 night accommodation at Holiday Inn, Glasgow Airport: £175 (members)/ £275 (non-members)
Conference + 3 course dinner at Holiday Inn, Glasgow Airport: £75 (member)/ £175 (non-member)
Conference only: £50 (members)/ £150 (non-members)
*£10 discount per person on bookings for groups of over 10 people
Please complete the booking form and return to conference@scottishathletics.org.uk or scottishathletics, Caledonia House, South Gyle, Edinburgh, EH12 9DQ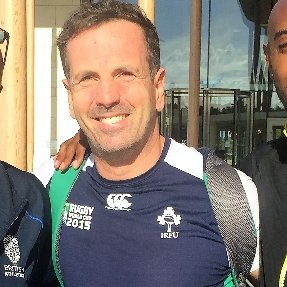 Introducing our speakers:
One of the key speakers confirmed to attend over the conference weekend will be John Kiely, Senior Lecturer in Elite Performance, Institute of Coaching & Performance, at the University of Central Lancashire.
John's career within sport has been relatively varied, having experienced life as an international competitor, coach, sports scientist and strength and conditioning specialist.
From 2005 to 2009 John was the Head of Strength and Conditioning for UK Athletics, where he worked directly with former world champion and Beijing silver medallist, triple-jumper Philips Idowu and coach Aston Moore.
John has also worked directly with the coaches of Olympic and world champions in three major sports. He has coached a Paralympic track medallist and European champion, numerous combat-sport athletes, and lots (and lots!) of kids.
From an academic perspective, John has lectured on sports science and physical education courses at the University of Limerick, has published in both practical coaching and peer-reviewed science journals, served as an invited reviewer for top sport science periodicals, authored a book chapter, presented on various topics at international sports science conferences, and regularly presents at coaching conventions.
Tags: Coaching Conference 2017, Darren Ritchie, Emirates Arena, Holiday Inn