Babcock 10K Series attracts interest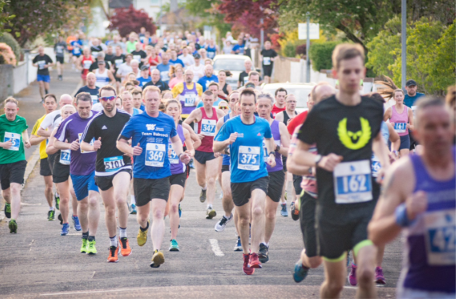 Babcock Helensburgh 10K Thursday 9 May 7.30pm
Babcock Dumbarton 10K Thursday 16 May  7.30pm
Babcock Shettleston 10K Sunday 26 May 10.00am
Entries for the Babcock 10K Series are surging towards 1500 runners with a month to go to the first race, the Babcock Helensburgh 10K on Thursday 9 May.
And some well-known names in the Scottish endurance community are lining up to deliver the best competition the series has witness in almost 40 years (in various guises).
Lindsays National XC champion, Inverlcyde AC's Adam Craig, will use the series to prepare for an attack on his PB over 10,000m in the 'Night of the PBs' at Highgate in London in early July.
Craig will line up in all three races – Dumbarton follows Helensburgh on May 16 before Glasgow Green brings the series to a climactic conclusion on Sunday 26 May.
GB and Scotland international Luke Traynor (Giffnock North) will race in Dumbarton with Craig as the pair chase a time in the low 29 minute range. The course record is currently 29:40 held by Eritrean international Tewelde Mengisteab from Shettleston Harriers and dates back to 2009.
Meanwhile, Garscube's Katie White is busily preparing to defend her three victories of last year and recently finished sixth in the Lindsays National XC.
Sale's GB international and Rio Olympian in the marathon, Sonia Samuels, who lives in Loughborough, will head to Scotland for the Dumbarton race with her husband Nick who is a 30:10 10K man and current European Biathlon Champion, the combined running and cycling discipline.
Series Chair and Helensburgh Race Director, Kevin Johnson is delighted to have so many internationals in the lineup this year.
'We would have to go back 20 years to the likes of Glen Stewart to find athletes of the current calibre featuring in the series,' said Kevin.
'The Babcock 10K Series is likely to produce some of the fastest times in Scotland this year and perhaps the UK.'
Runners can take advantage of the current April Madness offer of £5 off individual race entries till the end of the month.
Series entrants will receive Babcock 10K Series technical t-shirts by sponsors More Mile and finishers in each race are rewarded with a unique series of commemorative medals and a goody bag containing running accessories from Start Fitness.
Finishers in the Dumbarton race, which also hosts the Scottish West District 10K Championships, will receive a Dumbarton Centenary t-shirt in their famous black and red club colours.

*Runners are invited to take part in a training night and seminar with Adam Craig, hosted by Shettleston Harriers at Crown Point in Glasgow, on Tuesday 23 April at 7pm.
More details from John Mackay of Shettleston Harriers j.mackay@ntlworld.com
Tags: Adam Craig, Babcock 10K Series, Katie White, Luke Traynor, Sonia Samuels