A great day out for our U15s and U17s at #LindsaysXC Short Course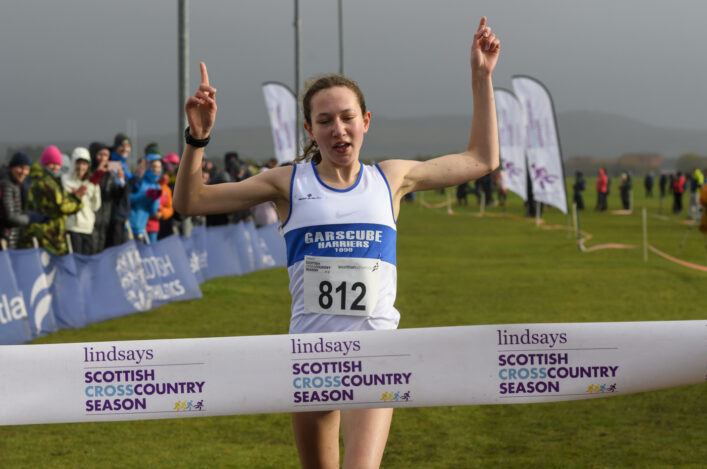 Garscube Harriers athlete Louisa Brown won the U17 Women's race (photo by Bobby Gavin)
Provisional Results (on right of page)
Photos by Bobby Gavin – facebook album one
Photos by Bobby Gavin – facebook album two
There were some superb performances across the age groups at the Lindsays XC Short Course Champs at Lanark Racecourse on Saturday.
With hundreds of athletes on the course, and officials, volunteers, staff and clubs all coming together to make it happen, it was a great day for the sport, despite some challenging weather, with wind and rain in force.
In the U15 races, Millie McClelland Brooks (Glasgow School of Sport) and Oliver Patton (Kilbarchan AAC) took the titles with powerful runs.
In the U15 Girls, Freya Campbell (Giffnock North) and Charlotte Horn (Falkirk Victoria Harriers) took second and third.
In the U15 Boys, Rhys Crawford (Aberdeen AAC) and Luke Culliton (Falkirk Victoria Harriers) were in silver and bronze position.
At U17, it was top of the podium for Louisa Brown (Garscube Harriers) and Reuben Macdonald (Giffnock North) – with Reuben's win one of the closest finishes of the day.
There was second place for Katie Christie (Falkirk Victoria Harriers) and third for Maja Thomson (Team East Lothian) in the U17 Women's race.
Tendai Nyabadza (Harmeny AC) and Corey Campbell (Team East Lothian) took second and third to complete the podium for the U17 men.
Last year's Short Course Lindsays XC of course took place under altered conditions due to Covid restrictions, with the Scone Palace event seeing 'bubble' races and some clubs unable to travel.
But among the club results this year, it was certainly no surprise to see such strong performances from Giffnock North AC – team victors in the U15 Boys and U17 Women races in Kirkcaldy in 2019.
This time the club took team victories for the U15 Girls and U17 Women, along with second place for the teams in U15 Boys and  U17 Men.
Falkirk Victoria Harriers also gave good account of themselves in the team races, with third place in U15 Girls and second in U17 Women.
And Aberdeen AAC savoured their journey home after taking team golds in the U15 Boys race and bronzes in the U17 Women.
Full results
U15 Girls Individual – 1. Millie McClelland Brooks – Glasgow School of Sport; 2 Freya Campbell – Giffnock North; 3. Charlotte Horn – Falkirk Victoria Harriers
U15 Girls Teams – 1. Giffnock North AC; 2. East Kilbride AC; 3. Falkirk Victoria Harriers
U15 Boys Individual – 1. Oliver Patton – Kilbarchan AAC; 2. Rhys Crawford – Aberdeen AAC; 3. Luke Culliton – Falkirk Victoria Harriers
U15 Boys Teams – 1. AberdeenAAC; 2. Giffnock North AC; 3. Edinburgh AC
U17 Women Individual – 1. Louisa Brown – Garscube Harriers; 2. Katie Christie – Falkirk Victoria Harriers; 3. Maja Thomson – Team East Lothian
U17 Women Teams – 1. Giffnock North AC; 2. Falkirk Victoria Harriers; 3. Aberdeen AAC
U17 Men Individual – 1. Reuben Macdonald – Giffnock North AC; 2. Tendai Nyabadza – Harmeny AC; 3. Corrie Campbell – Team East Lothian
U17 Men Teams – 1. – Harmeny AC; 2. Giffnock North AC; 3. Team East Lothian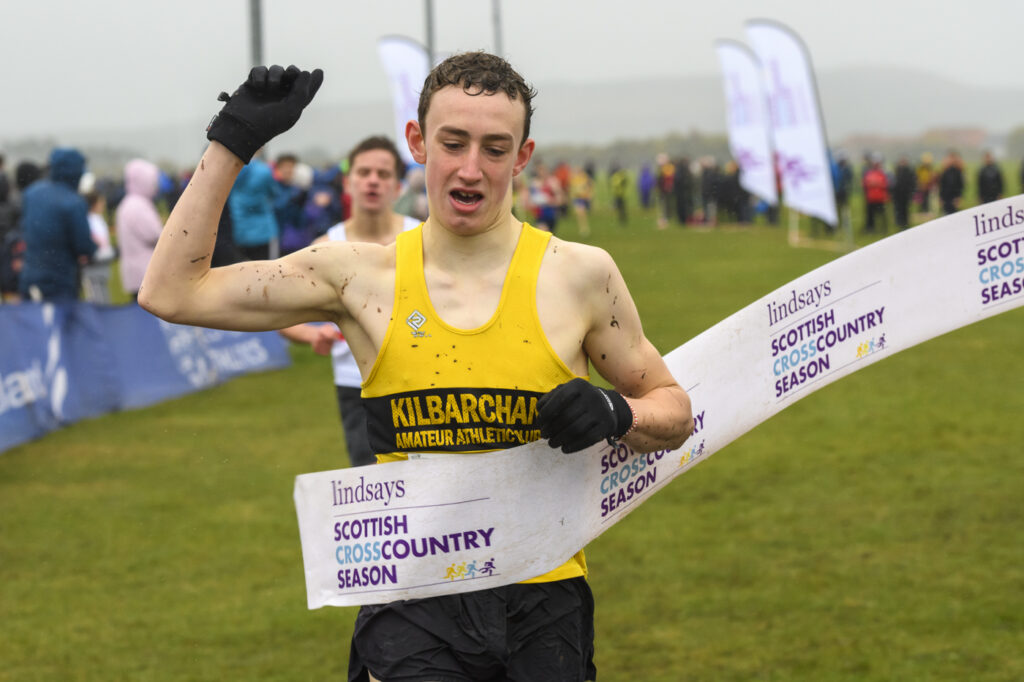 Oliver Patton of Kilbarchan AAC takes the finish line to win the U15 Boys race (photo by Bobby Gavin)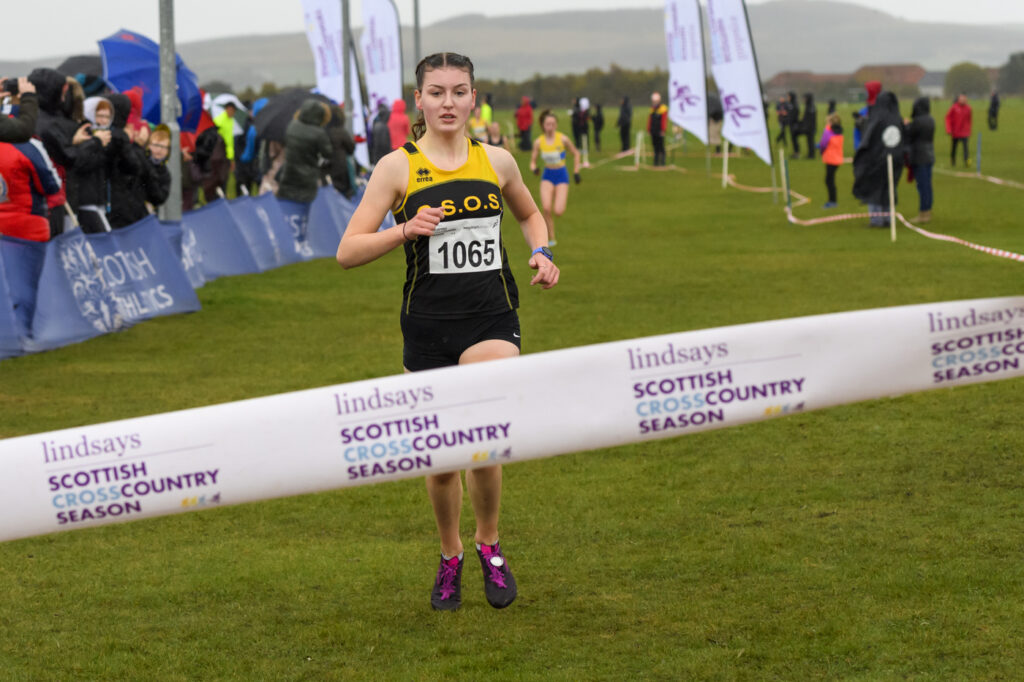 Millie McClelland-Brooks won the U15 Girls race in the colours of Glasgow School of Sport (photo by Bobby Gavin)
Tags: Garscube, Giffnock North, Glasagow School of Sport, Kilbarchan AAC, Lanark, Lindsays Short Course XC