#LindsaysXC returns! Scone Palace proves ideal location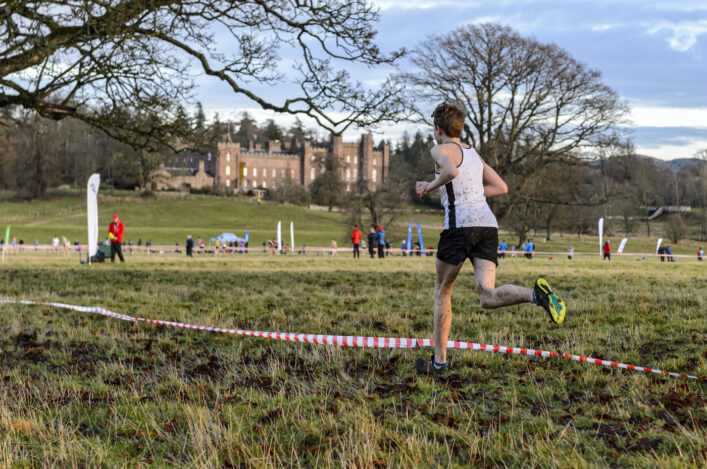 Palatial . . . scenic backdrop for 13 cross country races in Perth (photo by Bobby Gavin)
PHOTOS on Facebook by Bobby Gavin
The Lindsays Cross Country Season finally came under starter's orders in Perth on Saturday with our Short Course XC event feeling like a solid success.
Bright December sunshine, mud and soft going underfoot, and the stunning backdrop of Scone Palace made it the ideal location for a restricted numbers event with Covid-19 protocols.
No fewer than 13 'bubble' races were delivered to give around 250 athletes an outing – albeit that it was hugely unfortunate that those living in certain regions were barred from competition via the Tier system to combat the global pandemic.
Nonetheless, we felt it important to find out more about staging cross country in the current landscape of small events without spectators and also to provide opportunities for those allowed to compete.
On this occasion, that included elite races for men and women given dispensation to travel from any area and there were wins for Central AC's Jamie Crowe and Megan Keith of Inverness Harriers to underline the quality.
Those two races came after 11 previous fields had taken to the course as we successfully staged action for U13, U15 and U17 age groups.
All the provisional results from Scone Palace are online.
*WE expect to have films of the various age groups on our YouTube channel on Monday/Tuesday.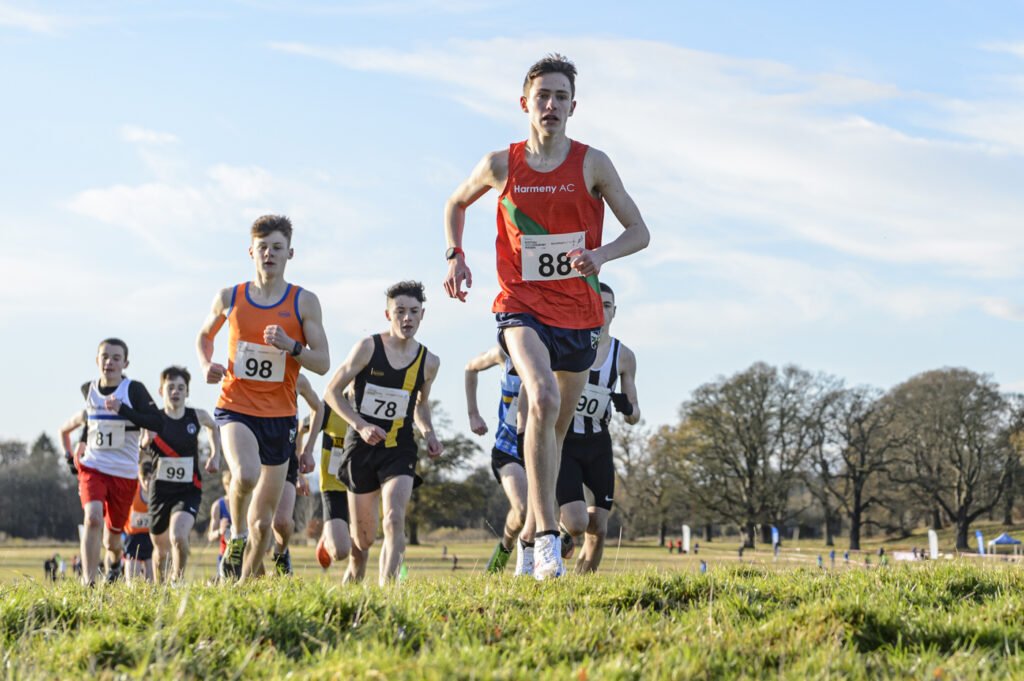 'I'm delighted we were able to get the Lindsays Cross Country season up and running at Scone Palace in Perth with the Short Course EX event,' said Alasdhair Love, our Events Manager.
'I want to thank everyone involved – the athletes who raced; the clubs, coaches and parents who worked out their chaperone system; our endurance Officials and the Road Running and Cross Country Commission.
'Scone Palace are the landowners and made us feel welcome and Perth Road Runners made a huge contribution both on Friday in setting up the course and on Saturday as volunteer marshals.
'I feel we had to try and stage it and learn from it. We feel for those athletes in Tier 4 areas who could not compete but that was beyond our control.
'We set up the protocols for Perth and largely they went well. The 'bubble' system for races worked and so did the separate warm-up areas – these are geared to reducing any contact points between the bubbles.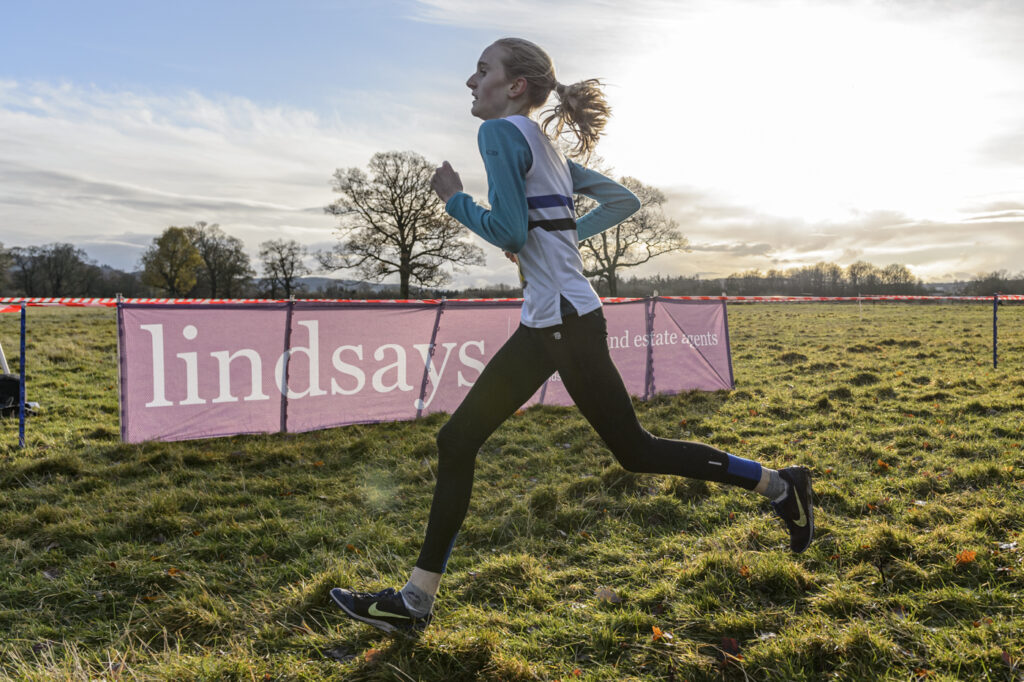 'As a venue it is excellent for cross country. If we stage a bigger event, we would need more car parking – we learned that on Saturday. But there are areas with Perth Racecourse next to Scone Palace which could work.
'And, in terms of the course, there's definitely room for a bigger loop and we could do more laps for longer races if that's what we wanted.
'I feel there's plenty for us to take away and look at and think about future options.
'We've already put in an awful lot of planning into cross country this autumn of winter and, unfortunately, Cumbernauld and Lanark both fell down because of Covd-19 restrictions. And a couple of Plan B options could not happen either!
'So again I want to thank everyone for their patience and their support. We've had a lot of feedback that those who were able to run on Saturday really enjoyed competing and we're desperate to give people those opportunities.'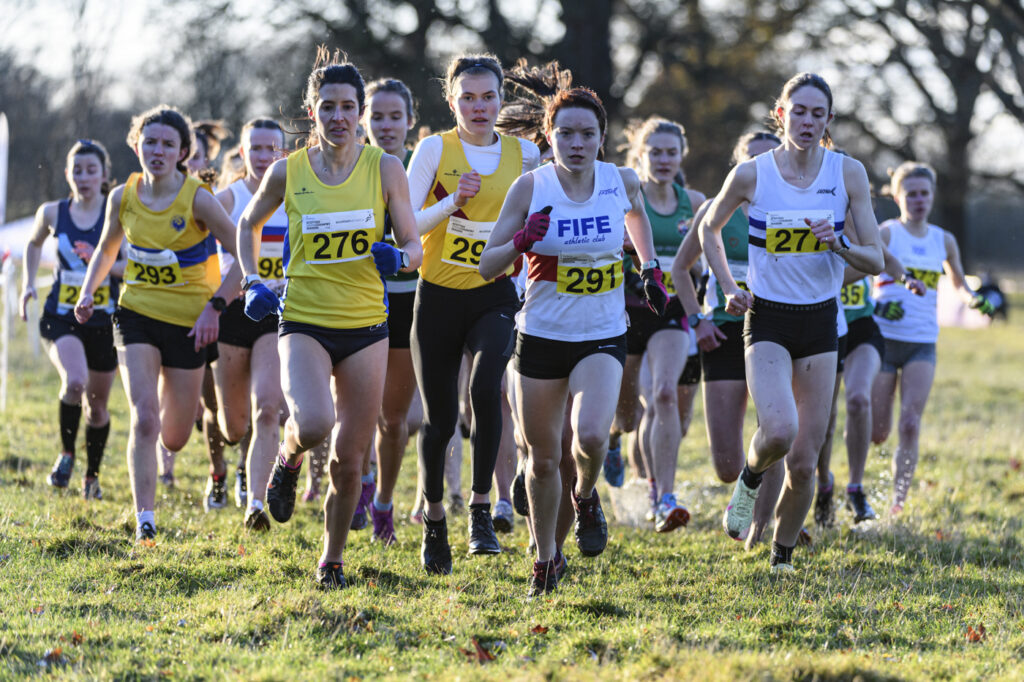 The Elite Women's race gets underway in Perth (photo by Bobby Gavin)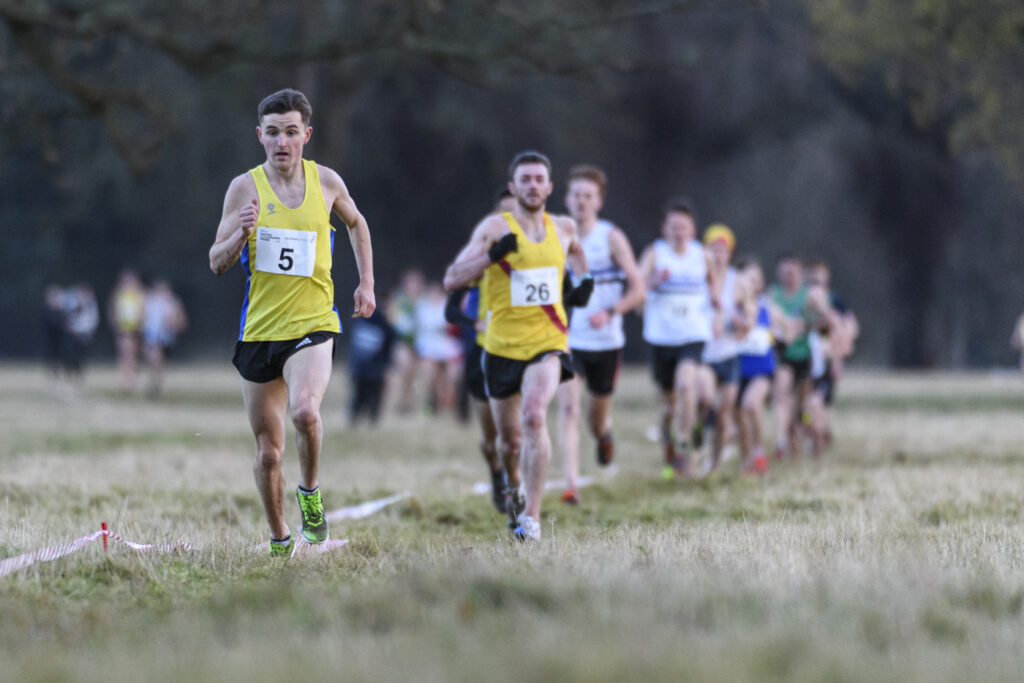 Yellow fever . . . Jamie Crowe of Central AC and Sean Chalmers of Inverness lead the Men's race (photo by Bobby Gavin)
In the Women's elite race, Megan Keith showed her class with a strong run over the soft course (which was just under the 3k distance).
Edinburgh Uni Hare and Hounds athlete Holly Page was second and there was a fine third place for Morag Millar of Central AC almost six months to the day since becoming a mum for the first time.
Crowe for his part was delighted to win after being pushed back into second by Inverclyde AC's Jonny Glen the previous week over 5k on the road at Lochgelly.
Sean Chalmers of Inverness Harriers followed up his strong fourth place on the tarmac in Fife with second place here and he was followed home closely by Aidan Thompson's strong run as he made it first and third for Central AC. In fact, only three seconds covered the 1-2-3.
Tags: Lindsays Cross Country Season, Lindsays Short Course XC, Perth, Scone Palace