Muir and Miller land our Athlete of Year titles at 4J Annual Awards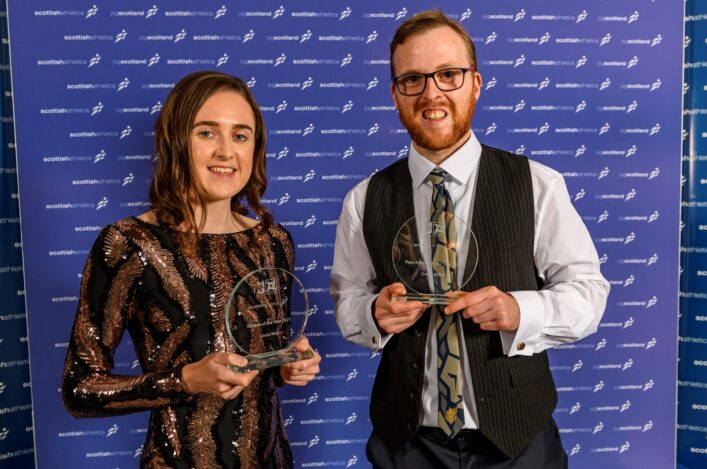 Photo by Bobby Gavin
'Awards show strong bond between grassroots and elite' – David Ovens
Laura Muir is our 4J Studios Scottish Athlete of the Year after an outstanding 2021 by the Olympic silver medallist.
And Owen Miller joined Laura centre-stage at our 4J Annual Awards Dinner as the Paralympic gold medallist took home the 4J Para Athlete of the Year award.
Our first Awards Dinner for two years, backed by sponsors 4J Studios, proved a big success as we sought to celebrate, recognise and acknowledge excellence and service across our sport by clubs, coaches, volunteers and Officials.
The Athlete of the Year awards topped off a night led superbly by host Bryan Burnett and with Jo Pavey hugely popular as our Guest of Honour.
Para athlete Stef Reid won our Masters Athlete of the Year Award and there were U20 and U17 titles for Kane Elliott of Falkirk Victoria Harriers and Katie Johnson of Edinburgh AC respectively.
Olympic bronze medallist, Josh Kerr, landed the Dallas Trust Trophy. The Edinburgh AC athlete had been short-listed for Athlete of the Year as well as Jemma Reekie and Eilish McColgan.
Muir's victory was her fourth outright success (2015, 2016, 2018 and 2021) as well as sharing our Performer of the Year award in 2020 (with Jemma Reekie and Jake Wightman).
Miller becomes the fifth different winner of the Para Athlete of the Year award in six years – with no award in 2020 – after Libby Clegg (2016), Sammi Kinghorn (2017), Derek Rae (2018) and Maria Lyle (2019).
Photos on Facebook by Bobby Gavin
Jo Pavey and Paddy Burns of 4J Studios with Athlete of the Year Laura Muir (photo by Bobby Gavin)
'I was absolutely delighted to present the 4J Studios Scottish Athlete of the Year award to Laura – it was a real privilege,' said five-time Olympian Pavey.
'I deliberately asked scottishathletics not to share with me in advance details of the winners and that made the presentation moment even more exciting.
'Laura has won this title before but this time she did so as an Olympic medallist. She has worked so hard, and for so long, for that magic moment in Tokyo when she took a brilliant silver medal in the 1500m in Japan.
'She is amazingly talented and always so exciting to watch. It was absolutely fantastic to see Laura get on the Olympic podium after showing massive determination over the past 10 years or so. And she won that medal with a British Record.'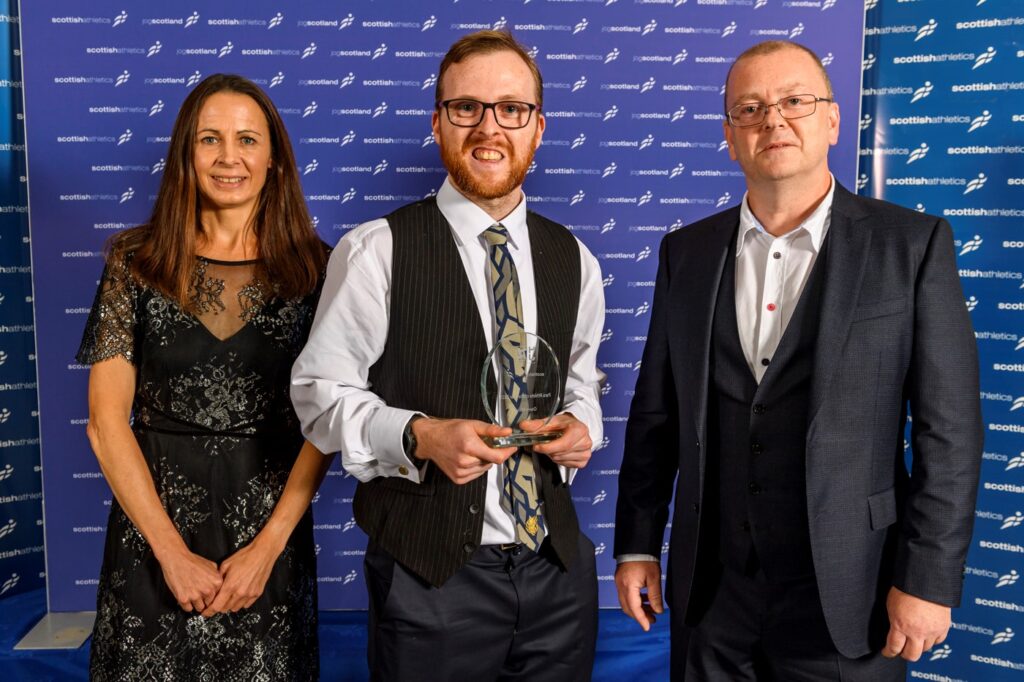 Jo Pavey and Paddy Burns with Para Athlete of the Year, Owen Miller (photo by Bobby Gavin)
Fife AC athlete Owen Miller actually started his athletics at the same small club as Muir – Dunfermline West (now defunct but effectively back as Dunfermline Track and Field). There is a podium photo of both of them from a Highland Games event more than 15 years ago.
'Owen's 1500m title win was one of the great moments from the British athletes at the Paralympics and his Para Athlete of the Year award is richly deserved,' said Jo.
'I really enjoyed watching the action from Japan and the Scots were certainly to the fore with medals also for Maria Lyle, Sammi Kinghorn and Libby Clegg.'
Muir and Miller were centre stage at the Hilton Hotel in Glasgow on a night when the feel-good factor spread across the sport – despite all the difficulties presented by a global pandemic.
It was brilliant to be able to celebrate the contribution of so many people to scottishathletics and jogscotland with the role of volunteers highlighted a number of times during the evening.
'I'm thrilled to win the 4J Studios Scottish Athlete of the Year title,' said Laura.
'I've been lucky enough to win in the past and each time it seems as if the short-lists is stronger and stronger.  To be on there as an Olympic medallist like Josh and then have Jemma, who went so close, and Eilish who has had a brilliant 2021 was a real privilege.
'I'm excited about what is coming up in 2022 and, as always, the hard work starts at this time of year. You have to put in strong winter training to feel the benefit the following track season.'
Laura's coach, Andy Young, won our Performance Coach of the Year award.
Athlete of the Year – Laura Muir, Dundee Hawkhill Harriers
Para Athlete of the Year – Owen Miller, Fife AC
MAS Athlete – Stefanie Reid, Charnwood AC
U20 Athlete of the Year – Kane Elliott, Falkirk Victoria Harriers
U17 Athlete of the Year – Katie Johnson, Edinburgh AC
Eddie Campbell Award (Hill Running) – Isla Hedley, Fife AC
Dallas Trust Award – Josh Kerr
+++
Tags: 4J Annual Awards, Jo Pavey, Laura Muir, Owen Miller