Scotland land superb men's 1-2-3 in Anglo Celtic Plate 100k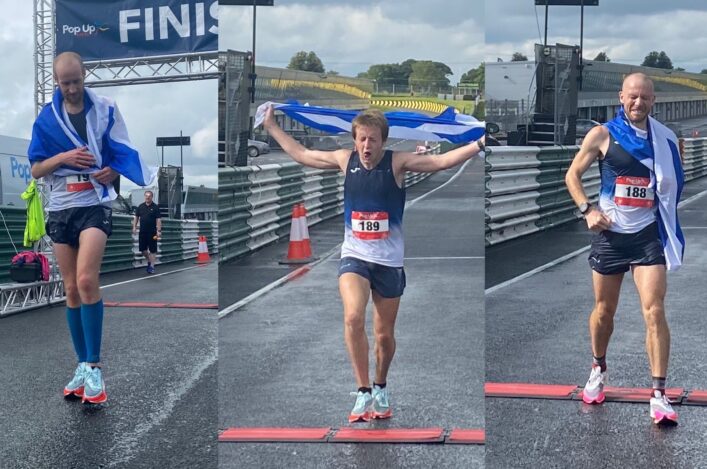 Scotland 1-2-3 . . . Chris Richardson, Jason Kelly and Kyle Greig (photo montage via Debbie Martin-Consani)
The Mondello motor race track, in Co Kildare just west of Dublin, was the venue for the Anglo-Celtic Plate, the annual Home Countries 100k International on Saturday 22 August.
And it was to become a field of dreams for our Scottish ultra runners – and a very special venue in the history of Metro Aberdeen in particular.
The event was preceded with a short tribute and a moment's silence and spontaneous applause in memory of Norman Wilson, a key figure in the Anglo Celtic Plate organisation and in ultra running in Great Britain over many years.
Chris Richardson, Jason Kelly and Kyle Greig all members of Metro Aberdeen took a clean sweep of the medal  and with it the men's Anglo-Celtic Plate for Scotland.
The three North East based runners along with Rob Turner (Musselburgh) held back off the early pace sticking to their own schedules.
When the early leaders eventually faded it was Kelly who took the lead at 70km with Richardson moving into second. Greig was well placed in seventh at that stage.
From 80-90kk the two Aberdeen runners traded the lead until 95k when Kelly, suffering from cramps, fell behind. Richardson went on to take the win in 7:00:49, with Kelly hanging on for 2nd in 7:05:15.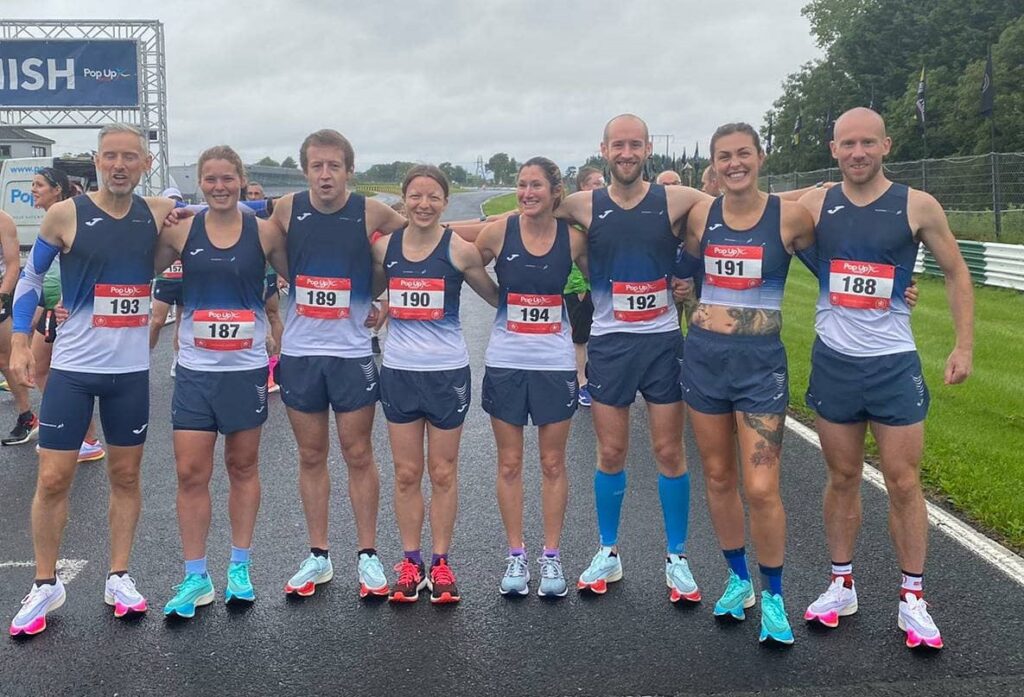 Both were running their first 100 km races and their times take them to 7th and 9th respectively in the Men's Scottish all time lists.
The more experienced Kyle Greig had a really strong last 20k to move up the field and clinch third in 7:07:07.
Even with the absence of teams from England, who earlier in the summer, made the decision not to send any teams outside the UK for the summer, it was a memorable and worthy Scotland 1-2-3 securing them the men's plate comfortably from Ireland.
Chris said: 'All four of us had plans to aim for sub seven hours. It was very humid though, and the thunderstorm around five hours in made things interesting for a while.
'Jason and I really helped push each other the last couple of hours. Although I really faded those last few laps just missing the seven hours, I was really happy to take the win and also help us land the Plate for Scotland.'
In the women's race Irish Marathon International Catriona Jennings, led from the start with England's experienced Sam Amend in pursuit. Amend had made the trip as an individual, to compete in the open race.
Jo Murphy, currently without a club, and who always seems to have a smile on her face, ran her own race some way back.
When Amend faded slightly around 40-45 miles, the Fife-based athlete moved up to second and with a sub eight hour performance now looking likely, powered on, even making inroads into Jennings lead.
Jennings held her own form well though to record an excellent 7:43:01. Her time was a new Irish Record, bettering Helena Crossan's 7:52:45 from 2007.
Murphy, improving her time from Perth in 2019 by over 30 minutes, recorded an excellent 7:50:58.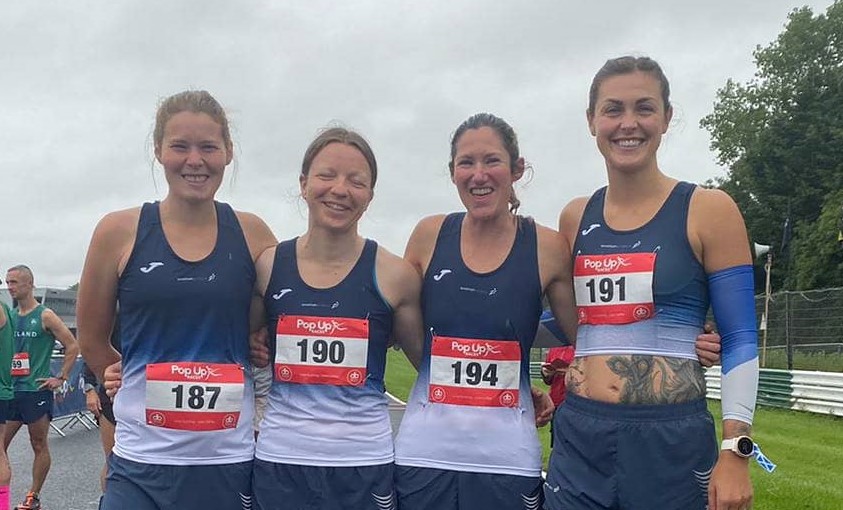 This moves her to fourth in the women's Scottish all time list with only World 100k championship medallists Ellie Greenwood, Jo Zakrzewski and Trudi Thompson ahead of her.
She was backed up by debutantes Nikki Gibson (EAC) 8:44:46, now 13th female on the Scottish All Time list and Alison McGill (Fife AC) who despite having a challenging race, hung in well to help finish a team in 9:33:35.
The Ireland ladies team won the women's Anglo Celtic plate for the first time in a close contest, with Scotland second.
Murphy said: 'I can't believe how well that went. It was certainly tough at times but everything fell into place for this one and wearing that Scotland vest just keeps you smiling.
'The support and camaraderie from the whole team was awesome.'
The race also doubled as the Scottish 100k championships and the Don Ritchie trophies, which honour Scotland's greatest ultra runner.
These are now awarded annually to the Scottish champions and were won by Murphy and Richardson.
With thanks to Adrian Stott and Debbie Martin-Consani
(8) Adrian Stott on Twitter: "SCOTTISH1-2-3at Anglo Celtic plate 100k in Ireland Chris Richardson leads the team home in in 7:00:44 @metroaberdeen @scotathletics @athleticsweekly @clynerunning https://t.co/IhQvrfECj7" / Twitter
Tags: ACP, Anglo-Celtic Plate 100k, Chris Richardson, Ireland, Jason Kelly, Jo Murphy, Kyle Greig, Metro Aberdeen